New Corporate Office Achieves LEED Gold® Certification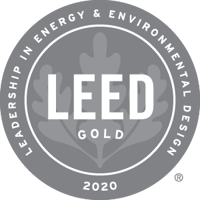 We are excited to celebrate LEED Gold® certification on our new Fond du Lac Corporate Office. The U.S. Green Building Council's (USGBC®) Leadership in Energy and Environmental Design™ (LEED) green building program is the preeminent program for the design, construction, maintenance and operations of high-performance green buildings. According to the USGBC LEED Project Directory, the C.D. Smith Corporate Office is the first non-confidentially recognized LEED BD+C: New Construction-v4 Gold Certified building in Wisconsin, the next generation standard for green building design, construction, operations and performance.
With 84 years of experience, we have a history of building quality spaces for clients, while continuously increasing the standard for high-performance building. While planning the design of our new corporate office, completed in May of 2019, our leadership team emphasized the importance of environmental responsibility and was committed to achieving LEED Gold, showcasing our dedication to sustainable building practices.
The LEED scorecard is comprised of categories for owners and project teams to evaluate. Within those categories are specific credits that help guide the planning and design process, determining which level a building can achieve. According to the USGBC, the most current scorecard, LEED v4.1, "raises the bar on building standards," increasing the level of difficulty to achieve LEED Gold certification. The most heavily weighted categories focus on material selection, human comfort, air quality and human health features. We strategically implemented features throughout our corporate office to meet these qualifications.
The 50,000 square foot building was designed by Kahler Slater Architects to accommodate our immediate and long-term growth needs as well as the desire to provide a space that elicits environmental, economic, social and community benefits for decades to come. To support the LEED Gold pursuit, our team worked closely with Jason Garvens, LEED Consultant with HGA.
The project management and leadership team evaluated every material used, only allowing qualified green building materials of a specific volatile organic compound (VOC) to be used in the construction process. Our office staircases are constructed of reclaimed wood from Global Water Center, a Milwaukee historic rehabilitation project completed by C.D. Smith. The staircases exemplify our creativity and design while showcasing truth in materials. From drywall to paint, carpet to insulation, every material was assessed to achieve the sustainability goals of the project.
Additionally, appliances within the office help to conserve water throughout the day-to-day operations. Motion-censored bathroom faucets, automatic flushing toilets and refillable water stations are estimated to save approximately 60,000 gallons of water a year.
To increase human comfort and air quality, an underfloor air distribution (UFAD) system was integrated into the design. The benefit of the UFAD heating, ventilation and air conditioning (HVAC) system is that outside air is delivered directly to where the people are located, referred to as the breathing zone. In a traditional system, the air comes from the ceiling, is mixed with the air in the space, and indirectly makes it into the breathing zone.
To earn LEED Gold credits aimed to meet the agenda of the human health impact category, we implemented employee amenities in the building design to prioritize physical well-being and productivity. The exterior of the building is comprised of floor-to-ceiling glass, allowing ample natural light to fill the space. Additionally, water filling stations are located on opposite ends of the building from restrooms, influencing employees to increase movement to complete basic daily functions. To inspire increased physical activity, the building also includes two gym spaces, employee locker rooms, bike storage and convenient access to the Fond du Lac LOOP, a bike and walking trail. Ergonomic sit/stand desks are available at each workstation, giving employees freedom to work while standing. The implementation of these workstations decreases the number of consecutive hours an employee is sitting while at work.
Beyond the office walls, we incorporated energy-producing technology to set this apart from other buildings. We worked with Eland Electric Corporation on the details of nearly 300 solar panels working to collect energy from the sun on the roof of the building. These solar panels were obtained through a Renewable Energy Competitive Incentive Program (RECIP) grant introduced by Eland Electric's Jesse Michalski to triple the size of the photovoltaic (PV) system, increasing the amount of potential solar energy produced. Additionally, the parking lot features electric car charging stations and dedicated parking for green vehicles aimed at reducing CO2 emissions into the atmosphere.
The building is set on a plot of land in the Camelot Business Park, originally purchased by C.D. Smith in 1969. To achieve LEED credit for onsite restoration to protect the natural habitat, we selected a seeding blend of Wisconsin native plants to restore the land, growing a prairie in the process. Over the next two years, the low-maintenance prairie will restore the natural habitat that existed before the development
The LEED® certification trademark is owned by the U.S. Green Building Council® and is used with permission.
---
Follow C.D. Smith ON SOCIAL
#CDSmith #ThinkSafeWorkSafe

YOUR PROJECT. OUR PRIORITY.® | We'd love to hear from you and look forward to learning more for discovering how to build community by connecting you with integrated commercial construction expertise.
---
What is LEED?

USGBC (U.S. Green Building Council)
---
---
Beneath the Hard Hat®, our company press and blog, offers an intimate look at the people and stories that make C.D. Smith Construction. With the latest industry news and project updates, we share insights on the superior spaces we are safely delivering year-round. Our team of technical experts provides useful tips and topics to help plan your next commercial project.
C.D. Smith Construction is an industry leader in safely providing the highest quality commercial construction services. Utilizing an integrated approach and self-performing trade services combined with technical expertise, our team serves as a solutions provider throughout all phases of a project, from planning through construction. With veteran leadership and a dedication to our employees and clients, we proudly place our name on projects of all sizes across the United States.