Gundersen St. Joseph's Hospital and Clinics
C.D. Smith was hired as construction manager for the
Gundersen St. Joseph's
replacement hospital project. Located next to the existing hospital on Memorial Lake in Hillsboro, the two-story healthcare facility opened in June of 2020.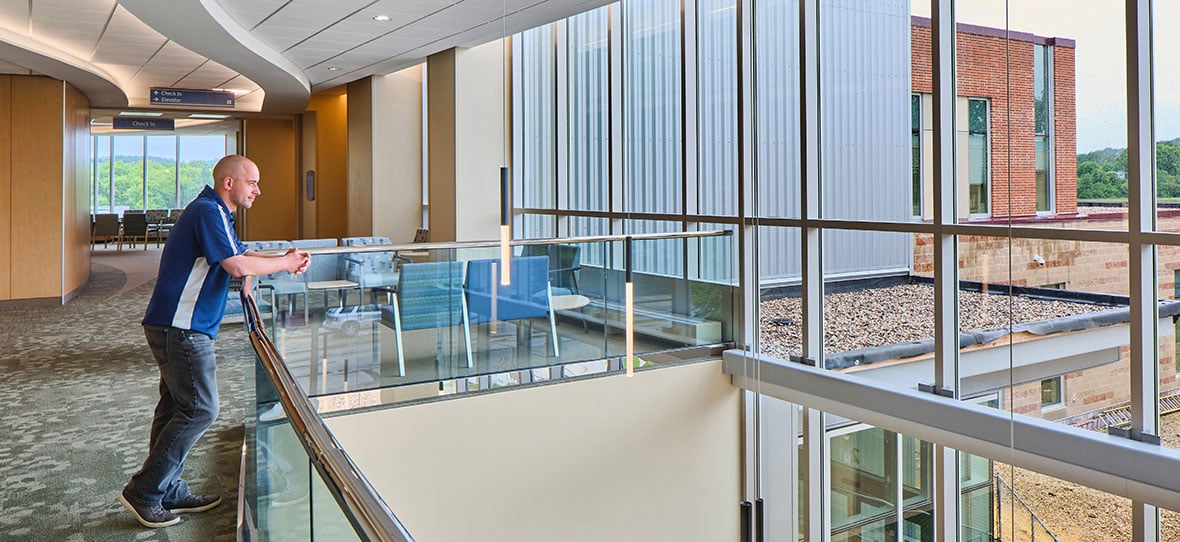 To foster a healing environment, patient rooms feature large windows, allowing natural light to brighten the space as the hospital's southern side overlooks Memorial Lake. The overall design focuses on an efficient layout that allows for flexible staffing and room utilization that is crucial to allowing a smaller critical access hospital to provide a wide range of services while remaining competitive in the marketplace.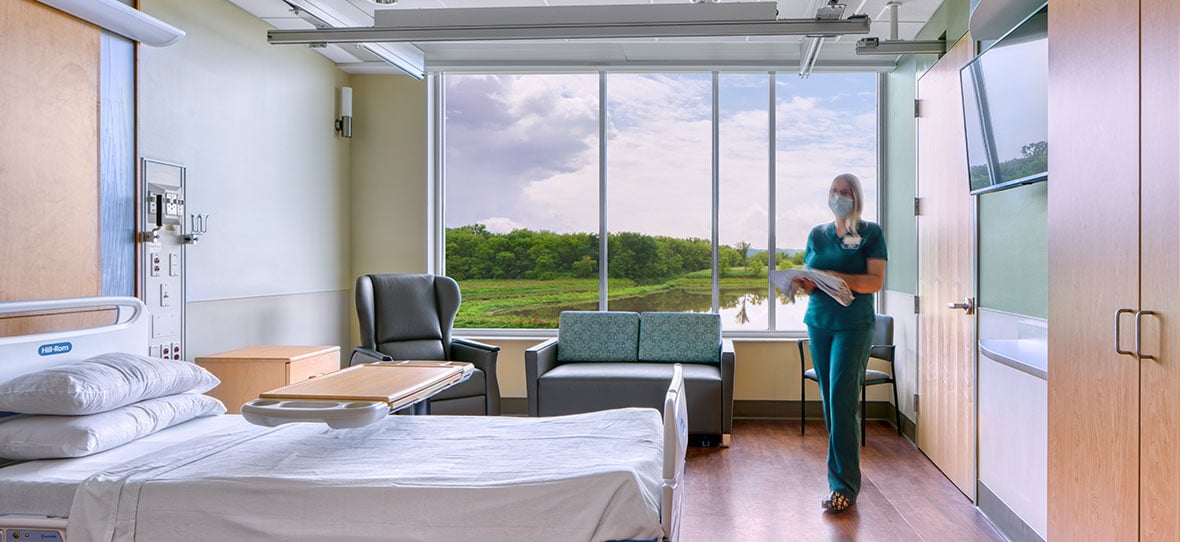 Gundersen's new replacement critical access hospital positions this facility for the future. Adaptability and flexibility quickly emerge as overriding themes. Almost every space can adapt to change; each room is designed to maximize every square inch, with no space ever sitting idle. The innovative design allows Gundersen to provide the best services and patient experience while remaining competitive in the market.
As a rural community hospital, Gundersen is an integral part of the rural healthcare system. The replacement critical access hospital contributes to overall community well-being and provides services across the healthcare continuum. Gundersen serves all of Hillsboro and the surrounding rural communities, impacting nearly 3,500 people.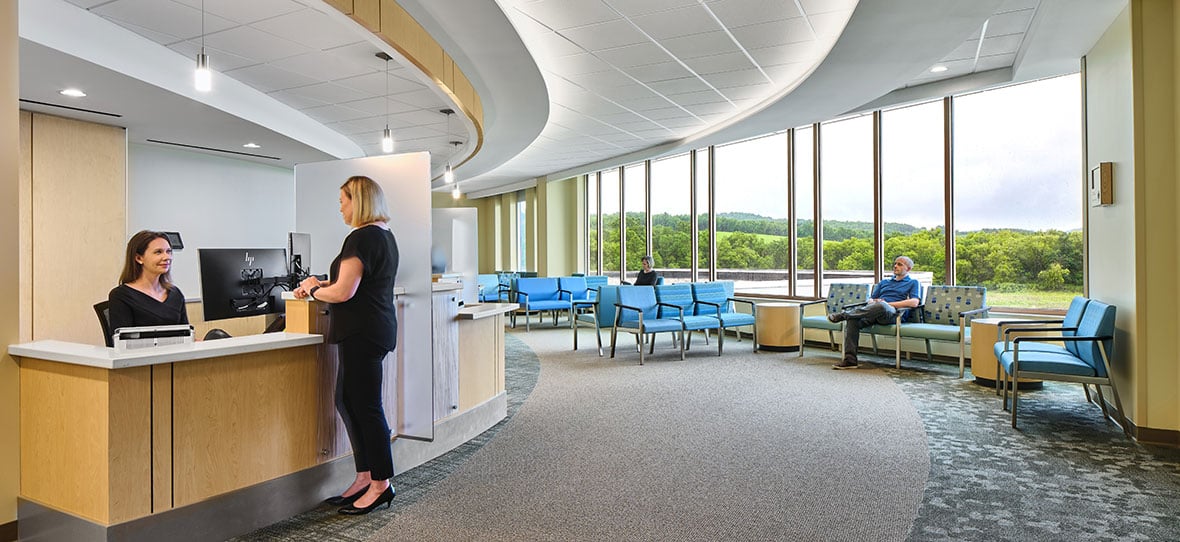 This 65,000 SQ FT, 13 bed, critical access hospital located in rural Hillsboro, Wisconsin, includes all of the standard modalities you would expect for such a facility. This consists of an emergency suite, pharmacy, lab, imaging, rehab, a patient suite, and surgical services. Some of the unique features this facility includes are flexible inpatient rooms. As a critical access hospital, Gundersen must be prepared for multiple inpatient and emergency scenarios. Through innovation and flexible design, the inpatient unit and the emergency department (ED) are co-located so the ED can overflow into patient rooms if needed, eliminating the need to "oversize" the ED for high-volume conditions. This proximity also promotes staffing efficiency, a consistent concern for rural facilities given their frequent workforce shortages. By co-locating the ED and inpatient unit's work areas and cross-training staff to work across disciplines—Gundersen projects significant annual operational savings compared to a traditional departmental layout.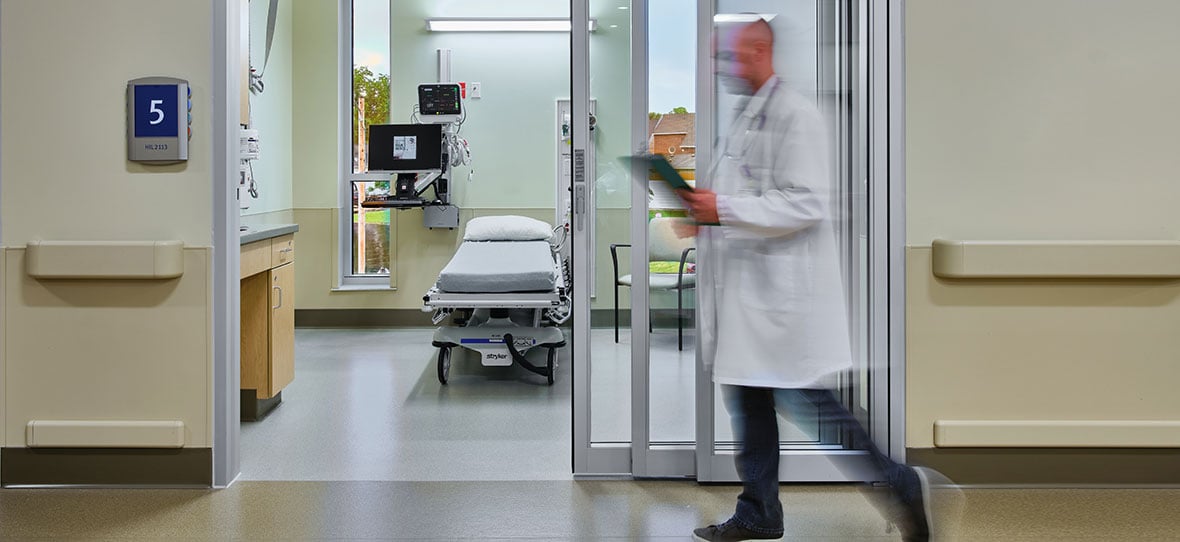 Other examples of space flexibility include a large inpatient room that will double as the infusion clinic and standardized clinic exam rooms with the equipment selected to accommodate most specialists' needs. Technology is also an essential component of Gundersen's vision for rural care. Leadership has begun exploring telemedicine for services throughout the building, including the ED, inpatient unit, and specialty clinic. Their new hospital's check-in system is also designed to leverage technology. Check-in desks will be convertible to digital kiosks and can even support concierge-style tablet check-in in the future.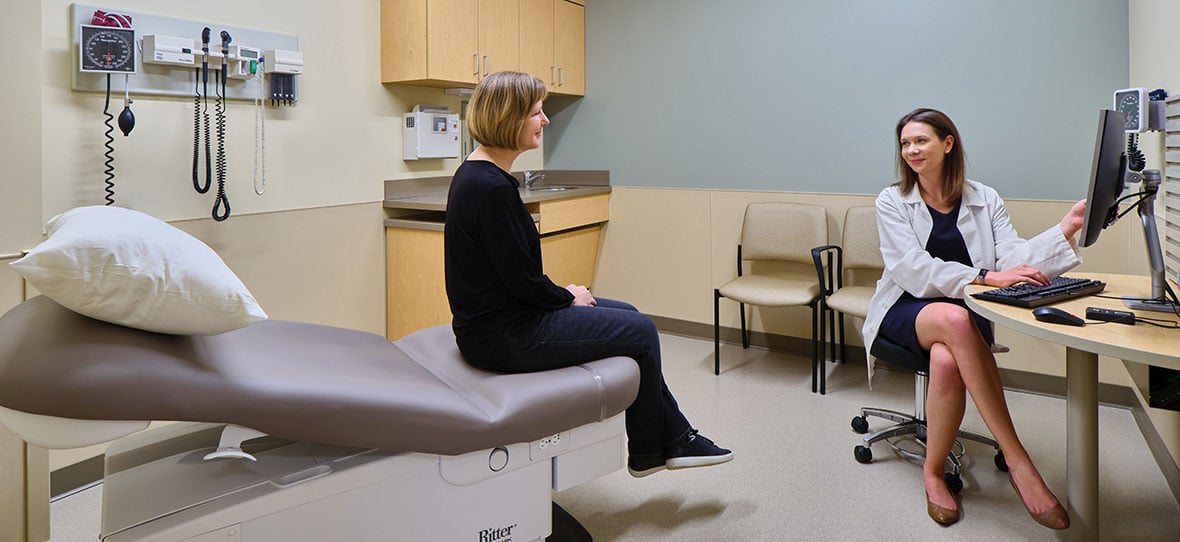 The facility's mechanical system is an above standard, energy-efficient design that is expected to have an energy utilization of less than 160 KBTU. Additionally, oversized, southern exposed windows allow ample natural daylight into the space and serene views of Field Veterans Memorial Lake.
Features include:
13 bed critical access hospital emergency suite
pharmacy
lab
imaging
rehab
rural health clinic
surgical services
flexible inpatient rooms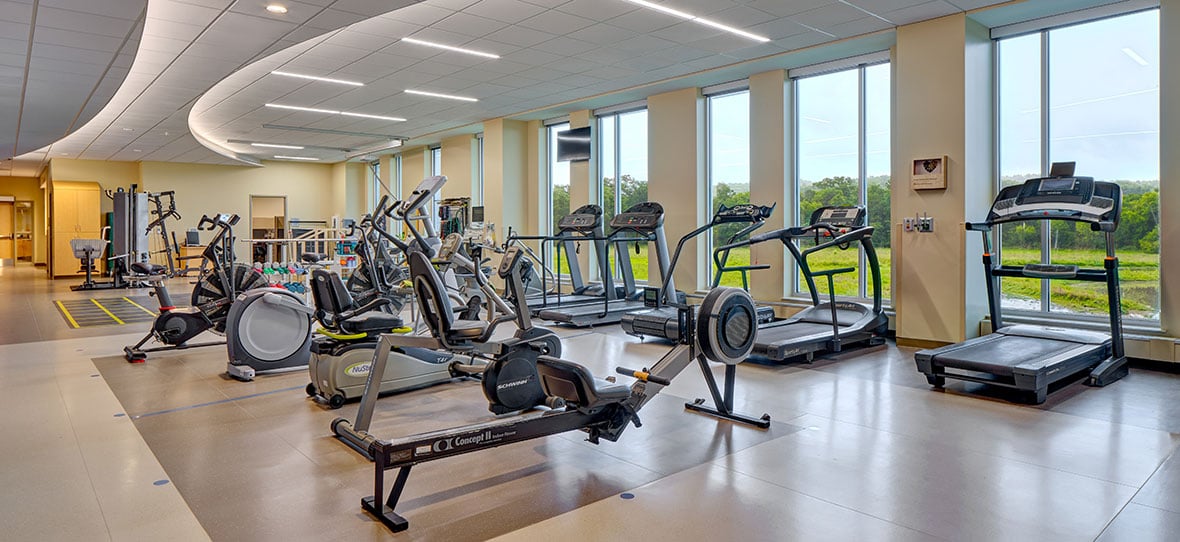 ---
Healthcare Construction Project, Gundersen St. Joseph's Hillsboro Clinic, Wins IN BUSINESS Magazine Commercial Design Award
New two-story Healthcare facility won 'Best New Development or Renovation - Health Care' Award.
C.D. Smith Construction is proud to be recognized along with HGA Architects and Gundersen St. Joseph's Hospital and Clinics on winning the IB 2021 Commercial Design Award for Best New Development or Renovation – Health Care - for their collaborative work on Gundersen St. Joseph's new hospital and clinic facility in Hillsboro.
Check out the full story on our Beneath the Hard Hat press and blog post: https://www.cdsmith.com/blog/commercial-design-award-for-gundersen-st.-josephs-healthcare-project.