C.D. Smith Presents ACE Shanty Raffle Proceeds for Building Construction Trades Education Program
Date: Mar 10, 2021 10:17:49 AM | Author:
C.J. Smith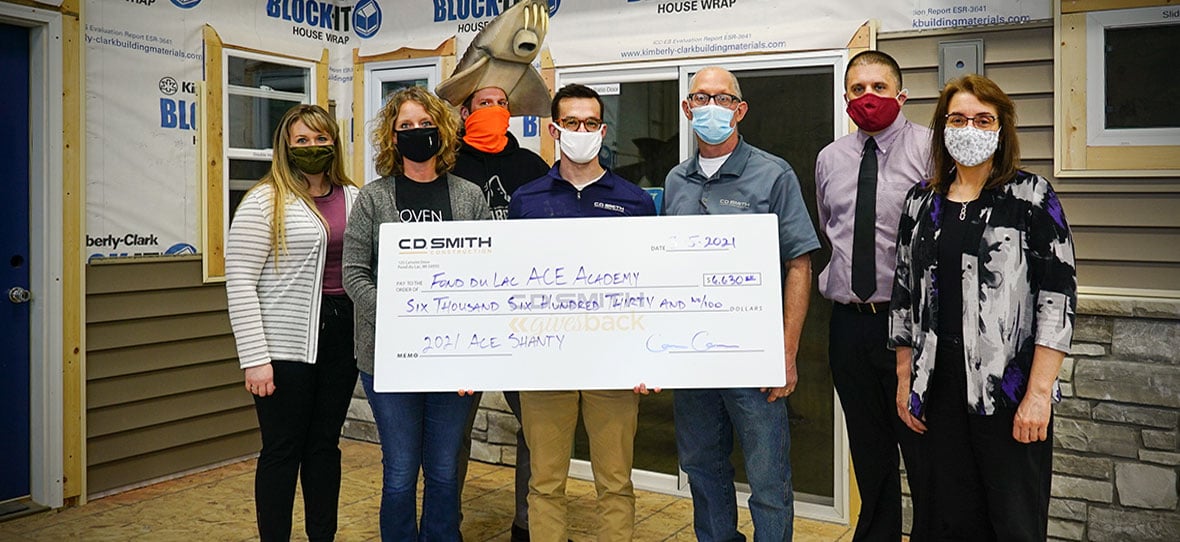 Last week the CDS Gives Back team had a momentous day as it presented the proceeds from the first ACE Shanty Raffle - $6,630 – to the Fond du Lac ACE Academy. The ACE Shanty program provided ACE Academy students the opportunity to view a project at the blueprint and virtual rendering level and work with expert craftsmen to build an iconic sturgeon shanty. Students expanded on the skills taught in the ACE Academy and gained confidence completing a full project. "I watched a student nervously use a chop saw for the first time early in the build and figured we were in way over our heads," recalls C.J. Smith. "By the end of the project that same student was using a mag drill to drill ¾" holes through steel with ease. He was totally transformed."
With the proceeds collected from the first Shanty Raffle, the CDS Gives Back team and the Fond du Lac ACE Academy plan to continue building shanties, putting the money to use buying supplies and specialty tools where necessary. Based on this year's performance, we are excited with the prospects for the future!
After the 2019 sturgeon spearing season passed, a few C.D. Smith employees found themselves debating the best method for building an ice shanty and were struck by the similarities between an ice shanty and a conventional commercial building. This revelation morphed into the optimal opportunity to teach local high school students a variety of trades and construction skills construction and provide... (continue reading full blog post)...
K-12 Academic and Career Planning (ACP) is part of the Department of Public Instruction (DPI) initiative of ensuring every child graduates with the tools necessary for making informed career decisions. C.D. Smith's School Partnership Program provides an inside peek and hands-on learning for K-12 students interested in careers in construction. We share in the DPI's vision of... (continue reading full blog post)...
---
C.D. Smith Construction offers a wide variety of growth opportunities in the trades. Start as a laborer and work your way into an apprenticeship program that best suits your interests and skills.
You can make a comfortable living and build your retirement while earning your education. Apprenticeships offer on the job training and are 100% paid!
BENEFITS
» Health Insurance
» Pension
» Paid Apprenticeship
REQUIREMENTS
» Valid Drivers License
» Age 18 or Older
» High School Diploma or GED
APPRENTICESHIP PROGRAMS
» Laborer
» Concrete Finisher
» Mason
» Carpenter
» Ironworker
» Operator
Click the 'We Build Careers!' button to request more information.