Commercial Design Award to Ascent MKE Mass Timber Construction Project
The World's Tallest Hybrid Mass Timber Building, Ascent MKE, won the category of 'Best New Development - Residential (Multi-Unit)' at the 16th annual Commercial Design Awards presented by In Business Magazine.
On August 3, 2023, In Business magazine presented the 16th annual Commercial Design Awards (CDA), honoring the creative endeavor of commercial design and its importance to a vibrant business community. Statewide projects are considered along with those in the Greater Madison area, and CDA judges were impressed with this year's submissions.
New Land Enterprises, Catalyst Construction, Korb & Associates, Thornton Tomasetti, and C.D. Smith Construction were recognized by winning the IB 2023 Commercial Design Award for Best New Development - Residential for their collaborative work on Ascent MKE.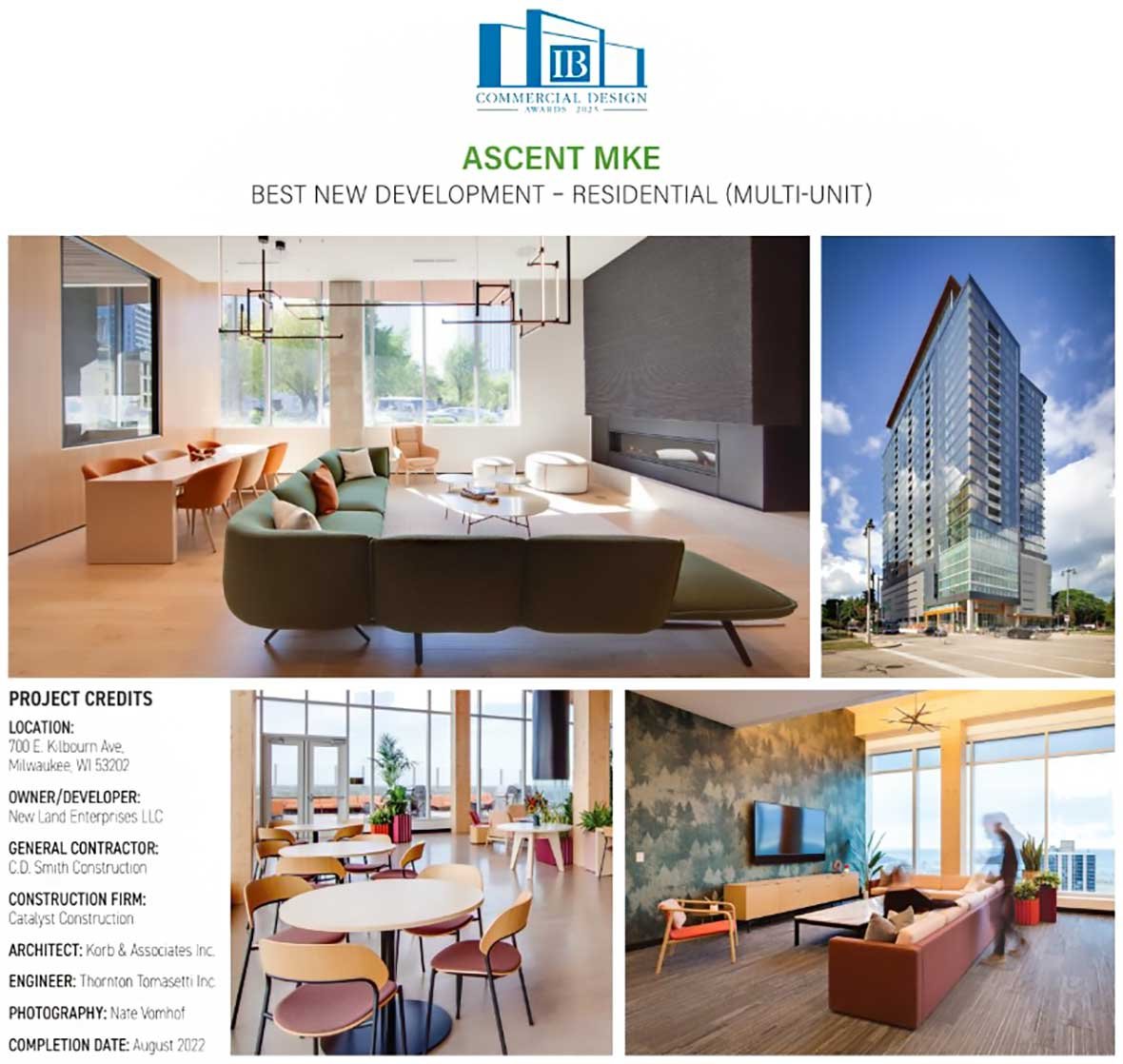 The 492,995-square-foot Ascent MKE project generated interest for its use of mass timber and was recognized in July 2022 by the Council of Tall Buildings and Urban Habitat (CTBUH) as the World's Tallest Mass Timber Hybrid Building. Ascent MKE is an impressive luxury apartment tower that offers sustainable, high-end housing in downtown Milwaukee.
CDA judges recognized its use of mass timber for minimizing environmental impacts while connecting residents to their community as noteworthy features of this award-winning project. The Commercial Design Awards article is available in the September 2023 Digital Issue of In Business Magazine.
Date: September 26, 2023 | Author: Tracy Lisowe
«•»
Follow C.D. Smith ON SOCIAL
#CDSmith #ThinkSafeWorkSafe
---
About C.D. Smith
C.D. Smith Construction is an industry leader in safely providing the highest quality commercial construction services. Utilizing an integrated approach and self-performing trade services combined with technical expertise, our team serves as a solutions provider throughout all phases of a project, from planning through construction. With veteran leadership and a dedication to our employees and clients, we proudly place our name on projects of all sizes across the United States.
Visit www.cdsmith.com or follow us on Facebook, Twitter, LinkedIn, Instagram and YouTube.
---
Beneath the Hard Hat®, our company press and blog, offers an intimate look at the people and stories that make C.D. Smith Construction. With the latest industry news and project updates, we share insights on the superior spaces we are safely delivering year-round. Our team of technical experts provides useful tips and topics to help plan your next commercial project.

---
TRADE PARTNERS & BIDS |If you're interested in working with us or would like to request adding your company to our bidder's database, please complete our Trade Partners & Bids Form: Click Here.
---