Grand Opening at City of Madison Nakoosa Trail Fleet Facility Project
On Tuesday, June 22 the C.D. Smith team proudly joined the City of Madison for the ribbon-cutting and open house of the Nakoosa Trail City Fleet & Radio Shop Building. The event began at 3:30 PM and included a welcoming message from Mahanth S. Joishy, City of Madison, Fleet Superintendent and comments from Hannah Mohelnitzky, City of Madison Engineering Division, PIO, Joel Brennan, Wisconsin Department of Administration, Secretary, Lorrie Lisek, Wisconsin Clean Cities, Executive Director, Satya Rhodes-Conway, City of Madison, Mayor and Dane Bernau, C.D. Smith Construction, Project Executive.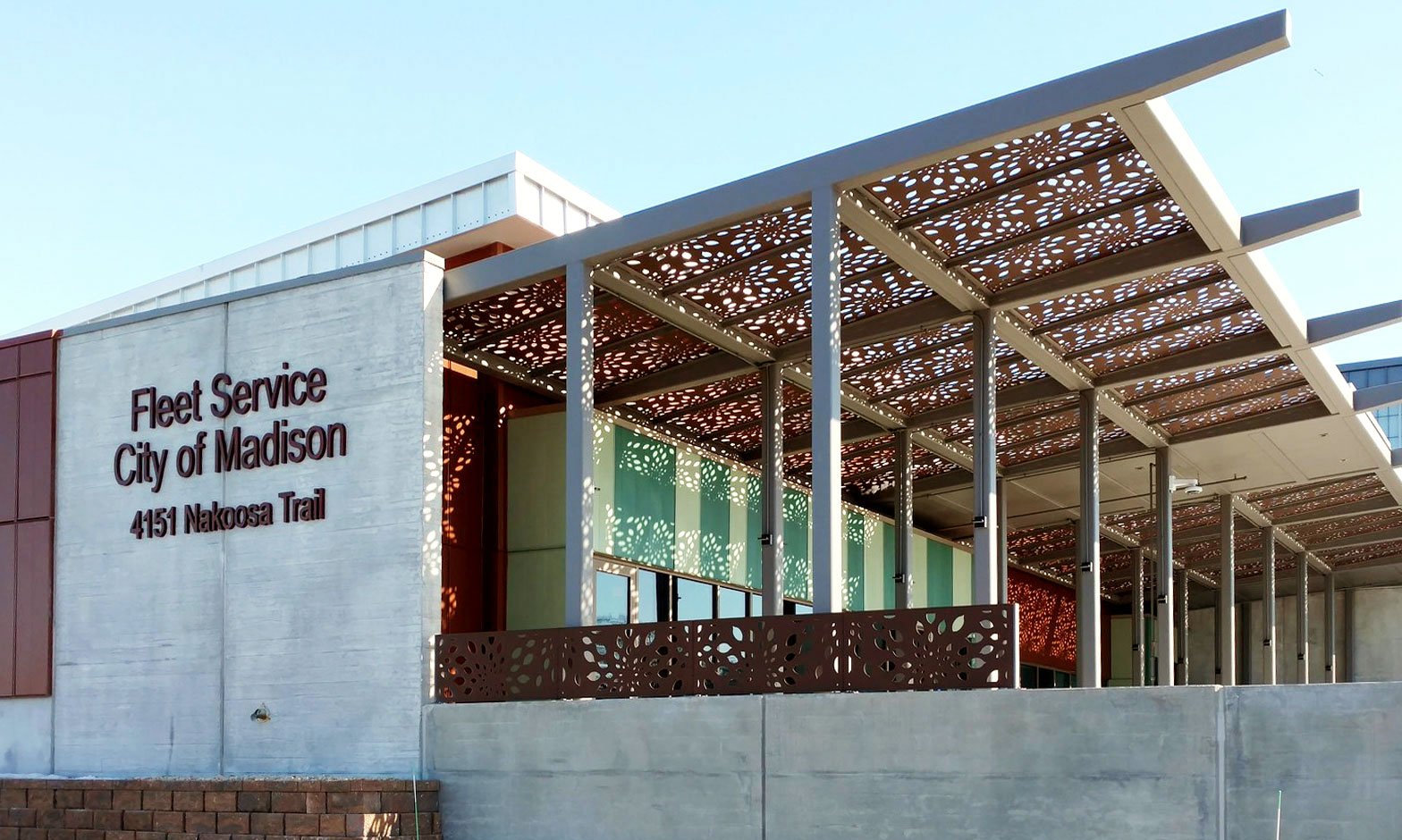 The Fleet/Fire/Radio Shop Facility provides light, medium and heavy vehicle service and repair spaces for the City of Madison's fleet of police, ambulances, fire apparatus, service automobiles, plow trucks, vans, garbage trucks, construction equipment, and much more. The area of this building is around 110,000 square feet for servicing over 1,400 fire trucks, police squads, garbage trucks, snowplows and other city vehicles and large equipment in one location, a task that used to span four locations.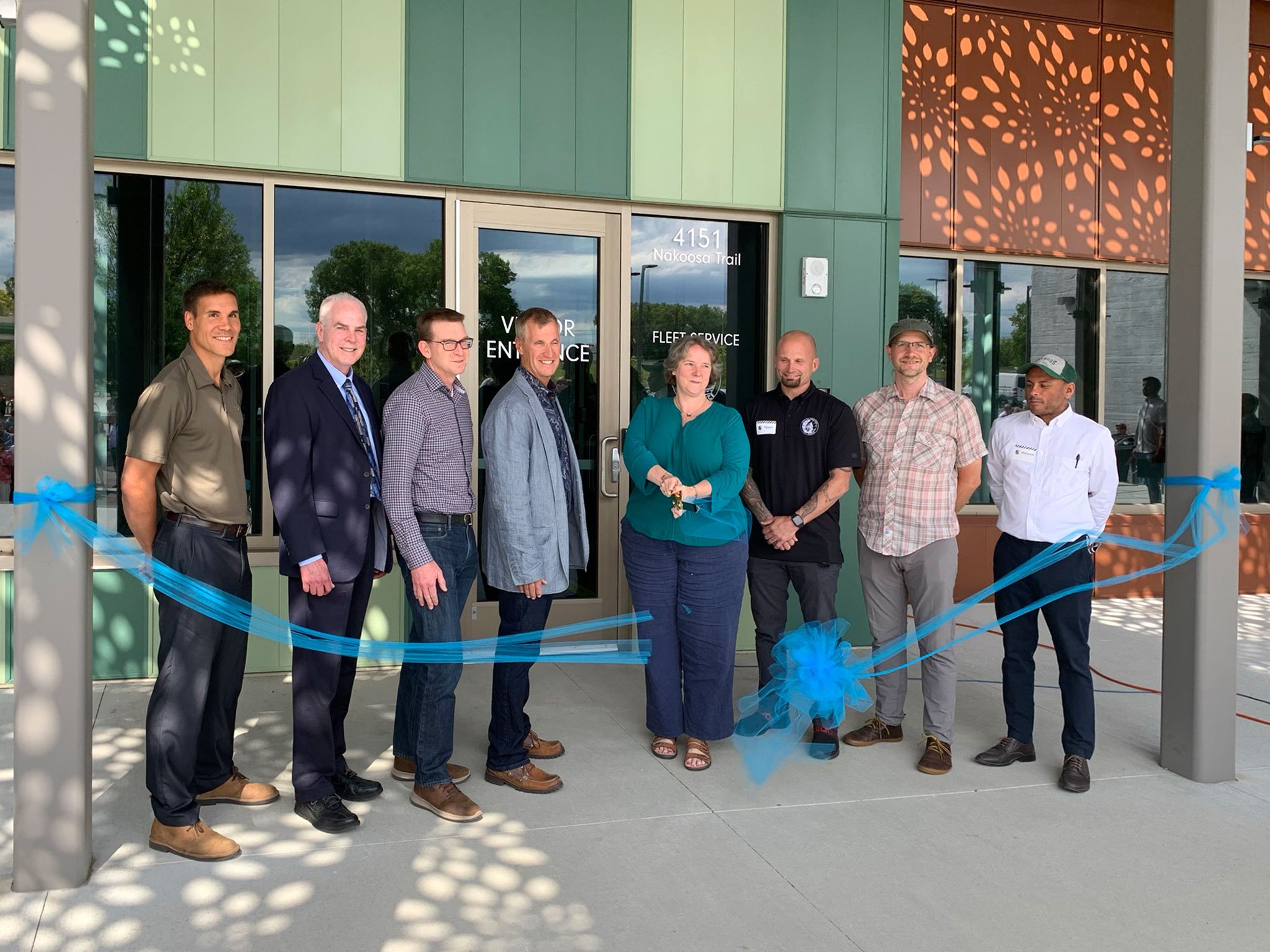 The city moved to its new fleet services building at 4151 Nakoosa Trail late last year, but the pandemic forced them to hold off on holding an open house. The June 22nd event celebrated the new building with a ceremonial ribbon-cutting event and educational tours focused on building, sustainability and mechanical features to show the public what the fleet does.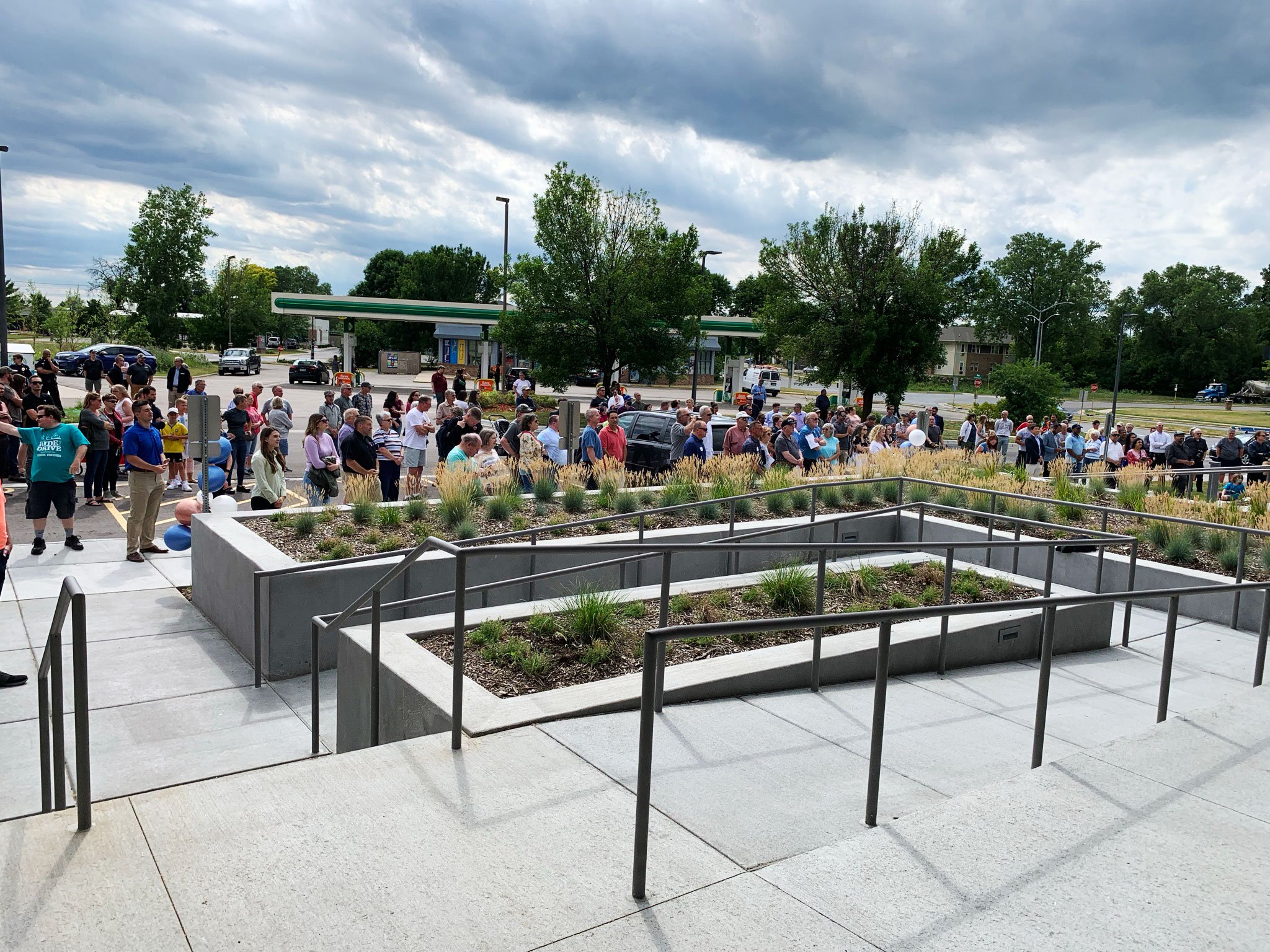 Sustainability is a theme for the Fleet Service. It was a goal to be future-forward on sustainable features as well as achieve LEED Gold certification from the U.S. Green Building Council. Sustainability features include dimming daylighting controls and thoughtfully placed windows and lights, foam insulation in the outside walls, LED lighting systems with motion sensors, hot water piping in the floors for efficient radiant building heat, rooftop solar units, a sun wall to preheat incoming cold air and kaleidoscopic sun catchers to amplify natural sunlight and convert it to energy to power the two charging stations in the yard that service City, employee and public vehicles.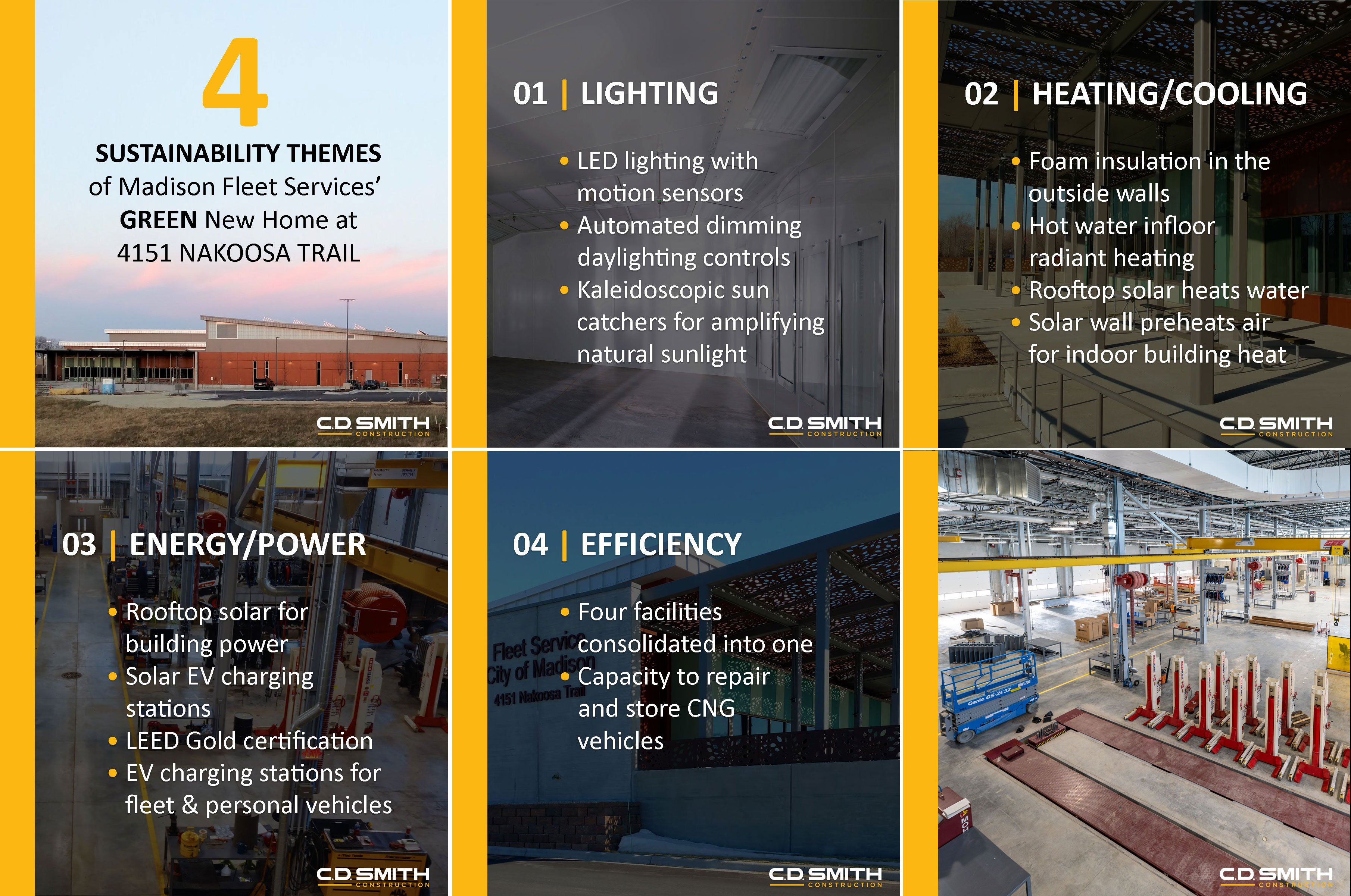 Project Executive Dane Bernau shared the following in his remarks at the ceremonial ribbon-cutting:
Good afternoon. My name is Dane Bernau. I am a Project Executive with C.D. Smith Construction.
Like all construction projects, this project had its unique challenges. Starting construction in the fall of 2019, we had a lot of rain. So much rain that you could have paddled a canoe across the building.
And in the spring of 2020, we began navigating the challenges associated with the pandemic.
Nonetheless, we finished the project and here we are today. We could not have done it without the collaboration and extra effort from the City and the design team. Thank you for that.
We worked 37,000 hours in the field without a lost-time injury. Countless hours were worked in planning and design, and this project represents what can be done when we come together and work as an integrated team.
I'd like to recognize the rest of the C.D. Smith team. Our project manager, Nick Beil, and our superintendent, Andy Leonard.
Thank you, the City of Madison for trusting us to build your new facility.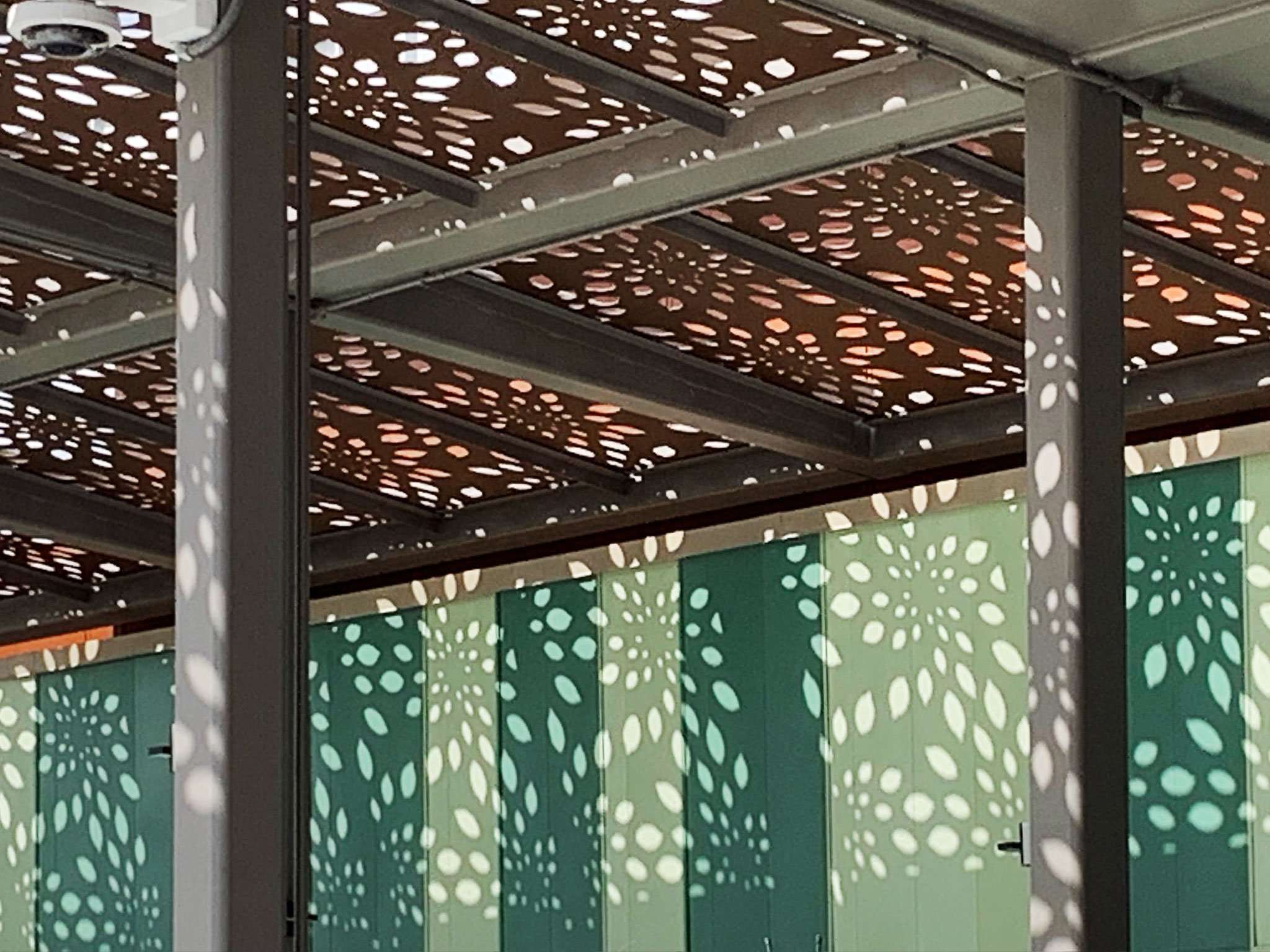 ---
Follow
C.D. Smith
ON SOCIAL
#CDSmith #ThinkSafeWorkSafe

Beneath the Hard Hat®, our company press and blog, offers an intimate look at the people and stories that make C.D. Smith Construction. With the latest industry news and project updates, we share insights on the superior spaces we are safely delivering year-round. Our team of technical experts provides useful tips and topics to help plan your next Mixed-Use Development + Retail construction project.
---
Nakoosa Trail Media NEWS
What Makes a Fleet Shop Sustainable? | Government Fleet 03.01.2022
Madison Cuts Ribbon on Nakoosa Trail, Ushering in New Era at Fleet | City of Madison Fleet Service Blog 06.29.2021
City of Madison Opens its New Fleet Services Building | City of Madison Engineering Division YouTube Channel 06.23.2021
New Madison city fleet building opens | WMTV nbc15.com 06.22.2021
Opening celebration for City of Madison Fleet Services building | WKOW.COM 06.22.2021
Madison unveils state-of-the-art Fleet facility | The Cap Times 06.23.2021
Celebrating Madison Fleet Services New Home | City of Madison Mayor's Office Blog
Watch now: Madison to debut $33M state-of-the-art garage with focus on sustainability. | Wisconsin State Journal 06.21.2021
Watch the Construction Timelapse Video (embedded below) | July 3, 2019 to Sept. 16, 2020 - by EarthCam®
Nakoosa Trail City Fleet Building: Ribbon Cutting & Open House | City of Madison Fleet Service Blog 05.26.2021
A Virtual Tour of Madison's New $33M Facility | Government Fleet Staff 02.04.2021
C.D. Smith Project Spotlight: Nakoosa Trail | Beneath the Hard Hat® Press & Blog 03.17.2020
---
Discover more about our extensive experience building state-of-the-art wastewater treatment facilities, parking structures, infrastructure improvements, churches, police and fire command centers and more. Our work collaborating with municipalities, places of worship and schools of spiritual education includes adapting to accommodate core infrastructure needs in combination with the uniquenesses of building community gathering spaces with the power to change, enrich and improve our lives.
Your unique project deserves a focus on delivering a construction experience tailored to meet your needs and requirements. That's why our team, adaptable and solid, will give you a custom construction plan and approach that fits you, your budget, your timeline and your overall expectations. Explore our civic + government construction project experience using this link to the YOUR INDUSTRY: CIVIC + GOVERNMENT CONSTRUCTION pages of our website.
C.D. SMITH CONSTRUCTION.Transforming the Community Landscape, Meeting the Ever-Changing Infrastructure Needs and Collaborating On Initiatives to Create a Better PLace for All to Live, Work and Play.