Mondovi Wastewater Treatment Facility Construction Groundbreaking
On Thursday, September 16, 2021, government officials, business leaders and representatives from multiple agencies gathered to celebrate the groundbreaking of Mondovi's new wastewater treatment plant. The facility will include state-of-the-art technologies for eco-friendly and sustainable water treatment and UV disinfection, biosolids handling, energy savings initiatives and plant equipment monitoring and control.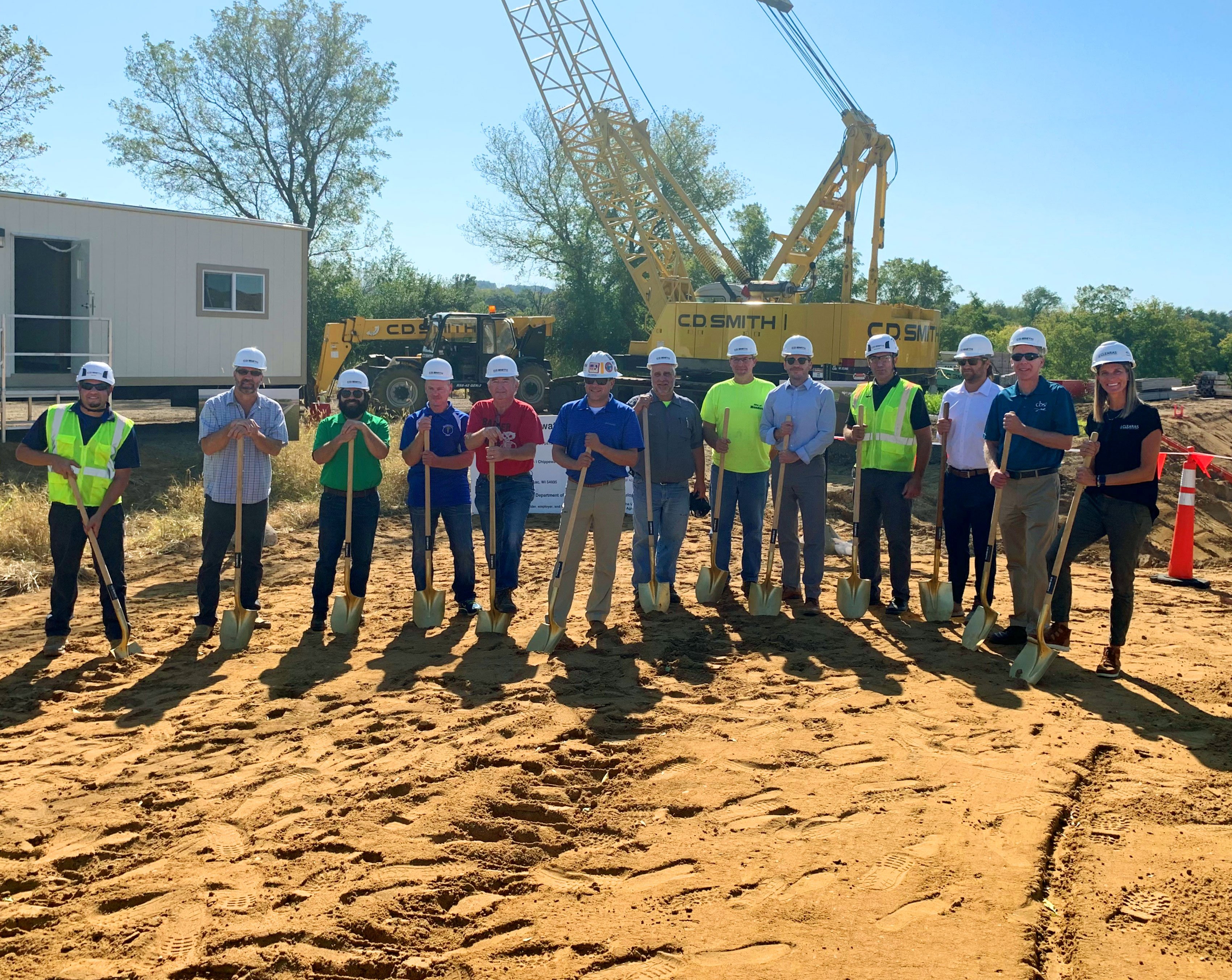 The City of Mondovi's new WWTP will use a CLEARAS Advanced Biological Nutrient Recovery (ABNR) system to remove phosphorus from the wastewater. Implementing this algae-based system will help the city in two ways. It will ensure future effluent phosphorus limits are met while simultaneously recovering the phosphorus into a marketable algae by-product harvested for use in bioplastics, foam or biochemicals. Payback and revenue associated with the algae co-product will help offset the facility's operating costs.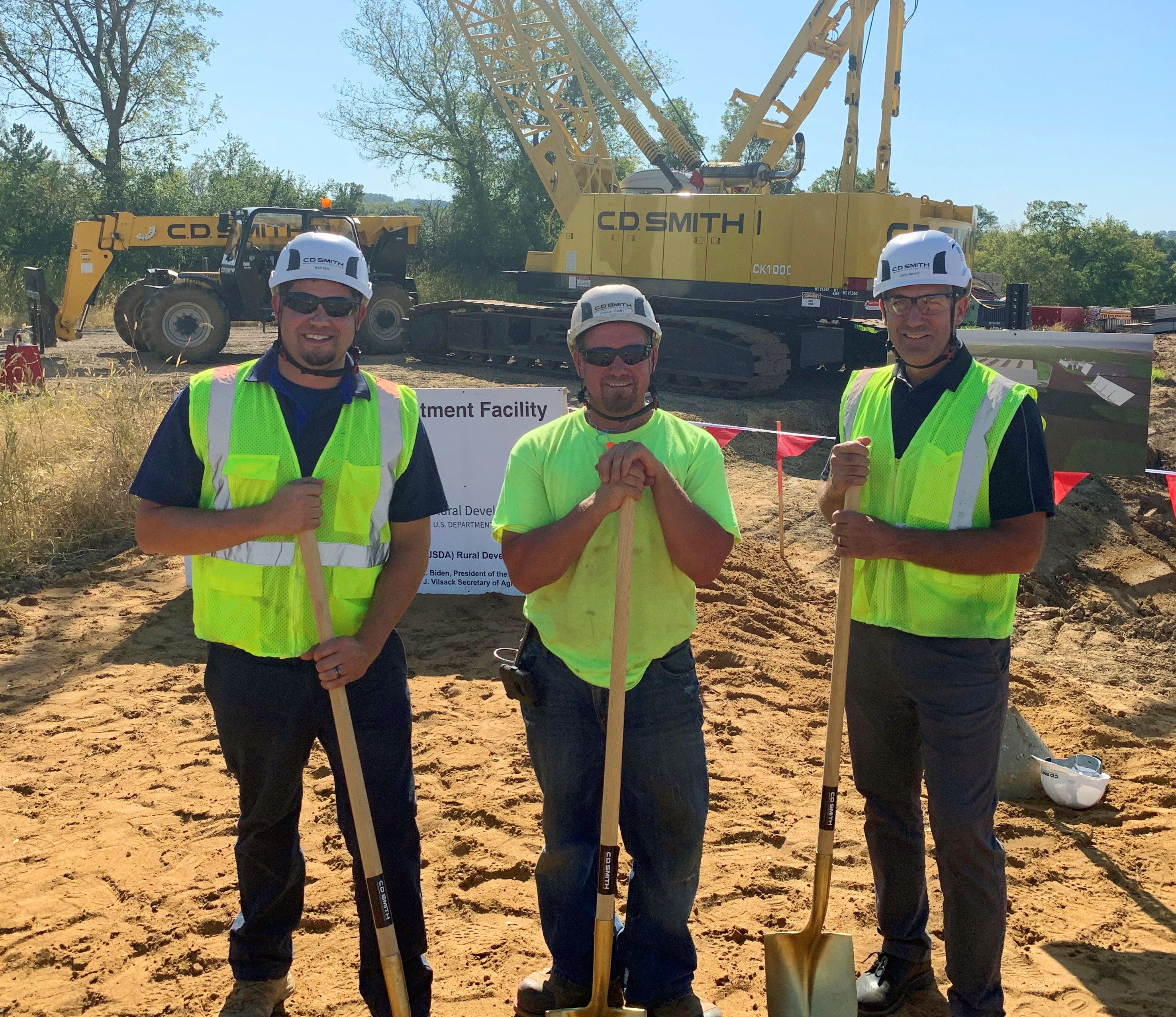 C.D. Smith Construction is providing general contracting services and started work at the site, on Mondovi's west side, about a week before the groundbreaking ceremony in early September. Project Manager Nick Beil spoke on behalf of C.D. Smith, with enthusiasm for bringing the new plant to fruition, when he said, "We're excited to be in Mondovi as part of their adventure with this new plant. It's a pretty new and advanced system."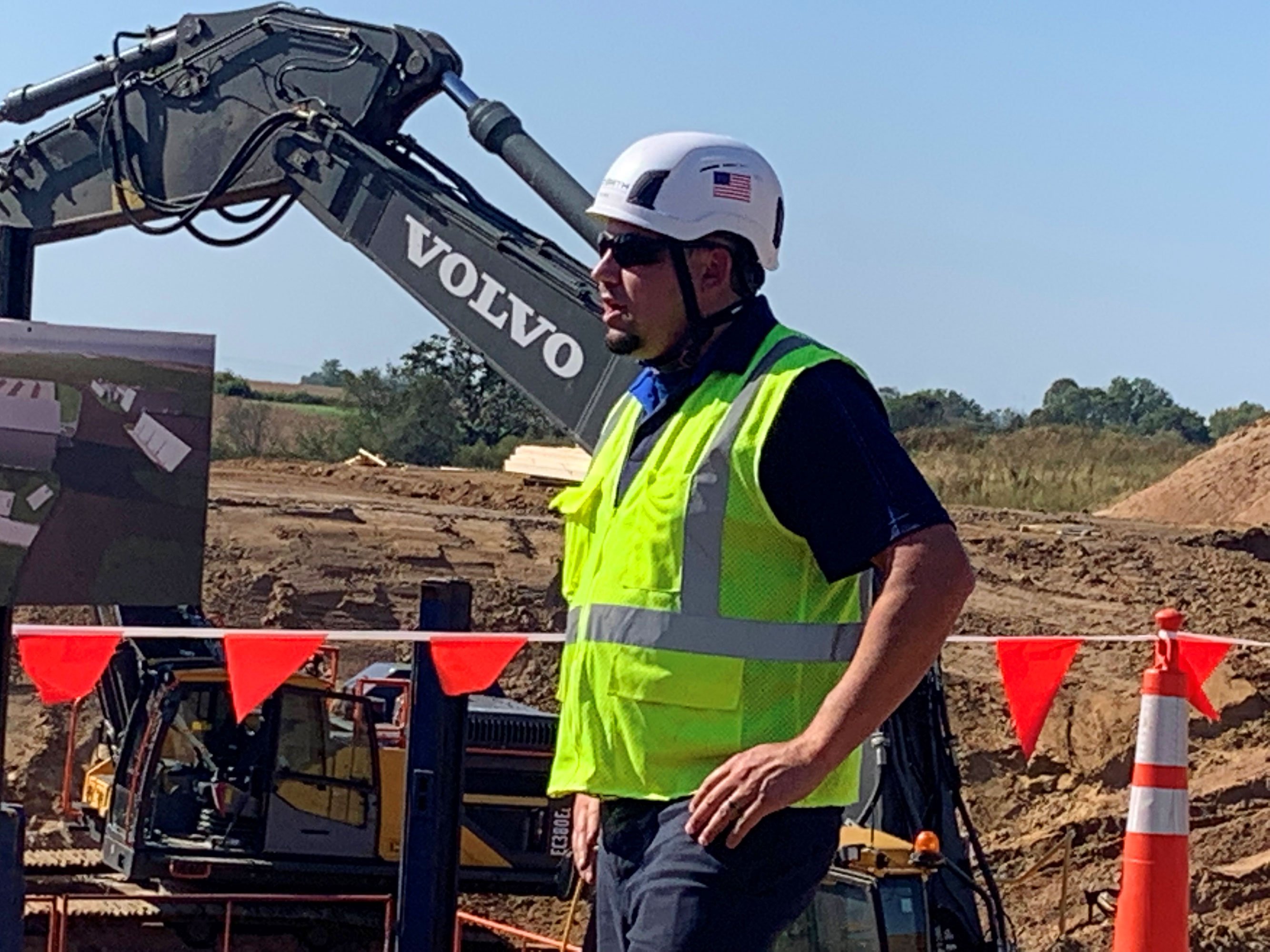 In the interest of transparency, the City of Mondovi created a webpage with Wastewater Treatment Plant Information. Additionally, the September 23rd issue of the Buffalo County News featured a multipage article about the groundbreaking of the New WWTP Facility.
The U.S. Department of Agriculture (USDA) Rural Development joined the City of Mondovi, CBS Squared Inc., CLEARAS Water Recovery, C.D. Smith and others in the groundbreaking celebration. The USDA RD reported on the groundbreaking event with an update on Mondovi's WWTP project that related its importance to challenges faced by many rural communities in Wisconsin, linked here: USDA Celebrates City of Mondovi Wastewater Treatment Plant Groundbreaking.
Congratulations to all involved in this momentous occasion. The groundbreaking of the wastewater treatment plant facility represents an important day to the City of Mondovi!
«•»
Follow C.D. Smith ON SOCIAL
#CDSmith #ThinkSafeWorkSafe

---
MONDOVI BREAKS GROUND ON NEW WWTP FACILITY by Buffalo County News | 09.23.2021
Construction on the City of Mondovi's new, state-of-the-art wastewater treatment plant is officially off and running. Crews from C.D. Smith Inc., the city's general contractor for the project, started work at the site on Mondovi's west side last week, erecting a large crane and beginning excavation work.
Representatives from multiple agencies were on hand in Mondovi on Thursday afternoon, September 16, for a groundbreaking at the new WWTP facility site. Mondovi Mayor Brady Weiss noted...(Link to article.)
«•»
USDA CELEBRATES CITY OF MONDOVI WASTEWATER TREATMENT PLANT GROUNDBREAKING by USDA Rural Development | 09.16.2021
MONDOVI, Wis., September 16, 2021 – U.S. Department of Agriculture (USDA) Rural Development representatives joined the City of Mondovi, CBS Squared Inc, CD Smith Construction Inc, CLEARAS Water Recovery and others at a groundbreaking today to celebrate the start of construction of their new wastewater treatment plant.

"Wisconsin rural communities face the challenge of aging or inadequate infrastructure to provide clean drinking water and wastewater treatment to meet the needs of their communities," Acting State Director Michelle Wallace said. "This investment in Mondovi will support the growth of the community."

In Buffalo County, Wis., the City of Mondovi will use $16.4 million in direct, low-interest loans and $10.6 million in grant funding to construct a new Wastewater Treatment Plant (WWTP), in conjunction with new underground utilities and stormwater retention facilities, in a newly created industrial park. The existing facility, built in the 1960s, is not being able to meet...(Link to article.)
MONDOVI, WI | WASTEWATER TREATMENT PLANT INFORMATION by the City of Mondovi | mondovi.com
In the interest of transparency, the Common Council for the City of Mondovi will post information regarding the City's new Waste Water (Sewer) Treatment Plant (WWTP) on this page. City staff will do their best to also post information on the City's Social Media networks. If you believe something is not on this page and you would like it posted, please call 715.926.3866 and request that the document be uploaded to this page. Thank you. (Link to page with public docs.)
---
About C.D. Smith
C.D. Smith Construction is an industry leader in safely providing the highest quality commercial construction services. Utilizing an integrated approach and self-performing trade services combined with technical expertise, our team serves as a solutions provider throughout all phases of a project, from planning through construction. With veteran leadership and a dedication to our employees and clients, we proudly place our name on projects of all sizes across the United States.
Visit www.cdsmith.com or follow us on Facebook, Twitter, LinkedIn, Instagram and YouTube.
---
Beneath the Hard Hat®, our company press and blog, offers an intimate look at the people and stories that make C.D. Smith Construction. With the latest industry news and project updates, we share insights on the superior spaces we are safely delivering year-round. Our team of technical experts provides useful tips and topics to help plan your next commercial project.

---
TRADE PARTNERS & BIDS |If you're interested in working with us or would like to request adding your company to our bidder's database, please complete our Trade Partners & Bids Form: Click Here.
---