NEW Issue! Beneath the Hard Hat® Magazine Winter/Spring 2022
THIS is more than a magazine. The Winter/Spring 2022 Issue of Beneath the Hard Hat® Magazine offers an intimate look at the people, careers, projects, passion, pride and innovation that make us WHO WE ARE.
We highlight historic achievements, industry records and project updates infused with the latest news. Every page is optimized for sharing insights on building community with integrated solutions for delivering the superior spaces where we work, play, live, learn, heal, create, worship and serve.
---
The pages of the Winter/Spring 2022 Issue of Beneath the Hard Hat® Magazine give us a peek at the people and stories that matter. It concludes with a snapshot of 'C.D. Smith By the Numbers:'
» 29 cranes in the air
» 1,161,897 team member hours worked
» 361 heavy-duty machines
» 2,903,076 emails received
» 163 projects started
» 173 not-for-profit organizations supported through donations and/or volunteer hours
» 327% decrease in OSHA recordables
» 3,284 hi-vis items produced
» 3 company-owned drones
» 4 office locations
» 645 C.D. Smith team members with 5,117 years of combined tenure
» 120,000 feet of fencing
» 850 devices supported
» 9,700 team members over 85 years doing business
» And ONE you!
The final number is in appreciation for everyone who is or has been a part of our story. It's the stamp on our promise to continue building relationships and embracing the people who make WHO WE ARE and WHAT WE DO possible!
Select a link below to view, read, download or share the latest issue.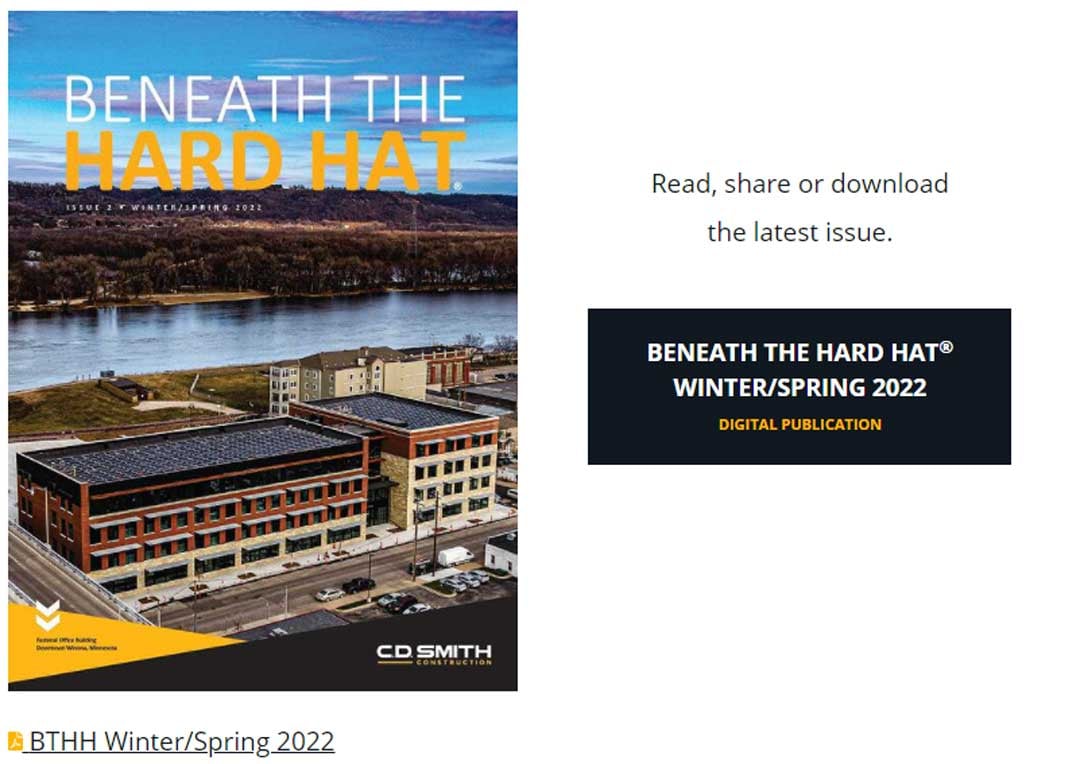 «•»
Follow C.D. Smith ON SOCIAL
#CDSmith #ThinkSafeWorkSafe

---
About C.D. Smith
C.D. Smith Construction is an industry leader in safely providing the highest quality commercial construction services. Utilizing an integrated approach and self-performing trade services combined with technical expertise, our team serves as a solutions provider throughout all phases of a project, from planning through construction. With veteran leadership and a dedication to our employees and clients, we proudly place our name on projects of all sizes across the United States.
Visit www.cdsmith.com or follow us on Facebook, Twitter, LinkedIn, Instagram and YouTube.
---
Beneath the Hard Hat®, our company press and blog, offers an intimate look at the people and stories that make C.D. Smith Construction. With the latest industry news and project updates, we share insights on the superior spaces we are safely delivering year-round. Our technical experts provide valuable tips and topics to help plan your next commercial project.

---
TRADE PARTNERS & BIDS |If you're interested in working with us or would like to request adding your company to our bidder's database, please complete our Trade Partners & Bids Form: Click Here.
---