Police K-9 Take Over Training at Old C.D. Smith Construction Office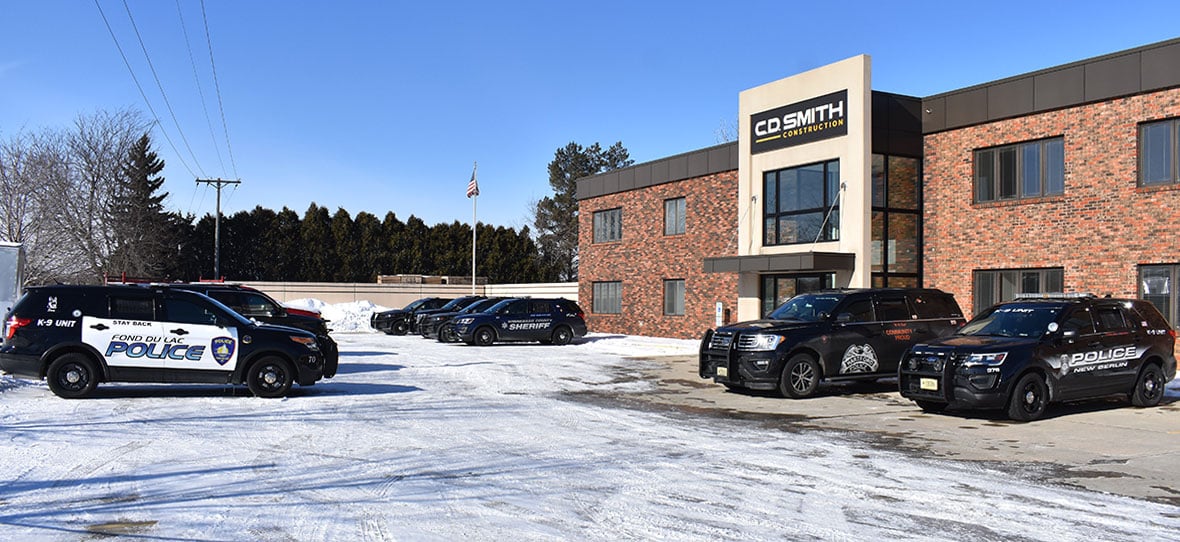 Last week seven area K-9 Units scoured the old C.D. Smith Fond du Lac office building located at 889 E Johnson Street, searching for drugs and suspects. While as alarming as this might sound, it was actually a training exercise organized by Officer Benjamin Hardgrove from the Fond du Lac Police K-9 Unit. Officer Hardgrove works with community partners to find new locations to host real-life training scenarios for surrounding law enforcement agencies and their K-9 Units.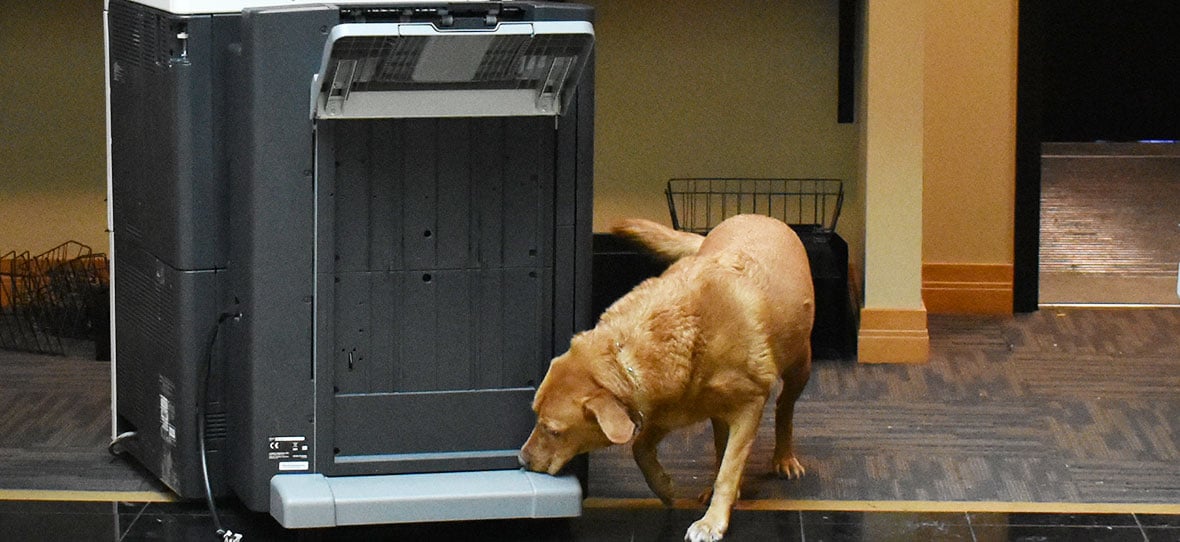 The old 889 E Johnson Street office was a perfect location to host this month's training. Since C.D. Smith's move to the new office on Camelot Drive last year, the old building has sat vacant while awaiting a new tenant to lease the facility. The 22,000 square foot old building offers hallways and dozens of offices that weave and wind maze-like throughout the building. Trained officers hid drugs throughout the building for K-9 teams to find. The hidden drugs were approximately one gram or the size of a small paper clip.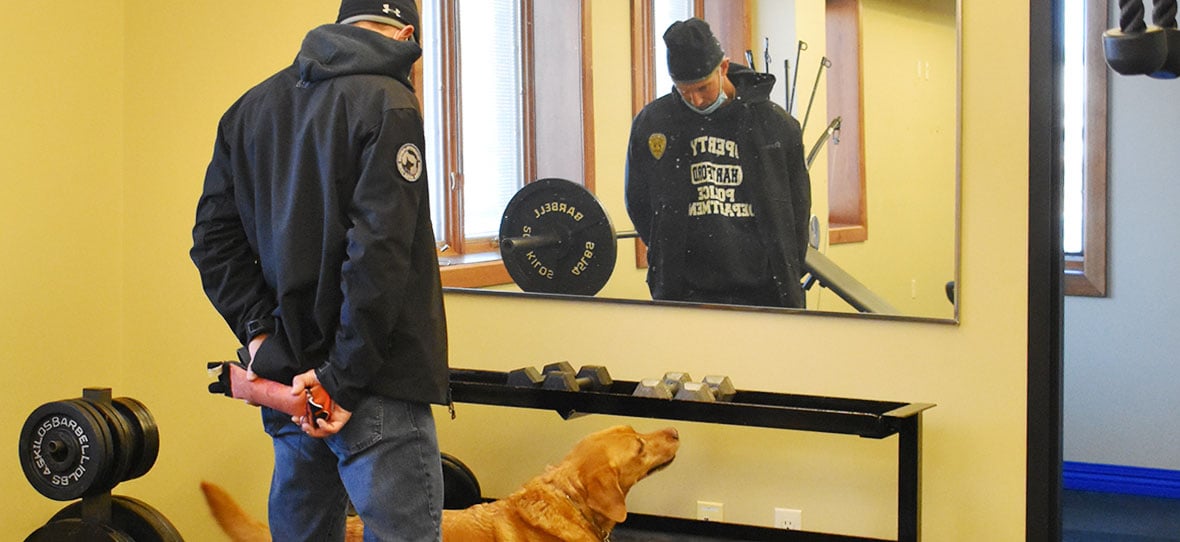 "If an Officer is searching for drugs, especially if it is that small of an amount and the room is filled will clutter and obstacles, it could take him or her hours to find the drugs," Officer Nate Dorn of the Hartford Police Department K-9 Unit explains. Officer Dorn works with his single purpose K-9, Cash, a Red Fox Labrador, trained specifically in drug detection. "Cash can search an area and find the smallest trace of drugs in usually about three to five minutes!"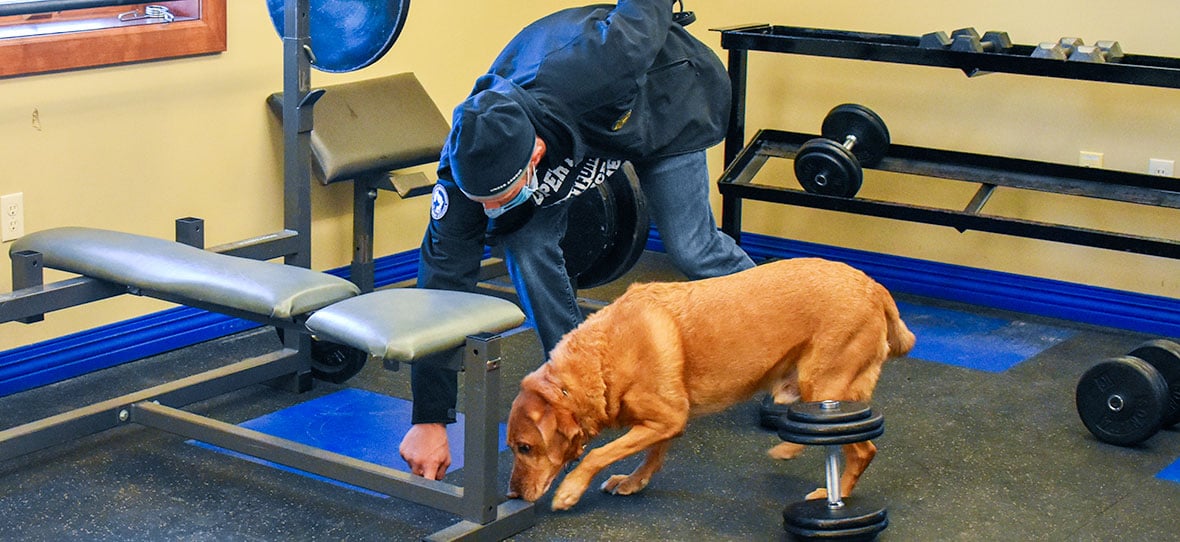 Surprisingly, indoor environments are more challenging for drug detection dogs because of several variables, including HVAC systems that continuously exchange and rotate air making it hard to pick up scents. A well-trained officer can detect the slightest changes in his K-9 when a scent is picked up, such as increased breathing of his dog. "As partners, I sometimes need to step in and help Cash narrow down a search area if he is having trouble pinpointing the location of the drugs," Officer Dorn explains. "I do this by being intuitive and picking up on his excitement and increased breathing when he catches a scent. When I notice his breathing advance around a particular spot in the room, I'll start having him focus on that area until he detects the drugs' exact location."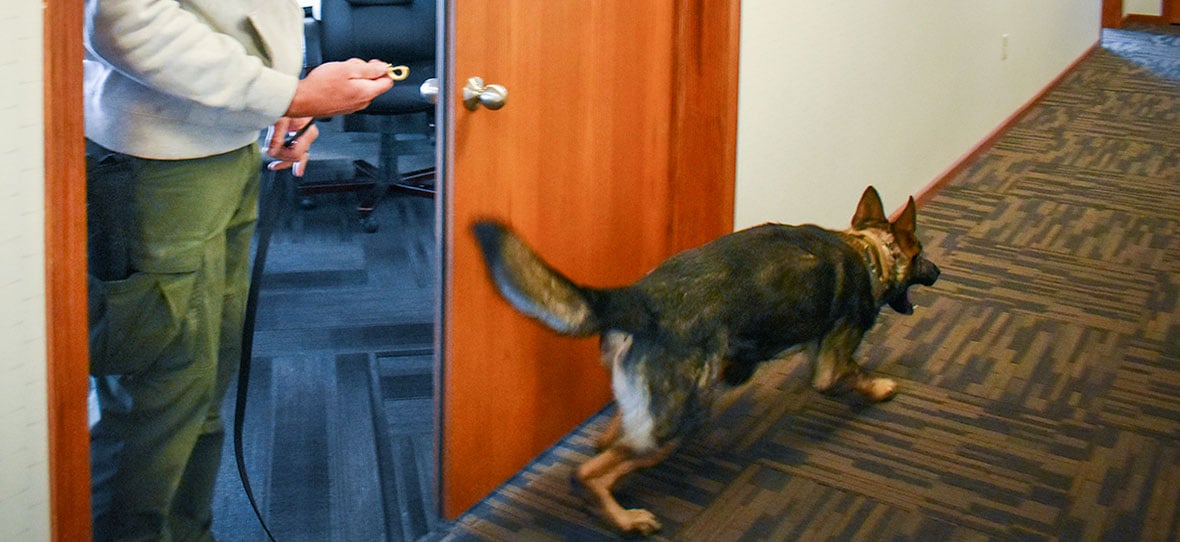 The day's training also included search and apprehend exercises. Officer Hardgrove's K-9 partner, Sam, is a dual-purpose patrol and narcotics detection police dog. Sam is a German Shepherd imported from Germany, certified to detect illegal narcotics and trained to track lost or endangered persons, assist with criminal apprehension and ensure handler protection. "If a dangerous person broke into a building like this, with this many rooms and hallways, it could take officers hours to find the suspect," Officer Hardgrove explains. "That's because officers are relying on visual cues and sounds. Suspects could quietly sneak around a building and hide in places, making it hard for them to be found. Sam, on the other hand, is searching for a suspect based on scent. He can clear a row of rooms in seconds and identify the location of the suspect in minutes."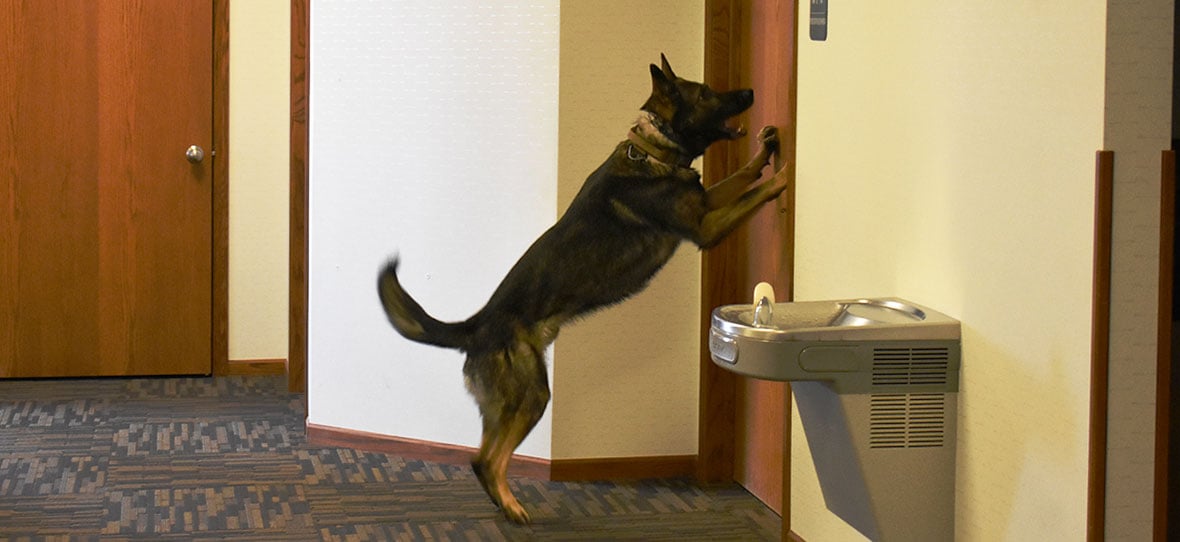 In the apprehend exercise, an officer dressed head to toe in a fully padded training bite suit poses as a suspect and hides in a room. The scenario opens with Office Hardgrove shouting, "Police with a K-9! Anyone here, speak now!" He repeats this phrase, allowing the suspect multiple opportunities to surrender themselves. With no response from the dark hallways, Officer Hardgrove gives Sam a German command. Sam leaps from Hardgrove's side and sets out to find the suspect. In seconds, Sam has already detected the room the suspect is in, alerting Officer Hardgrove by aggressively barking and guarding the closed door.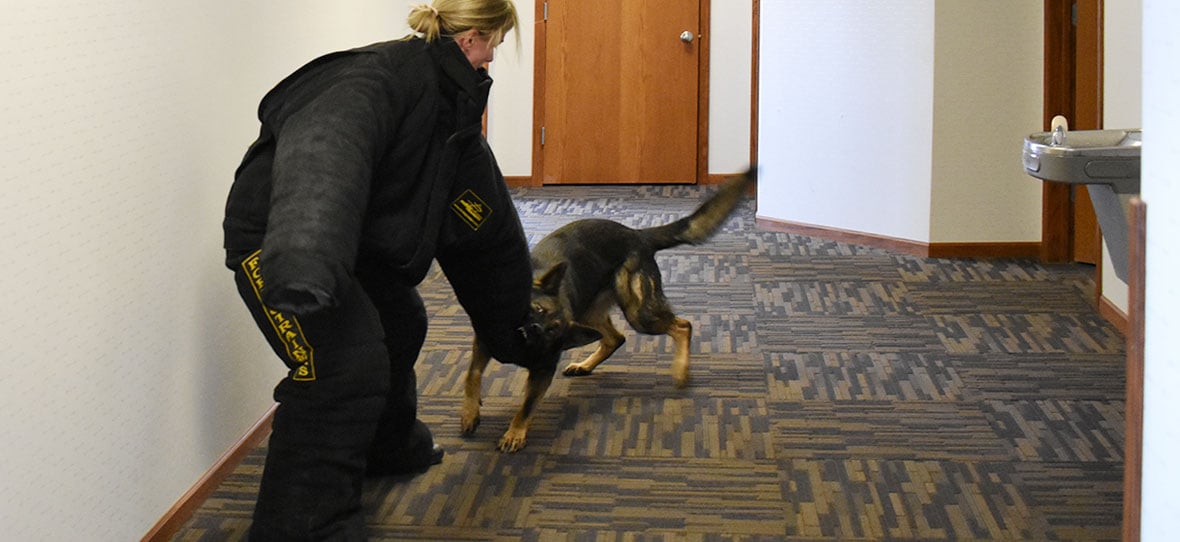 As Officer Hardgrove makes his way to Sam, the "suspect" opens the door and attempts to run. Sam apprehends the suspect by grabbing the suspect's arm (thankfully protected in the padded bite suit). Sam is trained to hold the suspect until Officer Hardgrove arrives and commands him to release.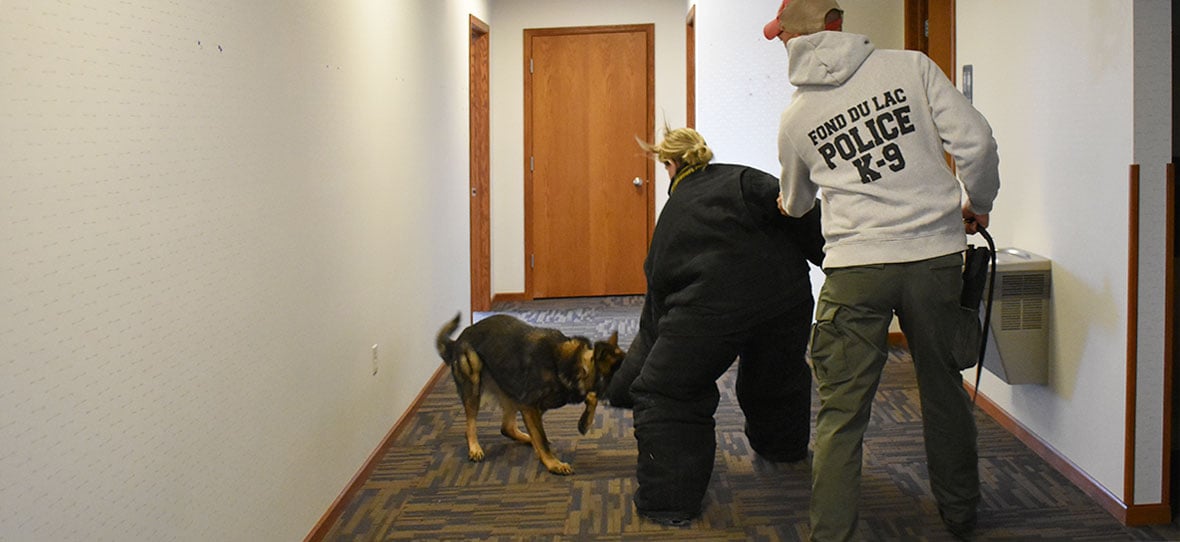 "Having unique facilities like the old C.D. Smith office for training exercises helps us prepare our teams for real-life scenarios," Officer Hardgrove says. "The more training we can provide our K-9 Units in diverse locations, the better prepared our teams will be when we get called in."
Officer Hardgrove is always looking for new places to host K-9 training exercises. At C.D. Smith, we are proud to support our local law enforcement agencies and warmly welcomed the K-9 Units that took over our old office for the day. If you or your business is interested in hosting a K-9 Unit training exercise, contact Officer Hardgrove at bhardgrove@fdl.wi.gov.
Agencies that participated in this event included:
Two officers from Winnebago County Sheriff's Office K-9 Unit
Two officers from Waukesha County Sheriff's Department K-9 Unit
One officer from New Berlin Police Department's K-9 Unit
One officer from Waupun Police Department
One officer from Hartford Police Department K-9 Unit
Two officers from Fond du Lac County Sheriff's Office K-9 Unit
One officer from Fond du Lac Police K-9 Unit