What Our Clients are Saying
Although it is not why we do the work we do, we are always honored when our projects receive awards and recognition. It solidifies that C.D. Smith is the firm that delivers and recognizes the hard work of our team members, clients and trade partners.
While formal awards highlight our passion for our craft and our dedication to delivering superior spaces, the best recognition we can receive at C.D. Smith is appreciation from our clients for the relationships we have built and a job well done. We are committed to exceeding expectations and are honored to receive feedback from our satisfied customers.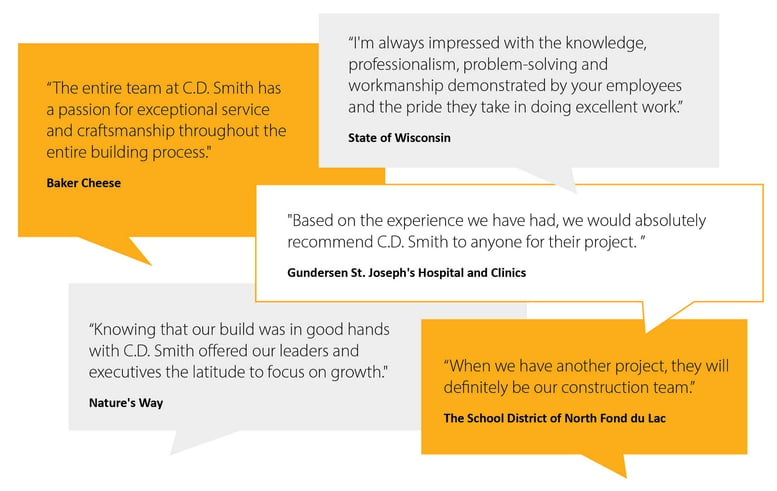 "The entire team at C.D. Smith has a passion for exceptional service and craftsmanship throughout the entire building process." - Baker Cheese
"I'm always impressed with the knowledge, professionalism, problem-solving and workmanship demonstrated by your employees and the pride they take in doing excellent work." - State of Wisconsin
"Based on the experience we have had, we would absolutely recommend C.D. Smith to anyone for their project." - Gundersen St. Joseph's Hospital and Clinics
"Knowing that our build was in good hands with C.D. Smith offered our leaders and executives the latitude to focus on growth." - Nature's Way
"When we have another project, they will definitely be our construction team." - The School District of North Fond du Lac
«•»
2021 Award Recognition
2021 InBusiness Commercial Design Awards
Gundersen St. Joseph's Hospital and Clinics
American Institute of Architecture (AIA) Wisconsin 2021 Design Awards
Bradley Symphony Center, C.D. Smith Corporate Office, Trestle Park (Honorable Mention)
2021 Associated General Contractors (AGC) BUILD Wisconsin Awards
Bradley Symphony Center (Multiple Awards), C.D. Smith Corporate Office
2020/2021 Daily Reporter Top Projects
Horicon School District, Rexnord Office Building, Renaissance Milwaukee West Hotel, Gundersen St. Joseph's Hospital and Clinics
«•»
Follow C.D. Smith ON SOCIAL
#CDSmith #ThinkSafeWorkSafe

---
About C.D. Smith
C.D. Smith Construction is an industry leader in safely providing the highest quality commercial construction services. Utilizing an integrated approach and self-performing trade services combined with technical expertise, our team serves as a solutions provider throughout all phases of a project, from planning through construction. With veteran leadership and a dedication to our employees and clients, we proudly place our name on projects of all sizes across the United States.
Visit www.cdsmith.com or follow us on Facebook, Twitter, LinkedIn, Instagram and YouTube.
---
Beneath the Hard Hat®, our company press and blog, offers an intimate look at the people and stories that make C.D. Smith Construction. With the latest industry news and project updates, we share insights on the superior spaces we are safely delivering year-round. Our technical experts provide valuable tips and topics to help plan your next commercial project.

---
TRADE PARTNERS & BIDS |If you're interested in working with us or would like to request adding your company to our bidder's database, please complete our Trade Partners & Bids Form: Click Here.
---