Wisconsin Center Expansion Project Celebrates Final Beam Installation
The $456 million Wisconsin Center Expansion project reached a major milestone with a ceremony held on May 10, 2023, to lift the final beam into place. Local leaders, including Governor Tony Evers and Mayor Cavalier Johnson, attended the ceremony to celebrate the project's progress.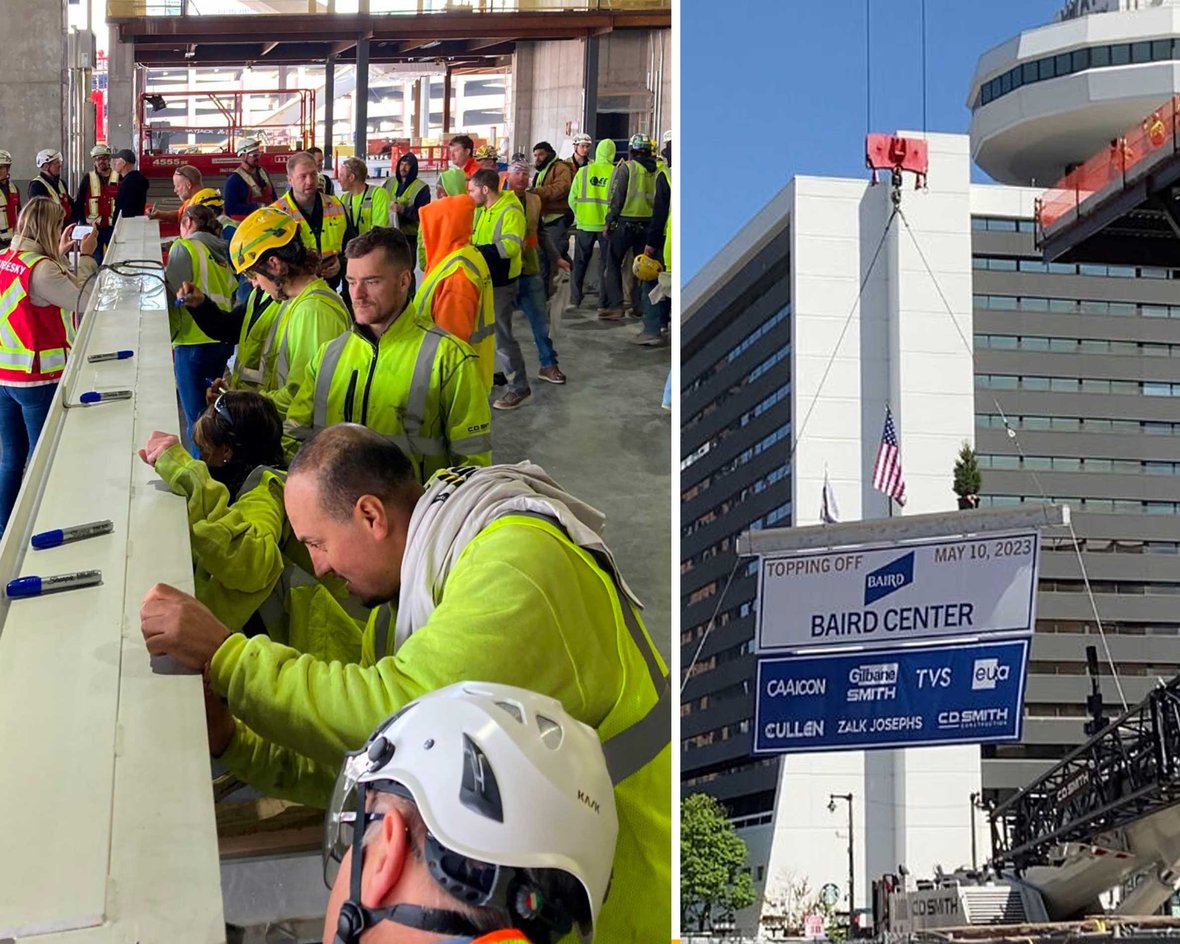 The expansion project is expected to be completed next May and will add 112,000 square feet of exhibit space, bringing the exposition hall to 300,000 contiguous square feet. The project includes:
» 24 new meeting rooms (bringing the total to 52)
» A roof-top ballroom with outdoor terraces
» 6 loading docks (totaling 22)
» 400 indoor parking spaces
» An executive kitchen
The expanded facility will fill two city blocks and will include quiet rooms, nursing mother rooms, all-gender bathrooms, on-site food composting and a solar roof. The increased size will allow for overlapping and simultaneous events, enhance competitiveness with other convention centers, attract new events and conventions to Milwaukee and boost the local economy.
The beam-raising ceremony marked the completion and installation of the final piece of structural steel, a major milestone in the construction process. The beam was signed by the construction crew and local leaders before it was hoisted into place.
The Wisconsin Center Expansion project has been designed with sustainability in mind, and is seeking LEED certification, an internationally recognized green building certification. The project is also committed to supporting local businesses and creating job opportunities for Milwaukee residents.
Overall, the Wisconsin Center Expansion project is expected to have a significant impact on the local economy and attract more visitors to Milwaukee. The topping-off ceremony was a major milestone in the project's progress, and local leaders are optimistic about the benefits it will bring to Milwaukee and the surrounding area.
Date: May 10, 2023 | Author: Tracy Lisowe
«•»
Follow C.D. Smith ON SOCIAL
#CDSmith #ThinkSafeWorkSafe
«•»
---
IN THE NEWS
Wisconsin Center District and Gilbane | Smith Celebrate Topping Off Milestone on the expanded Baird Center | CISION PRWeb 05.19.2023
Wisconsin Center expansion project hits milestone with topping off ceremony | CBS58 05.10.2023
---
Local leaders celebrate 'topping off' of $456 million convention center expansion | BizTimes 05.11.2023
Wisconsin Center topping off ceremony for $456M expansion | FOX6 News Milwaukee 05.10.2023
---
$456 Million Expansion Project at Baird Center topped off May 10, 2023 | The Daily Reporter 05.11.2023
---
Baird Center Reaches Highest Point | Urban Milwaukee 05.11.2023
---
See construction crews top off $456 million expansion of city's convention center | Milwaukee Business Journal 05.11.2023
---
Beam Raising Ceremony | Baird Center & buildingmore.com 05.12.2023
---