Ironworkers Build the Baird Center Expansion Project in Milwaukee
Meet the Members of Ironworkers Local 8 was produced by Building Wisconsin TV, a half-hour television series that travels around the state featuring commercial and residential projects. This blog post is a summary of the July 12, 2023 episode featuring Ironworkers Local 8 and the Baird Center Expansion Project, courtesy of Building Wisconsin TV. (Video is embedded below.)
Thank you for supporting Building Wisconsin TV and the skilled tradespeople #buildingmore in our great state!
Ironworkers play a vital role in the success of the Baird Center Expansion Project. The sheer size and weight of the iron pieces, some reaching up to 200,000 pounds and spanning 150 feet, highlight the magnitude of the project and the significance of their work.
WHY IT MATTERS: From the earliest stages, ironworkers tie and reinforce rebar, set steel, weld, install metal paneling, and even work on ornamental and glass installations. During a tour of the project, it became clear that ironworkers are responsible for more than just the iconic aerial shots we all know and love.
Ironworkers play a crucial role in installing components such as floor decking, rebar for concrete reinforcement, Nelson studs that lock the building together, and mesh for thinner concrete slabs. These meticulous details ensure the durability and integrity of the structure.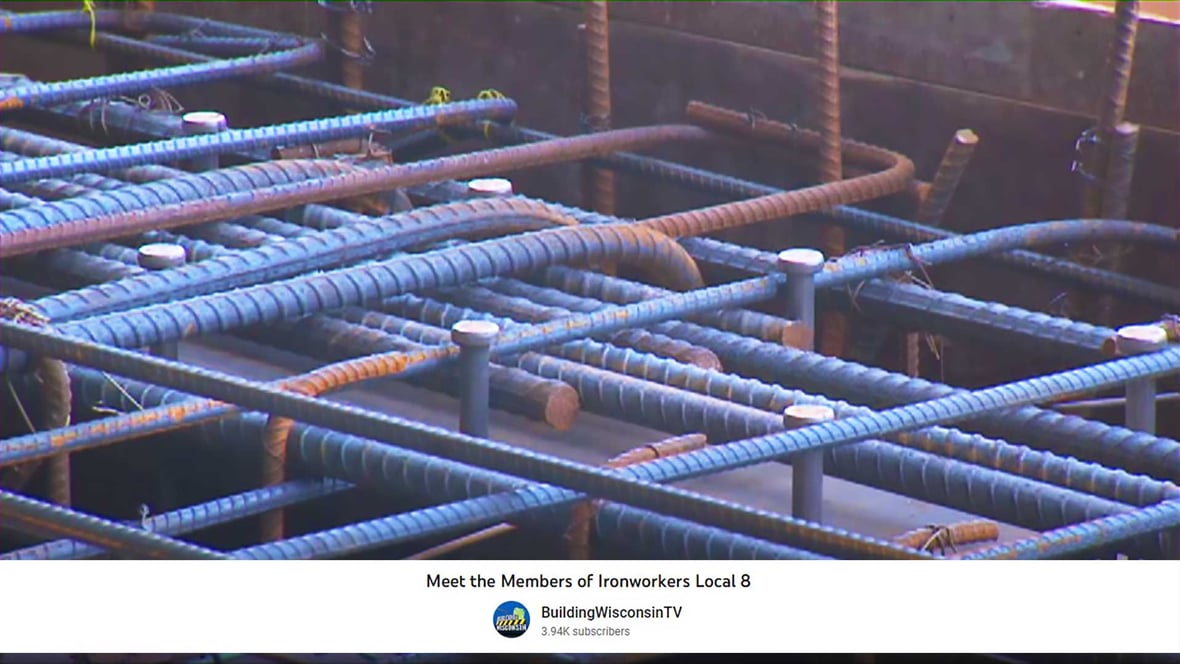 Falsework, or shoring, is yet another essential aspect. It temporarily holds large trusses in place during construction. Once the trusses are complete and concrete is poured, the falsework and shoring are removed, leaving a cantilevered structure that is made possible by the expertise of ironworkers.

One of the most striking elements on the Baird Center Expansion jobsite is the steel erection of the high roof. Hook-on guys hook the steel and fly between one to three pieces at a time to the connectors. Each ironworker on the project team specializes in different areas, including heavy steel connection, welding, reinforcing rebar and metal paneling.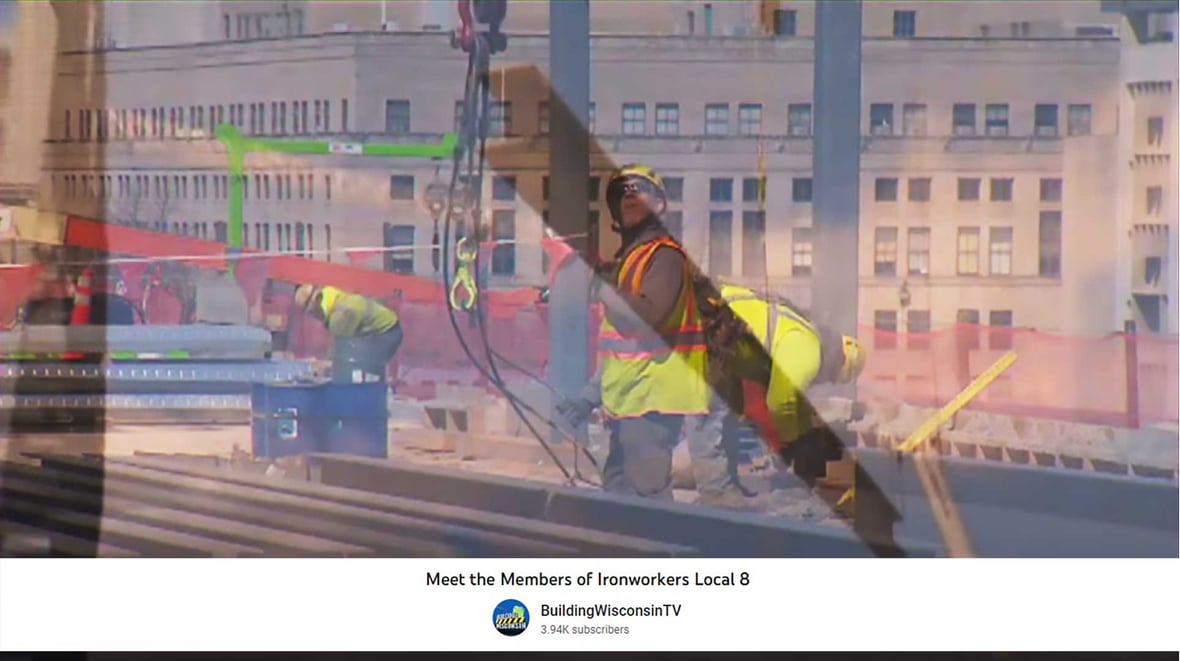 Safety is paramount, and the team understands the importance of rigging and communication with crane operators. Their extensive training and experience ensure that every lift is choreographed with the well-being of their teammates and the success of the project as top priorities.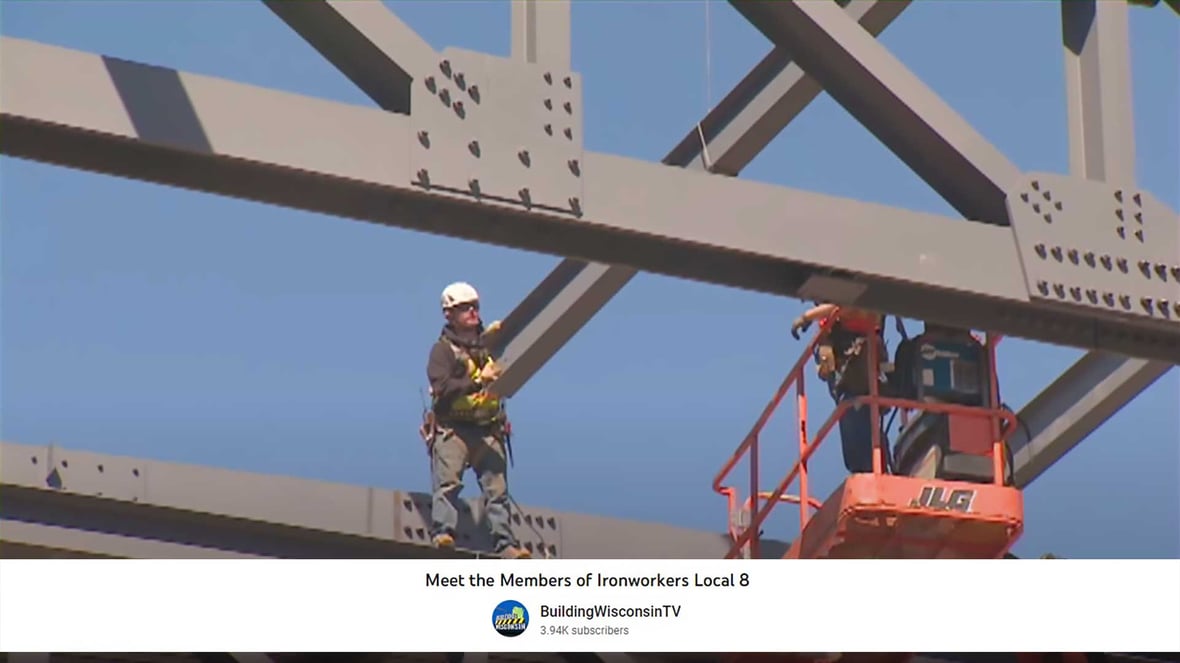 In enclosed spaces like stairwells, ironworkers showcase their specialization. Installing stair landings, stringers and treads requires alternate means of hoisting materials. Years of experience and mentorship play a vital role in navigating the tricks of the trade.
THE BOTTOM LINE: The Baird Center Expansion Project showcases remarkable craftsmanship. From a cantilevered overhang to the bridge connecting the Hyatt to the new expansion, the work of skilled tradespeople shines bright in downtown Milwaukee. We are privileged to have skilled ironworkers and building trades in Wisconsin, #buildingmore than just the structures that define our cities.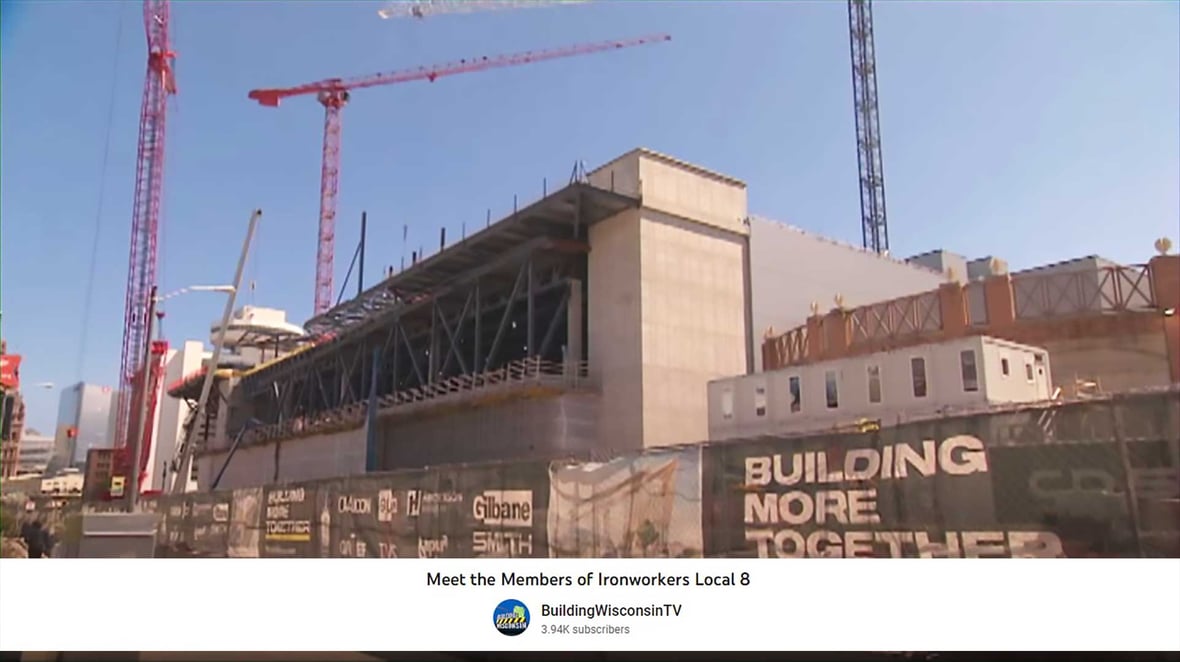 «•»
Follow C.D. Smith ON SOCIAL
#CDSmith #ThinkSafeWorkSafe
«•»
---
IN THE NEWS
It's no longer the Wisconsin Center as 'Baird Center' takes effect | Milwaukee Business Journal 06.30.2023
Visit Milwaukee sets its highest booking goal with expanded convention center | Milwaukee Business Journal 06.22.2023
Inside look at progress on $456M expansion of Milwaukee's convention center: Slideshow | Milwaukee Business Journal 06.15.2023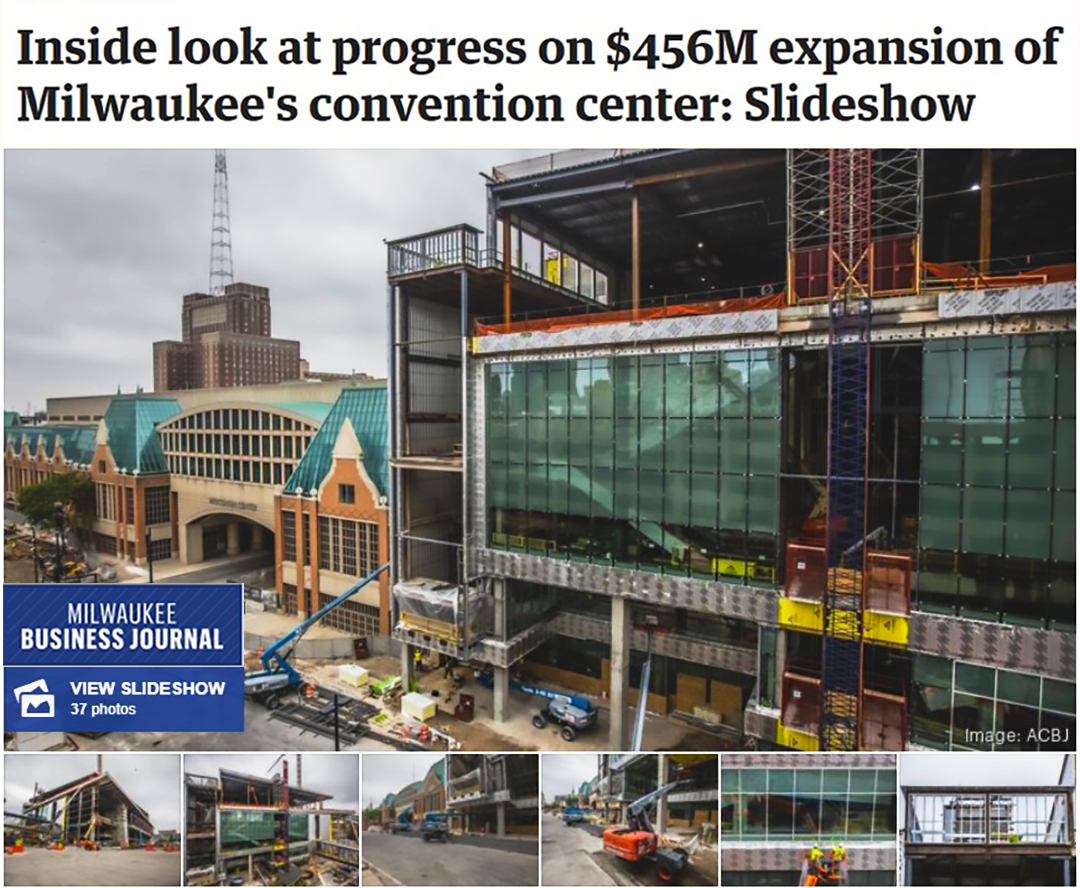 ---
Wisconsin Center District and Gilbane | Smith Celebrate Topping Off Milestone on the expanded Baird Center | CISION PRWeb 05.19.2023
WISCONSIN CENTER EXPANSION PROJECT CELEBRATES FINAL BEAM INSTALLATION | Beneath the Hard Hat® Press & Blog 05.12.2023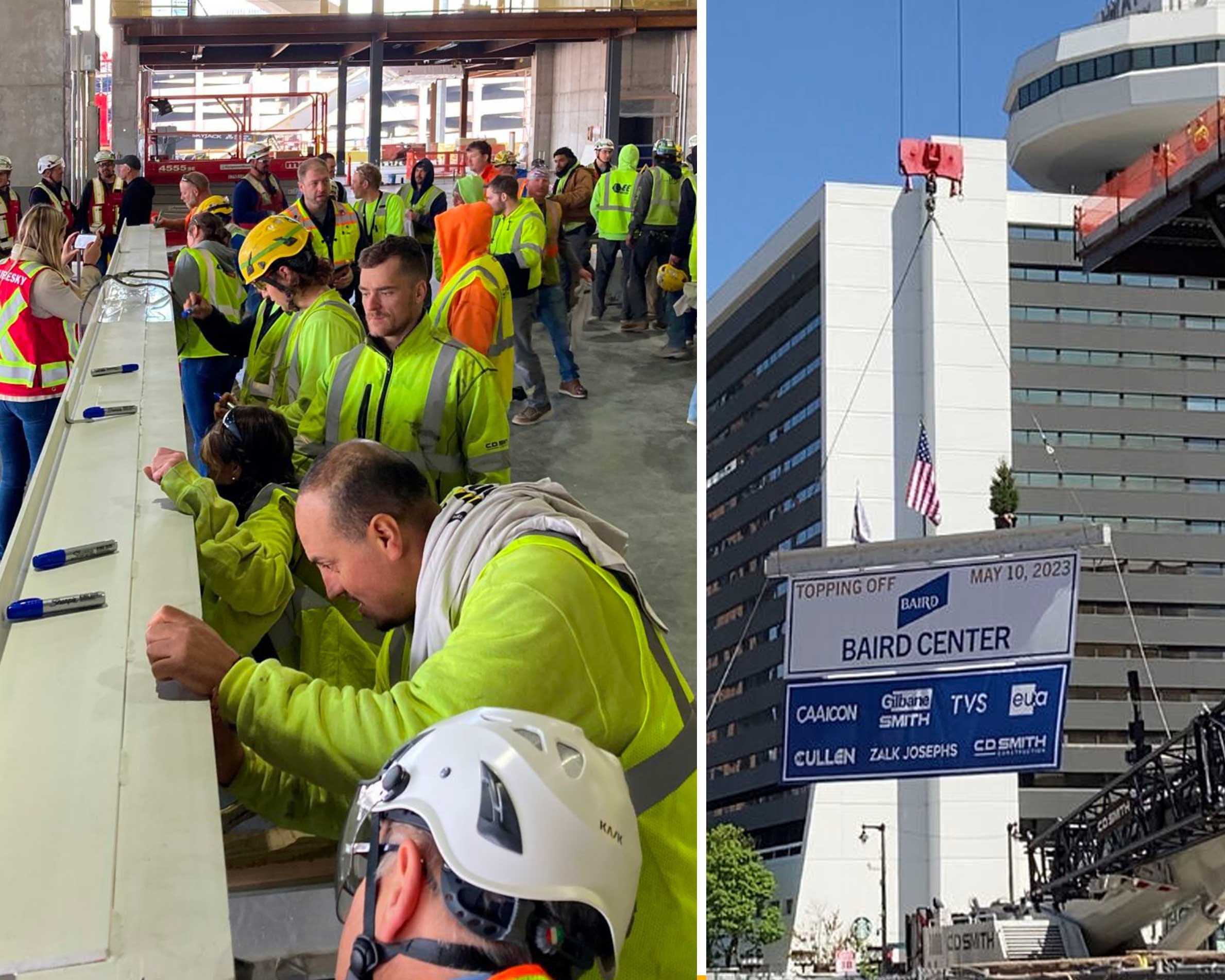 ---
Beam Raising Ceremony | Baird Center & buildingmore.com 05.12.2023
---
Wisconsin Center District and Gilbane | Smith Celebrate Topping Off Milestone on the expanded Baird Center | CISION PRWeb 05.19.2023
Wisconsin Center expansion project hits milestone with topping off ceremony | CBS58 05.10.2023
---
Local leaders celebrate 'topping off' of $456 million convention center expansion | BizTimes 05.11.2023
Wisconsin Center topping off ceremony for $456M expansion | FOX6 News Milwaukee 05.10.2023
---
$456 Million Expansion Project at Baird Center topped off May 10, 2023 | The Daily Reporter 05.11.2023
---
Baird Center Reaches Highest Point | Urban Milwaukee 05.11.2023
---
See construction crews top off $456 million expansion of city's convention center | Milwaukee Business Journal 05.11.2023
---
Beam Raising Ceremony | Baird Center & buildingmore.com 05.12.2023
---