SECURA Insurance Companies
C.D. Smith Construction Manager Project: SECURA Insurance Companies' Corporate Headquarters
SECURA Insurance Companies' Corporate Headquarters project exemplifies sustainable, high-performance building for marrying brand and experience - building a culture of team connectivity to their company's purpose. C.D. Smith Construction was awarded preconstruction and construction management services for SECURA Insurance's new Corporate Headquarters. A people-focused culture, environmental heritage and a spirit of wellness is all brought together under one roof. To continue to be a workplace of choice, employee amenities such as walking trails, fitness center, wellness clinic and outdoor fountains are included in the design. The new facility has immediate room for 900 employees and has been designed to accommodate future growth.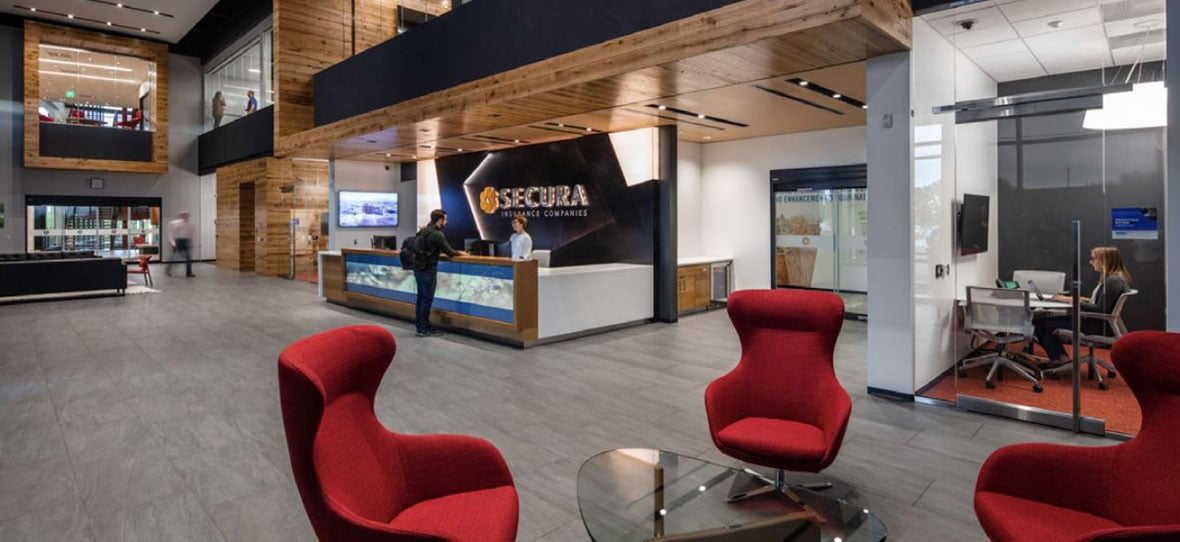 A large focus was put on sustainability and integrating green practices into the building, minimizing environmental impact while creating a workplace employees can be proud of. SECURA will also generate 15% of their own energy from the solar panel field adjacent to the office building.
Features include:
Open Office Space for 900 Employees
Solar Panel Field
Private Offices
Data Center
Conference + Work Rooms
Training Rooms
Entertainment Lounge
Commons + Lounge Areas
Fitness Center + Locker Room
On-Site Medical + Wellness Clinic
Full-Service Kitchen + Dining Area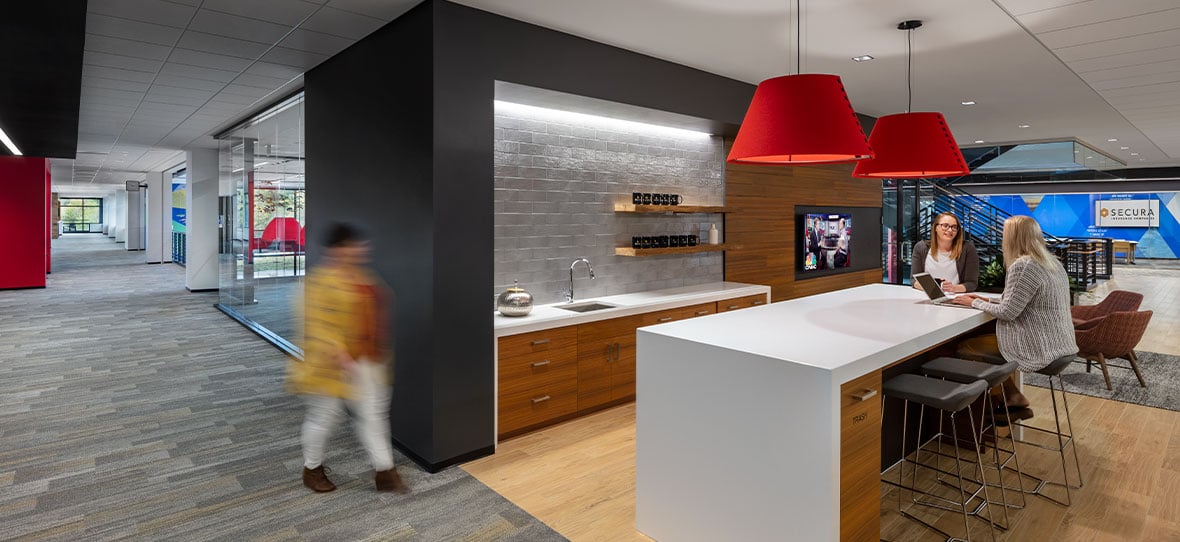 ---
Awards
SECURA awarded the WELL Certification at the Gold Level | SECURA Insurance 07.08.2021
Top Projects of 2019: Green practices find home in SECURA headquarters | The Daily Reporter 10.26.2020
SECURA Insurance | WELL Gold Certified
---
Look for the WELL Health-Safety Seal
---

C.D. SMITH CONSTRUCTION. Finding Solutions for Corporations to Thrive and Strive to be Innovative While Meeting the Needs of Tomorrow.
---
About C.D. Smith
C.D. Smith Construction is an industry leader in safely providing the highest quality commercial construction services. Utilizing an integrated approach and self-performing trade services combined with technical expertise, our team serves as a solutions provider throughout all phases of a project, from planning through construction. With veteran leadership and a dedication to our employees and clients, we proudly place our name on projects of all sizes across the United States.
Visit www.cdsmith.com or follow us on Facebook, Twitter, LinkedIn, Instagram and YouTube.