SSM Health Beaver Dam Clinic
Modern Healthcare Architecture, Design and Clinic Construction Project
C.D. Smith was awarded construction management services for SSM Health's Clinic in Beaver Dam. The two-story clinic is conveniently located in Beaver Dam's 151 Business Park, providing essential healthcare services to area residents.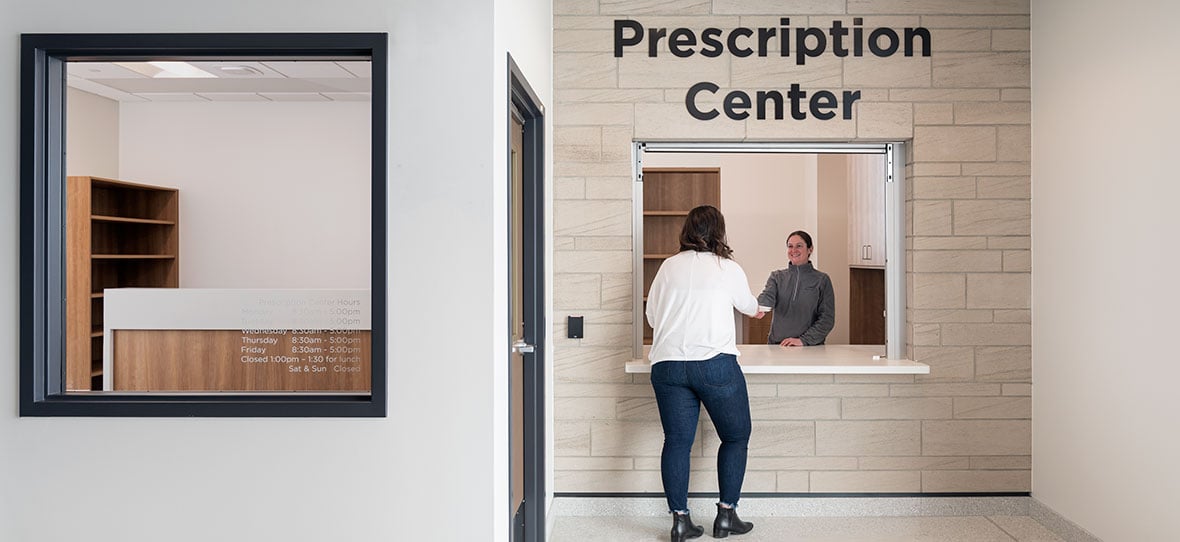 The new clinic provides primary and specialty care in addition to imaging, laboratory and pharmacy services. The upgraded facility includes shell space in the initial design to accommodate future growth. The SSM Health clinic in Beaver Dam is one of five southern Wisconsin facilities, including Madison, Fond du Lac, Waupun and Baraboo.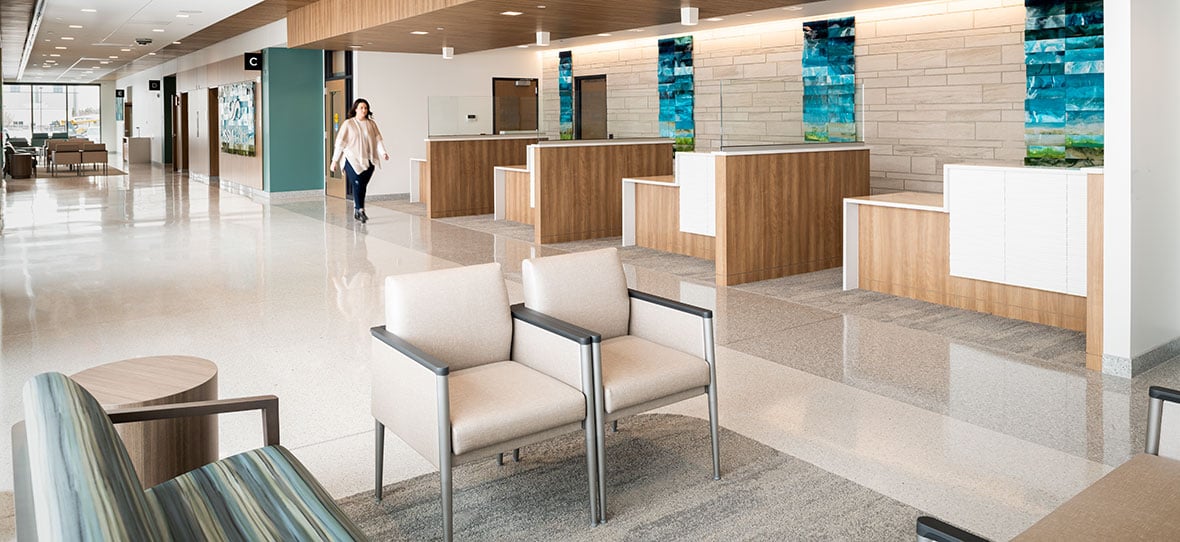 Features include:
Exam Rooms
Nurse Station
Procedure Room
Employee Conference Room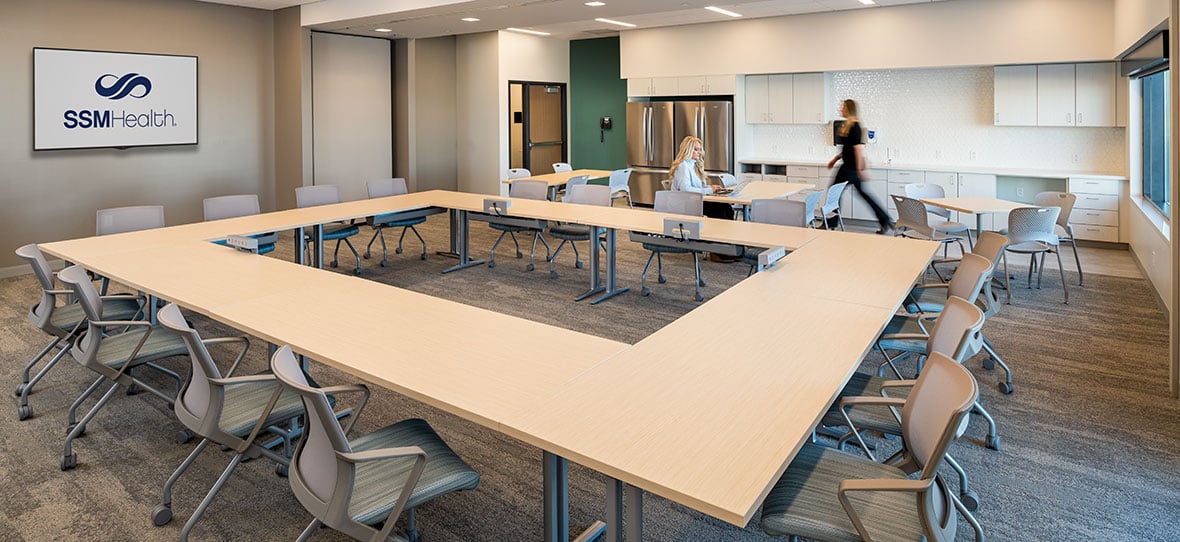 SSM Health's Beaver Dam Clinic is an example of a WELL-certified clinic built by C.D. Smith Construction. Learn more about the WELL Building Standard from our Beneath the Hard Hat® press and blog post.
«•»
SSM Beaver Dam Clinic | WELL Building Time-lapse by EarthCam
---
Follow C.D. Smith ON SOCIAL
#CDSmith #ThinkSafeWorkSafe

---
C.D. SMITH CONSTRUCTION HAS EXPERIENCE ADVANCING HEALTH AND WELL-BEING BUILDING COMMERCIAL PROJECTS PURSUING WELL CERTIFICATION, BUT WHAT DOES THAT MEAN?
Click here, to the full blog article, to learn more.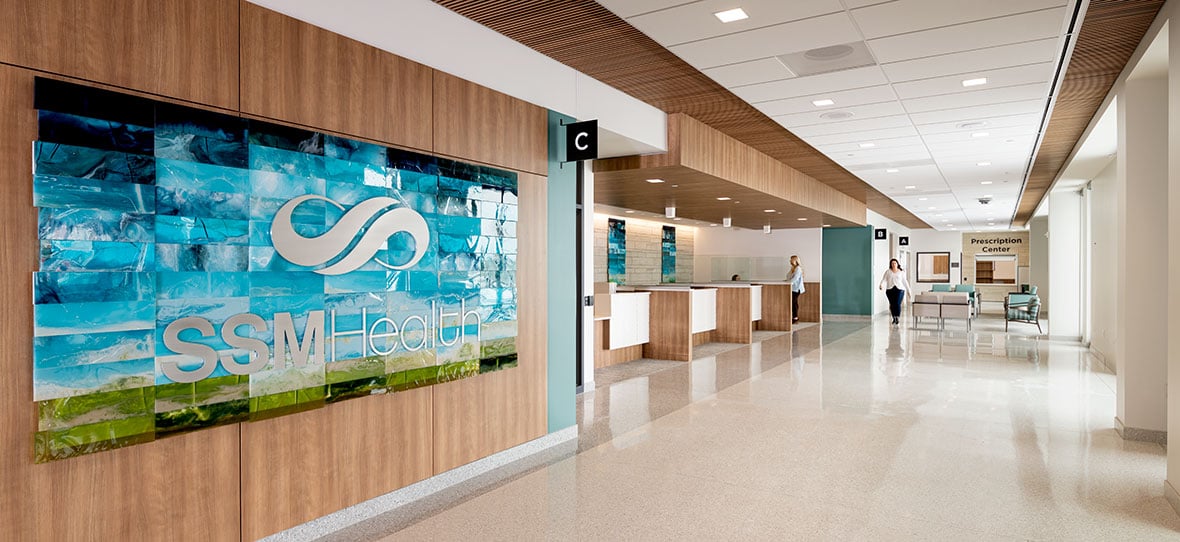 ---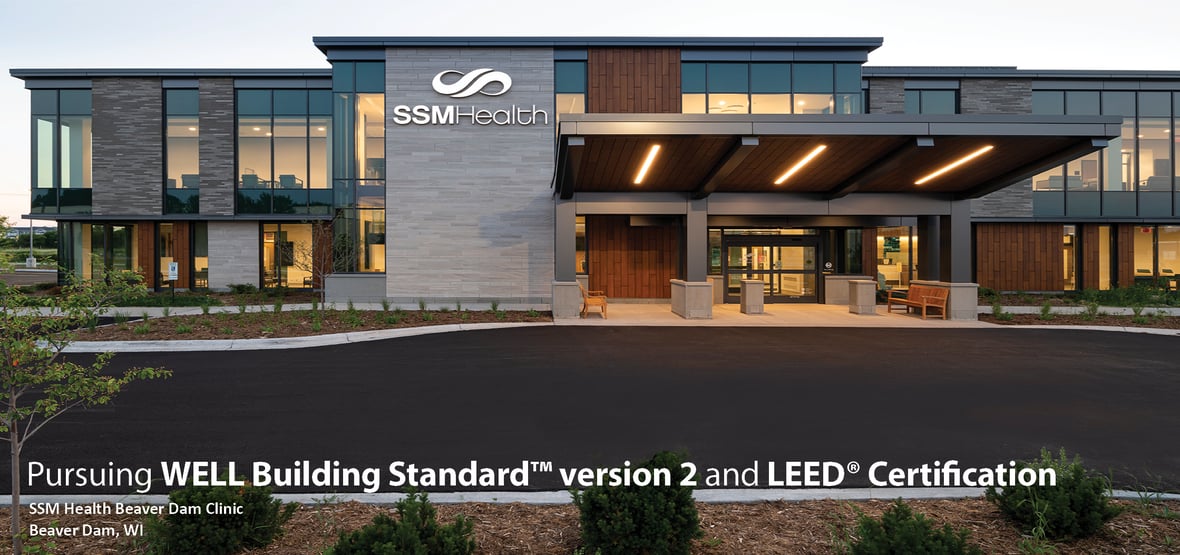 SSM Health's Beaver Dam Clinic prioritizes patient wellness by offering a healthy and sustainable environment for patients and employees. The building is expected to earn WELL Building StandardTM version 2 certification and is qualified for LEED® certification.
Awards
SSM Health/Dean Medical Group Beaver Dam Clinic | 2023 Engineering Excellence Best of State | ACEC Wisconsin News 02.19.2023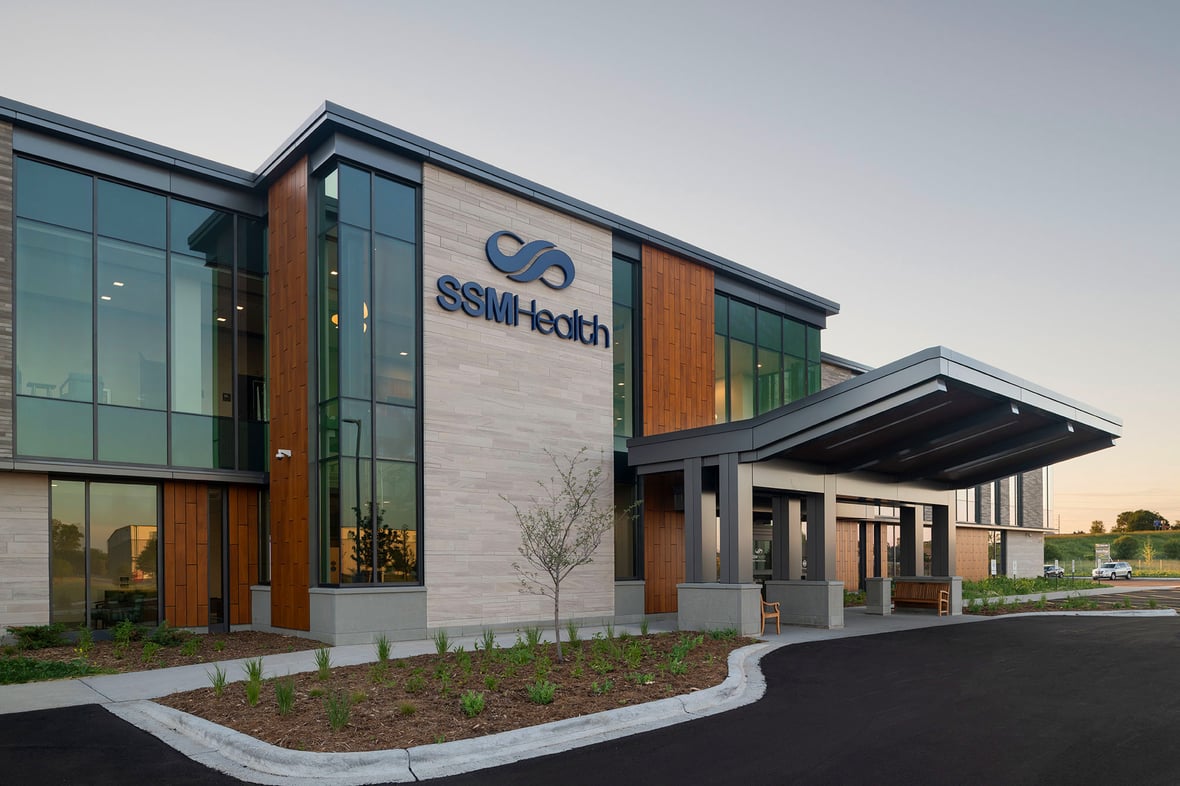 SSM Health's Beaver Dam Clinic won Best of State at the American Council of Engineering Companies (ACEC) of Wisconsin's 2023 Engineering Excellence Awards.
TWO BIG THINGS give the clinic a competitive edge:
1. Prioritizing Patient Wellness
The building is expected to be the first WELL v2-certified clinic in Wisconsin.
The facility qualifies for LEED certification, a mark of sustainability in design.
2. An Effective Workplace
The clinic is laid out for easy access and to boost collaboration among providers.
It provides a healthy and sustainable environment for patients and employees.
Thank you to IMEG Corp. and Eppstein Uhen Architects for delivering on the future of healthcare by providing a healing environment for prioritizing wellness through thoughtful design.
Congratulations to IMEG Corp. and all of the 2023 award winners!
Check out the 2023 Awards Gallery for a full showcase of the year's best engineering achievements, including SSM Health's Beaver Dam Clinic, at https://www.acecwi.org/awards-gallery-2023.
Follow C.D. Smith ON SOCIAL
#CDSmith #ThinkSafeWorkSafe

---
Feature Commercial Design Awards | Best New Development or Renovation: Health Care | In Business Magazine August 2022 Issue
In Business magazine's Commercial Design Awards honor local companies' best commercial design projects built in Wisconsin. SSM Health Dean Medical Group and Fond du Lac Regional Clinic, submitted by EUA, was honored as a winner in the category of Best New Development or Renovation: Healthcare.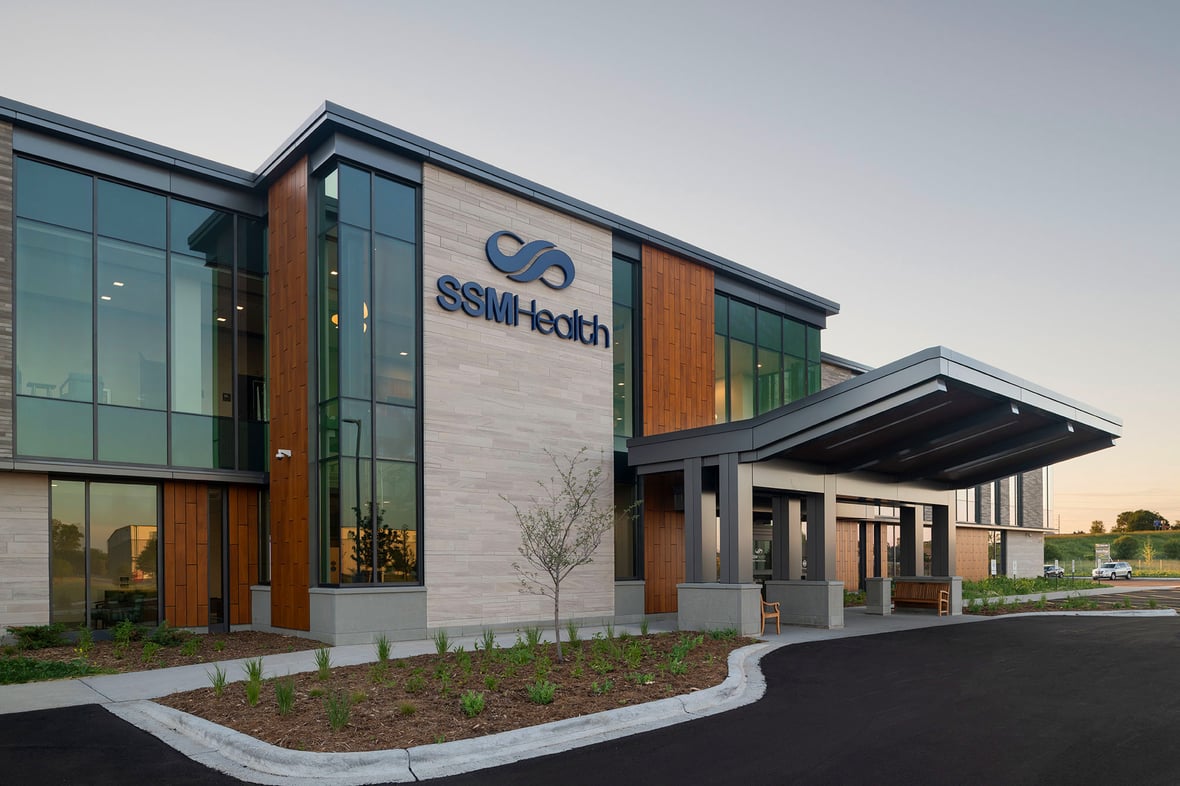 The 39,803-square-foot-clinic provides essential primary and specialty healthcare to area residents, including family medicine, imaging, obstetrics/gynecology, laboratory and pharmacy services. To help residents of Beaver Dam and the surrounding communities get well, it was important to incorporate performance-based WELL Building Standards within the facility. Building features include exam rooms, nurse's stations, procedure rooms, employee amenities and specialty created healing spaces. The on-campus prescription center, and registration spaces were built for social distancing and offer an open concept design conducive for patients and providers. Employee areas, bike storage and locker rooms are also offered.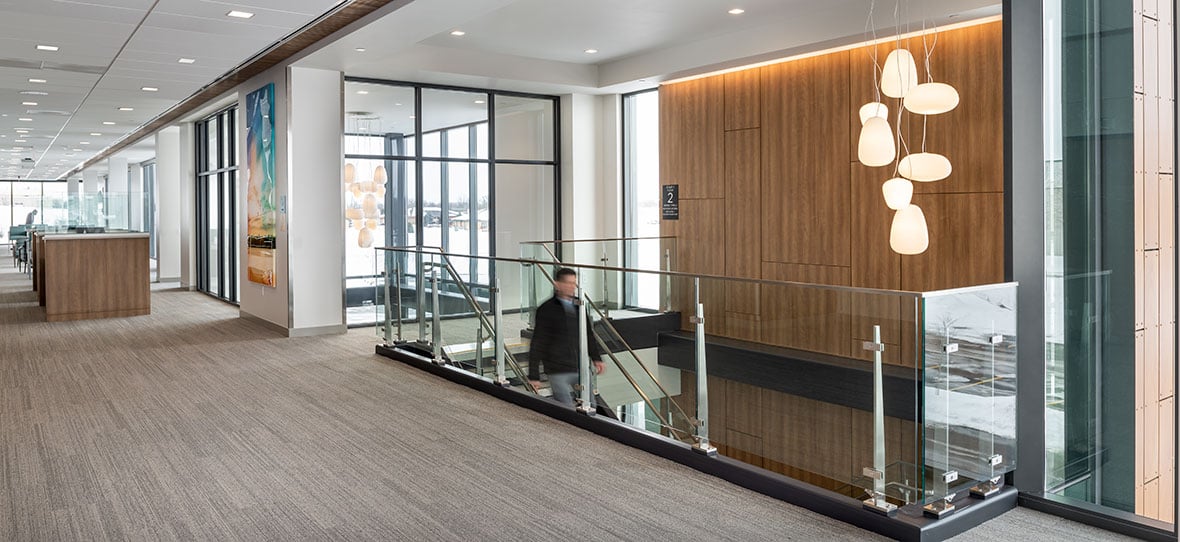 The judges were impressed by the avoidance of a depressing, sterile, institutional environment through the use of floor-to-ceiling windows and a soaring entrance with lots of natural light to assist with patient comfort. WELL certification ambitions helped prioritize the health and safety of a building's occupants during construction and after the project has been turned over to the owner. Natural light, focus on air quality, water filtration, comfort, fitness, a mindfulness to traffic patterns all contributing to mind and body wellness.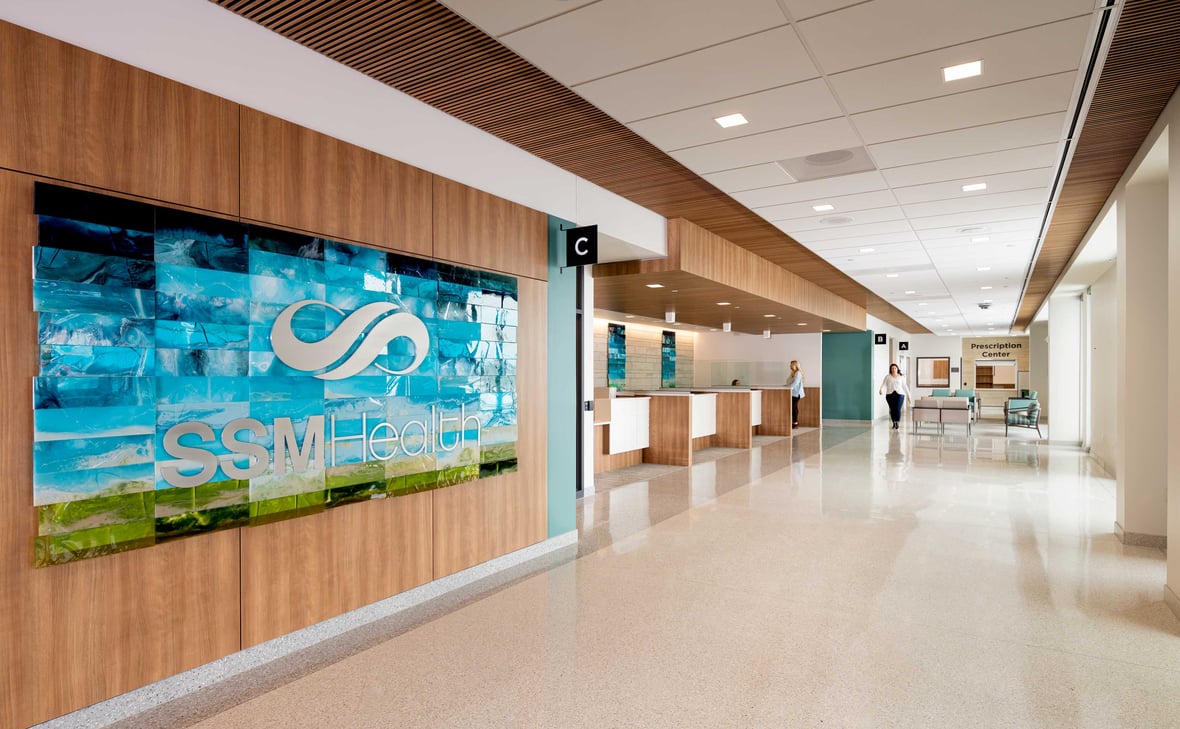 The winners were celebrated at the 15th Annual Commercial Design Awards on August 2, 2022 at the Best Western Premier Park in Madison, Wisconsin.
---
How SSM Health is Leading the Way to Wellness with WELL Certified Buildings | John Ford, AIA, EDAC, LEED AP BD+C, NCARB 06.10.2020
Look for the WELL Health-Safety Seal
---
Provide the very best care for your patients, comfort for visitors and state-of-the-art space for your healthcare team by building new or renovating current space. Our team will exceed your expectations with regards to well-building, indoor air quality, COVID-19 renovations and many other unique considerations.
We know that hospitals and clinics are more than buildings. That's why we care about HEALTHCARE. Our team includes healthcare construction experts certified in providing innovative solutions to deliver spaces that meet all your needs. Preview our HEALTHCARE PROJECT EXPERIENCE or explore more healthcare construction projects using this link to the YOUR INDUSTRY: HEALTHCARE CONSTRUCTION pages of our website.
<<•>>
C.D. SMITH CONSTRUCTION. DELIVERING INNOVATIVE HEALTHCARE CONSTRUCTION SOLUTIONS IN THIS EVER-EVOLVING WORLD. KNOWING THAT WITH GOOD HEALTH, ALL IS POSSIBLE.
---
About C.D. Smith
C.D. Smith Construction is an industry leader in safely providing the highest quality commercial construction services. Utilizing an integrated approach and self-performing trade services combined with technical expertise, our team serves as a solutions provider throughout all phases of a project, from planning through construction. With veteran leadership and a dedication to our employees and clients, we proudly place our name on projects of all sizes across the United States.
Visit www.cdsmith.com or follow us on Facebook, Twitter, LinkedIn, Instagram and YouTube.
---
Beneath the Hard Hat®, our company press and blog, offers an intimate look at the people and stories that make C.D. Smith Construction. With the latest industry news and project updates, we share insights on the superior spaces we are safely delivering year-round. Our team of technical experts provides useful tips and topics to help plan your next commercial project.

---
TRADE PARTNERS & BIDS |If you're interested in working with us or would like to request adding your company to our bidder's database, please complete our Trade Partners & Bids Form: Click Here.
---