"Back to school" are three words we never thought we would want to hear so badly. In hopeful preparation for school to begin again, it is important to keep in mind the ways that COVID-19 has limited normal functions and ways for members of our community to attain necessary school supplies. Although the Back to School FDL drive is suspended for this year, help is needed now more than ever. C.D. Smith is proud to donate and continue supporting this drive.
Ways to Help:
Volunteer
Help with filling backpacks will school supplies
Assist with the curbside distribution on Saturday, August 22nd. Visit www.backtoschoolfdl.org to see more volunteer opportunities
Donate
Go to www.backtoschoolfdl.org to find PayPal feature

If you'd like to provide a full backpack, $75 will cover it

Send a check!

Make it to "Back to School" and send it to P.O. Box 1747, Fond du Lac, WI 54936
Be sure to include the information below (name, address)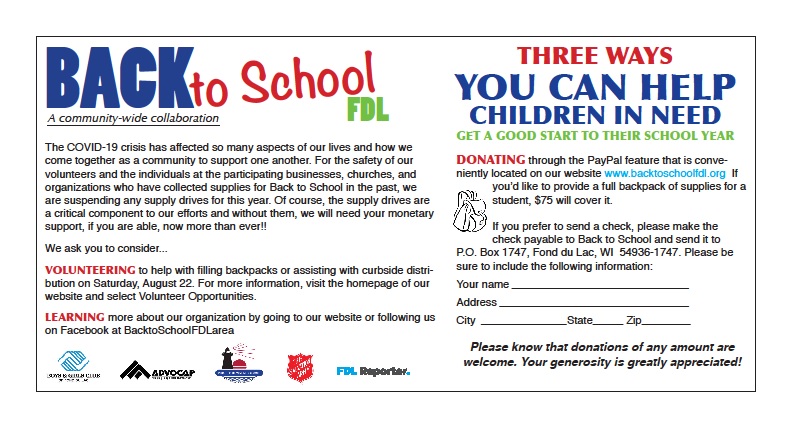 About Back to School FDL
Back to School FDL is a community-wide collaboration that focuses on children in the Fond du Lac and surrounding areas who need assistance obtaining school supplies for the upcoming school year. Lear more at www.backtoschoolfdl.org.