Meeting the Needs of a Remote Workforce
Continuous improvement of technology over the last decade has opened the door to a growing remote workforce. And while the opportunity to work remotely has become increasingly desirable to employees, the winter of 2020 would create a launchpad that would forcibly propel companies into a virtual workforce, whether they were ready or not.
While deemed essential, the construction industry was not exempt from this digital move. From accountants to project managers, hundreds of thousands of employees across the construction industry would need to learn how to adapt in a digital age amidst a global pandemic.
Some companies may have tested the waters with a few remote workers in select roles before the pandemic hit. However, this year very well could be a defining year for many other organizations and a trial to see how well they can adapt – will they sink or swim?
When considering the needs of a productive remote workforce, it goes beyond a reliable internet connection and access to a company network. I would argue that these three essential aspects should be kept in check to keep remote employees engaged: Internal Needs, External Needs, and Organization Needs. When these three needs are addressed, employees will feel valued, connected, engaged and productive while working remotely.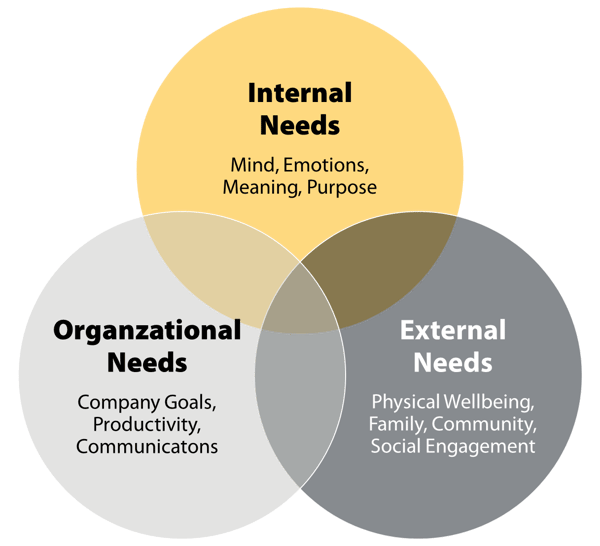 Internal Needs
The pandemic has brought an unusual set of emotions and anxieties that employees face. The most substantial stress is the fear of the unknown, such as job security, economic stability, and the unsightly spread of disease. Additionally, employees have an increased desire to find meaning and purpose in the work they are performing. Employers must make a connection to why employees are still working. Helping employees connect the dots that their work contributes to stabilizing and securing the future of their organization will help put their anxieties at ease.
Companies need to be transparent during these uncertain times. When employees have readily available access to the latest company information, COVID-19 response, protocols, and procedures, it will help them feel secure and informed. At C.D. Smith, employees can access information 24/7 on our employee intranet. The company intranet provides employees with the latest organization updates, frequently asked questions in response to COVID-19, and downloadable policies and procedures adapted to the pandemic.
External Needs
When working from home, employees will face many external needs from supporting their families, preserving a connection with their communities, and maintaining their physical wellbeing. These external needs will directly impact their internal (mental and emotional) needs and even occasionally compete with their organizational needs.
For example, if an employee is in a virtual meeting with colleagues and their three-year-old child opens the door with a need, a sense of understanding and acceptance of the disruption should be universal amongst the group. Perhaps this acceptance is common courtesy, but acceptance of family disruption is also a part of your company's culture. Organizations can celebrate employees and their families through fun activities such as "bring your child to work" during a short virtual social gathering.
Physical wellbeing is another critical factor that keeps employees healthy and motivated. COVID-19 closed gyms and disrupted employees' workout routines. Creating an online community with your employees to encourage each other to eat healthily and keep fit will strengthen the bond between employee and employer. At C.D. Smith, we have wellness challenges and shared fitness tips, simple home workout routines and healthy recipes on our employee intranet. Employees are encouraged to share their ideas on fitness while rallying on other employees to hit their personal wellness goals.
Organizational Needs
We need to be transparent with our employees what is expected of them when working remotely. As leaders, we need to help our employees by defining the direction we want our company to row in. Especially during these uncertain times, employers cannot over-communicate to its employees.
Communication happens on many different levels, from top-down, between management levels, peer to peer, e-newsletters and intranet articles. Between these various channels, internal communication should be clear and consistent. Managers should be sharing the same information amongst their teams across the organization. When teams are all paddling in the same direction, organizations can overcome the tides of COVID-19 and the challenges that come with working remotely.
Furthermore, managers should have frequent one-on-one virtual touchpoints with employees to check in on how they are doing. When working remotely, many employees likely will not reach out to their manager with concerns until it is too late. Remote employees may feel disconnected and afraid something is wrong when they haven't heard from their managers in a while. Not wanting to rock the boat and stay under the radar, remote employees will quietly continue to work without communicating their concerns. Slowly, the remote employees will become disengaged and productively will drop. But when a manager maintains positive relationships with their direct reports with frequent communications and touchpoints, they will see more energetic engagement levels and productivity.
At C.D. Smith, teams have weekly virtual meetings in addition to various one-on-one virtual connections. Team meetings are efficiently structured and kickoff with a segue where employees share one professional accomplishment in the past week and one personal achievement. The segue allows employees to catch up with colleagues and fulfill the "bubbler conversations." Following the segue is a scorecard check-in and tasks review, which gives visibility to the team's progress over the last week and how it correlates with the company's overarching goals. Having a structured meeting that all departments follow helps create a sense of stability and consistency in uncertain times.
Meeting the Needs
We believe if we put the employee's internal and external needs first, they are more likely to give back tenfold. By recognizing the correlations between internal needs, external needs and organizational needs, leaders can help their workforce adapt to a rapidly changing environment. By providing clear communications and a support network that addresses these needs, organizations' remote workforce will become more engaged and productive.