Project Update: Camp Vista Chapel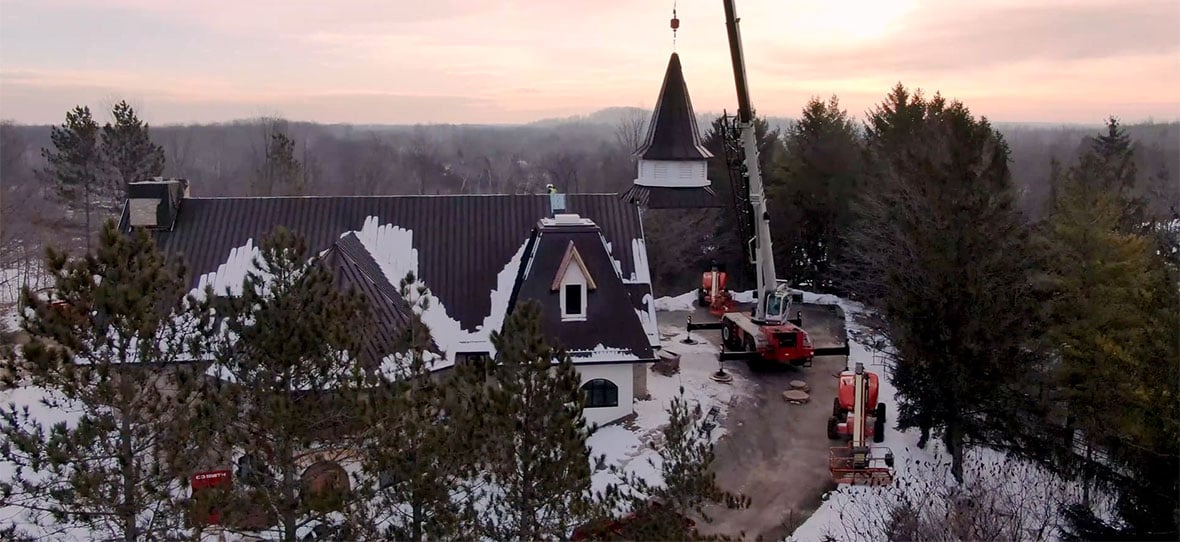 A massive fire devastated Camp Vista's beloved chapel on October 24, 2018. Following the chapel's destruction, its charred remains evoked deep sadness and a profound sense of loss from the surrounding community. But signs of hope were quick to follow. Catholic Camp Manager, Andrew Fidziukiewicz, recounts an impressive series of events leading up to this much anticipated day. He shares their story below.
On January 13, 2021, we crowned the Camp Vista Chapel. As the sun rose over Camp Vista, two steeples, together weighing over three tons, were placed on the campground's defining building. We anticipated this day for two years since the 2018 fire. The devastation and the loss were difficult for us all, but our faith was strong. We were determined to come back and become even better than before.
Rebuilding began on March 13, 2020. C.D. Smith Construction broke ground almost simultaneously as the COVID-19 pandemic was announced from the White House. The chapel construction was completed in a mere ten months. Seeing what we were able to achieve during a global pandemic is unbelievable! What was once a hole in the ground, and a hole in the hearts of many, has been filled with the development of this beautiful structure.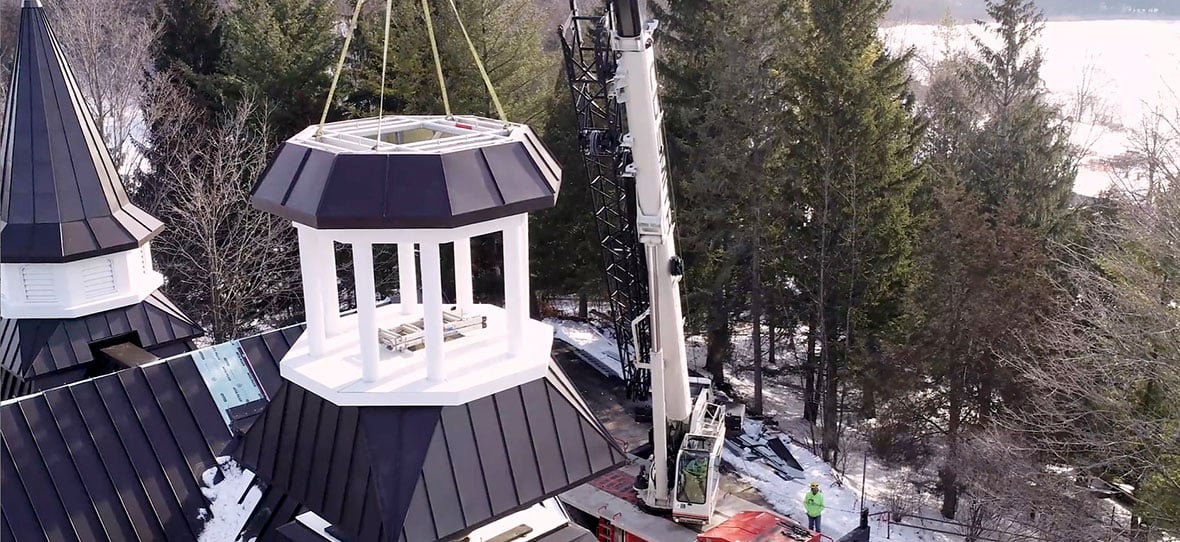 This iconic Chapel in the serene Kettle Moraine Forest will surely become a community landmark.
The success of this project is largely thanks to our collaboration with C.D. Smith Construction. The efforts and guidance from Jeff Redman (Project Manager), Kris Thome (Jobsite Superintendent), along with their crew and trade partners, have been remarkable. They got the job done and did it right.
This unique project's other features include exposed wood beams, 160-person pew seating, accent stone walls and a choir loft above the pews for an ideal acoustic environment. Discover more details about everything C.D. Smith delivered as construction manager for this beautiful new chapel from the Camp Vista project profile page in our website's Your Industry section.
«•»
Follow C.D. Smith ON SOCIAL
#CDSmith #ThinkSafeWorkSafe


---
About C.D. Smith
C.D. Smith Construction is an industry leader in safely providing the highest quality commercial construction services. Utilizing an integrated approach and self-performing trade services combined with technical expertise, our team serves as a solutions provider throughout all phases of a project, from planning through construction. With veteran leadership and a dedication to our employees and clients, we proudly place our name on projects of all sizes across the United States.
Visit www.cdsmith.com or follow us on Facebook, Twitter, LinkedIn, Instagram and YouTube.
---
Beneath the Hard Hat®, our company press and blog, offers an intimate look at the people and stories that make C.D. Smith Construction. With the latest industry news and project updates, we share insights on the superior spaces we are safely delivering year-round. Our team of technical experts provides useful tips and topics to help plan your next commercial project.

---
TRADE PARTNERS & BIDS |If you're interested in working with us or would like to request adding your company to our bidder's database, please complete our Trade Partners & Bids Form: Click Here.
---