Unlocking Unconscious Bias: A Key to DEI Progress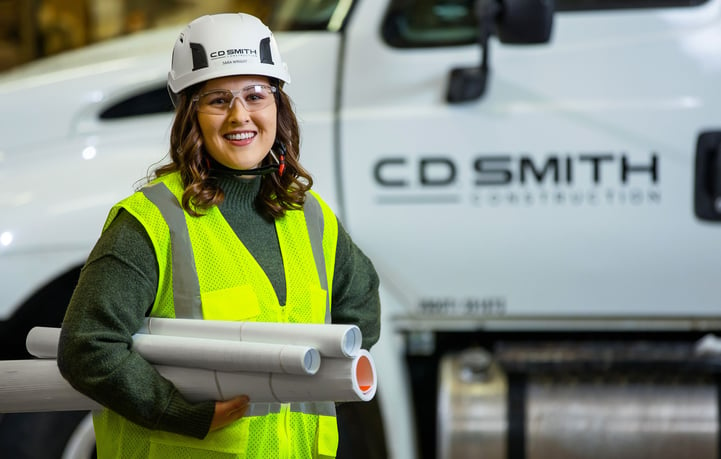 Success knows no color, no gender, no disability and no age. Success happens when people come together and stand for something greater than themselves — when people set aside their differences to unite in pursuit of one goal. After all, aren't we all more alike than we are different?
At C.D. Smith, we work hard to excel at what we do. To be the best, we need the best people. Period.
Diversity. Equity. Inclusion. DEI. What is it? What do we need to do?
For us, it's more than a buzz topic. It's a cultural commitment. We do not have all the answers yet, but we're moving.
Are you on a DEI journey too? Not sure where to start? Consider Unconscious Bias Awareness Training. Unconscious biases are social stereotypes we hold outside of our conscious awareness. We don't know we have them, and that's where the opportunity lies (or and that's the problem)! Training can help us recognize our blind spots and spur a healthy conversation that leads to greater diversity, equity, and inclusion.
Shaping our workforce to reflect the communities where we work is a priority. A robust recruitment strategy is also part of our plan. With more females graduating with construction management degrees, we're proud to say we have doubled the number of women in construction at C.D. Smith over the past five years. But diversity is about more than gender. We are intentional about where and how we recruit to avoid missing out on the best talent.
Being intentional about how we expose job seekers to opportunities in the construction industry is critical. We have learned that many potential candidates are not aware of the variety of talents and skills levels needed to operate a successful construction company. We support school-to-work programs and job shadowing to cultivate talent early. Reaching out through nontraditional methods to the working retired and offering benefits conducive to work-life balance are all avenues to attract a diverse talent pool.
C.D. Smith is committed to doing the right things for the right reasons. Taking steps to be even more inclusive, we are proud to be on the DEI integration journey. We are reinforcing a culture in which team members feel valued for who they are and the uniqueness they bring.
What are you doing today to make someone feel important? #CDSInclusion
Learn more about DEI initiatives at the In Business Expo & Conference, scheduled for May 18 at Madison's Alliant Energy Center. To register, visit MadisonBusinessExpo.com.
«•»
Follow C.D. Smith ON SOCIAL
#CDSmith #ThinkSafeWorkSafe

---
About C.D. Smith
C.D. Smith Construction is an industry leader in safely providing the highest quality commercial construction services. Utilizing an integrated approach and self-performing trade services combined with technical expertise, our team serves as a solutions provider throughout all phases of a project, from planning through construction. With veteran leadership and a dedication to our employees and clients, we proudly place our name on projects of all sizes across the United States.
Visit www.cdsmith.com or follow us on Facebook, Twitter, LinkedIn, Instagram and YouTube.
---
Beneath the Hard Hat®, our company press and blog, offers an intimate look at the people and stories that make C.D. Smith Construction. With the latest industry news and project updates, we share insights on the superior spaces we are safely delivering year-round. Our technical experts provide valuable tips and topics to help plan your next commercial project.

---
TRADE PARTNERS & BIDS |If you're interested in working with us or would like to request adding your company to our bidder's database, please complete our Trade Partners & Bids Form: Click Here.
---