C.D. SMITH CONSTRUCTION CORPORATE OFFICE
C.D. Smith Construction opened the doors to their new 50,000 SF Corporate Office in May of 2019. The new facility represents the company's skills offered to clients in trades, sustainability and modern construction. From floor to ceiling, C.D. Smith's self-performed trades are showcased through exposed steel beams, concrete board-form walls, floating repurposed wood stair cases and polished concrete flooring. The new office announced its LEED Gold® certification in April of 2020, making it the first building in Wisconsin and one of nine in the country. The C.D. Smith Corporate Office exemplifies next-generation standards for green building with efficient building materials and for its location, energy usage and indoor environmental quality. C.D. Smith's new open-concept headquarters also features multiple work areas for collaboration, training and event space for 100+ people and two fitness rooms with 24/7 employee access.
Features include:
294 Solar Panels
Electric Vehicle Charging Stations
Sit-Stand Work Stations
20 Conference Rooms
Virtual Design Construction Room + Resources
Floating Staircases with Reclaimed Wood
Light-Harvesting Shades
Fitness Center, Pilates Room + Locker Room
Bike Storage
Access to the Fond du Lac Loop Bike/Walking Trail
Patio featuring Bench Seating + Grill area
Surrounding Praire Growth
White Noise Cancelling System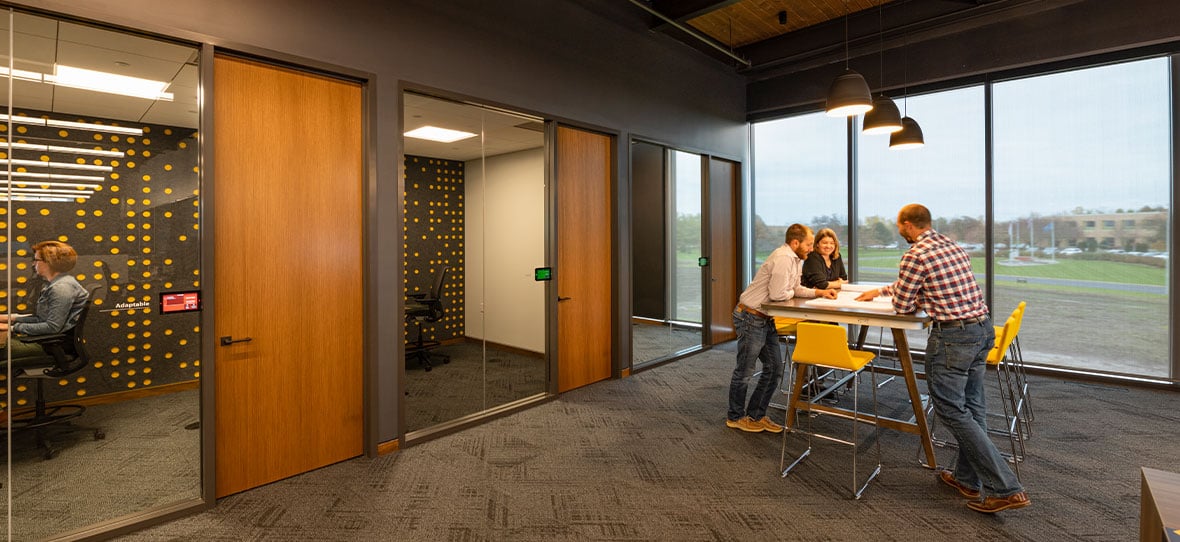 ---
Follow C.D. Smith ON SOCIAL
#CDSmith #ThinkSafeWorkSafe


---
C.D. Smith Construction Corporate Office | Awards and Media NEWS
2021 BUILD Wisconsin Awards Winning Entries Announced | Associated Construction Publications 08.16.2021
MILWAUKEE, WI — The Associated General Contractors (AGC) of Wisconsin announces the winning entries for the 2021 BUILD Wisconsin Awards. Entries were evaluated by a panel of judges assembled by the AGC of Colorado and were based upon four primary criteria: sustainable practices, craftsmanship, innovation, and meeting difficult challenges.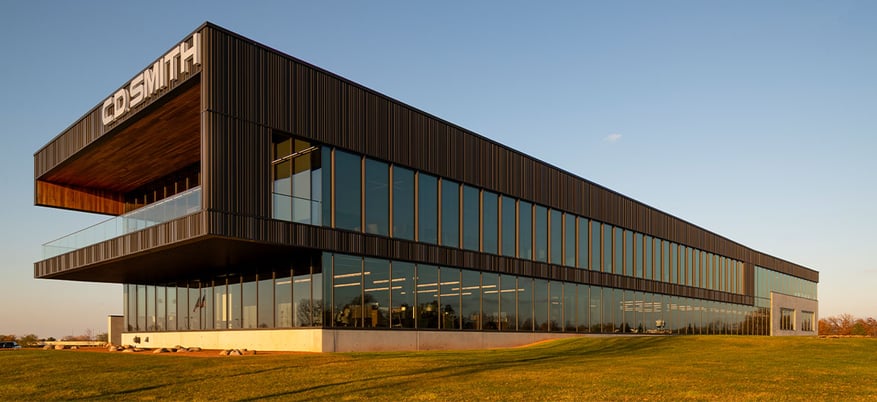 General Contractor - Commercial Projects - New Construction • C.D. Smith Construction, Inc.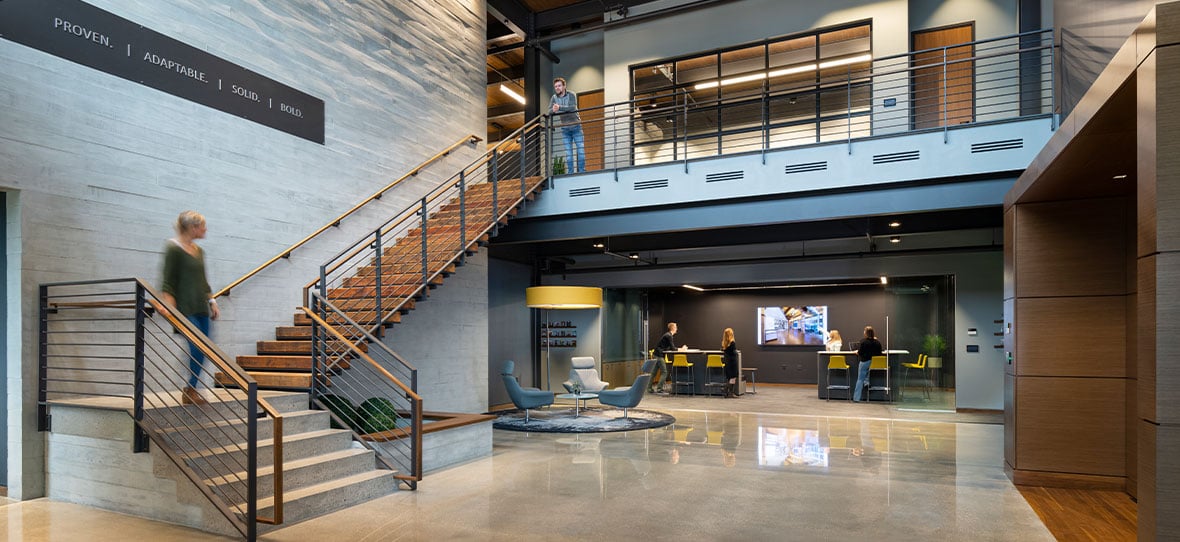 Milwaukee Symphony Orchestra's Bradley Symphony Center was a winner of the Historical Preservation Award and in the category of General Contractor - Commercial Projects - Renovation.
Read the announcement from Associated Construction Publications to see the full list of this year's winning entries, consisting of projects completed in either 2019 or 2020.
«»
See the projects that won AIA Wisconsin Design Awards | Milwaukee Journal Sentinel 08.23.2021
American Institute of Architects Wisconsin recognized eight building projects in its annual design awards program. Kahler Slater's design of C.D. Smith Construction Headquarters received a Merit Award and Milwaukee's Trestle Park located at East Erie Street, designed by HGA, won a Citation Award. The Bradley Symphony Center of the Milwaukee Symphony Orchestra, also designed by Kahler Slater, was selected to receive an Honor Award for overall design excellence.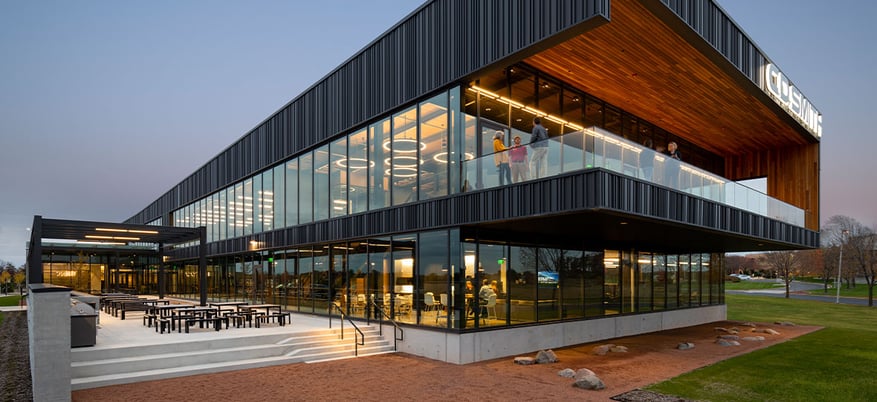 Go to the August 23, 2021 Milwaukee Journal Sentinel article to see all eight building projects recognized by AIA Wisconsin.
«»
The 2021 Design Award Winners | AIA Wisconsin 08.23.2021
Eight building projects were recognized for excellence in architectural design by the 2021 Design Awards program of AIA Wisconsin. All projects were by AIA Wisconsin architect members. Out of 46 entries, four projects were awarded the Honor Award, which is the highest recognition. Two projects received Merit Awards and two received Honorable Mention.
Kahler Slater's design of the C.D. Smith Construction Headquarters in Fond du Lac, WI was one of two architects and projects selected to receive Merit Awards.
Design Architect: Aaron Ebent, AIA, LEED AP BD+C, Kahler Slater, Inc. (790 N. Water St, Suite 1700; Milwaukee, WI 53202)
The 50,000 SF two-story corporate headquarters of C.D. Smith Construction was built to accommodate growth. Its siting and arrival sequence was carefully choreographed to present and experience the building, which sits on an open prairie site. The building is raised on a plinth and partially exposed basement level to give it a stately presence. A sloped roofline extends over a cantilevered second-floor terrace. The project was designed to maintain high-energy efficiency and received LEED Gold Certification. 294 roof-mounted photovoltaic panels provide nearly 40% of the building's electric power. The interior finish is modern and features brand colors of gray, black and yellow.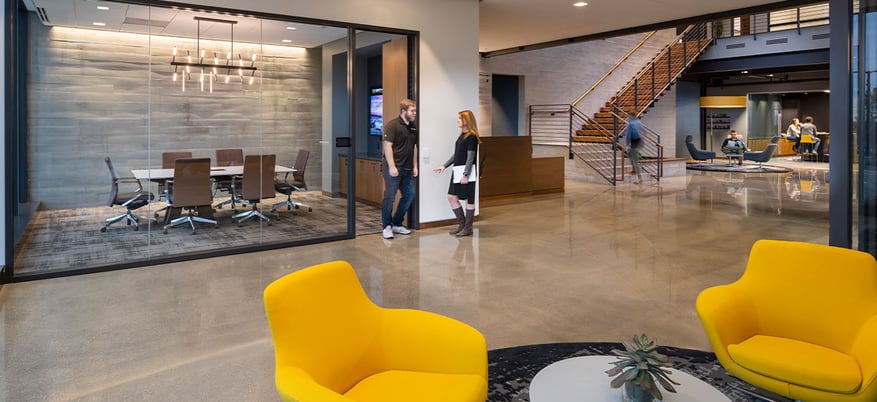 - - -
The Bradley Symphony Center of the Milwaukee Symphony Orchestra, designed by Kahler Slater, was selected to receive one of four prestigious Honor Awards. A nationally distinguished jury from outside of Wisconsin selected the award-winning projects.
To view details of the Bradley Symphony Center and the other winning projects, go to the full article by AIA Wisconsin with all of the 2021 Design Award Winners.
---
We know that professional work environments and corporate campuses are more than physical buildings. That's why we're building state-of-the-art commercial office facilities to inspire collaboration, support positive engagement and elevate productivity for you and your team.
Preview our CORPORATE CONSTRUCTION PROJECT EXPERIENCE or explore more company headquarters, office spaces or commercial construction projects using this link to the YOUR INDUSTRY: CORPORATE CONSTRUCTION pages of our website.
---
About C.D. Smith
C.D. Smith Construction is an industry leader in safely providing the highest quality commercial construction services. Utilizing an integrated approach and self-performing trade services combined with technical expertise, our team serves as a solutions provider throughout all phases of a project, from planning through construction. With veteran leadership and a dedication to our employees and clients, we proudly place our name on projects of all sizes across the United States.
Visit www.cdsmith.com or follow us on Facebook, Twitter, LinkedIn, Instagram and YouTube.

C.D. SMITH CONSTRUCTION. BUILDING SPACES TO GATHER TOGETHER AS A COMMUNITY WHERE CULTURE, MUSIC AND ENTERTAINMENT ARE ENJOYED AND SHARED BY THE YOUNG AND YOUNG AT HEART.