Fastenal Office Building
C.D. Smith was hired as Construction Manager for the construction of Fastenal's new downtown Winona office, located along the city's historic Mississippi riverfront.
The multi-story office building will have immediate capacity for 400-600 people, with room for future expansion. The building's environmentally conscious design features timeless characteristics that pay homage to the downtown riverfront area, including locally sourced Winona Stone, mixed media building materials and river views from each level.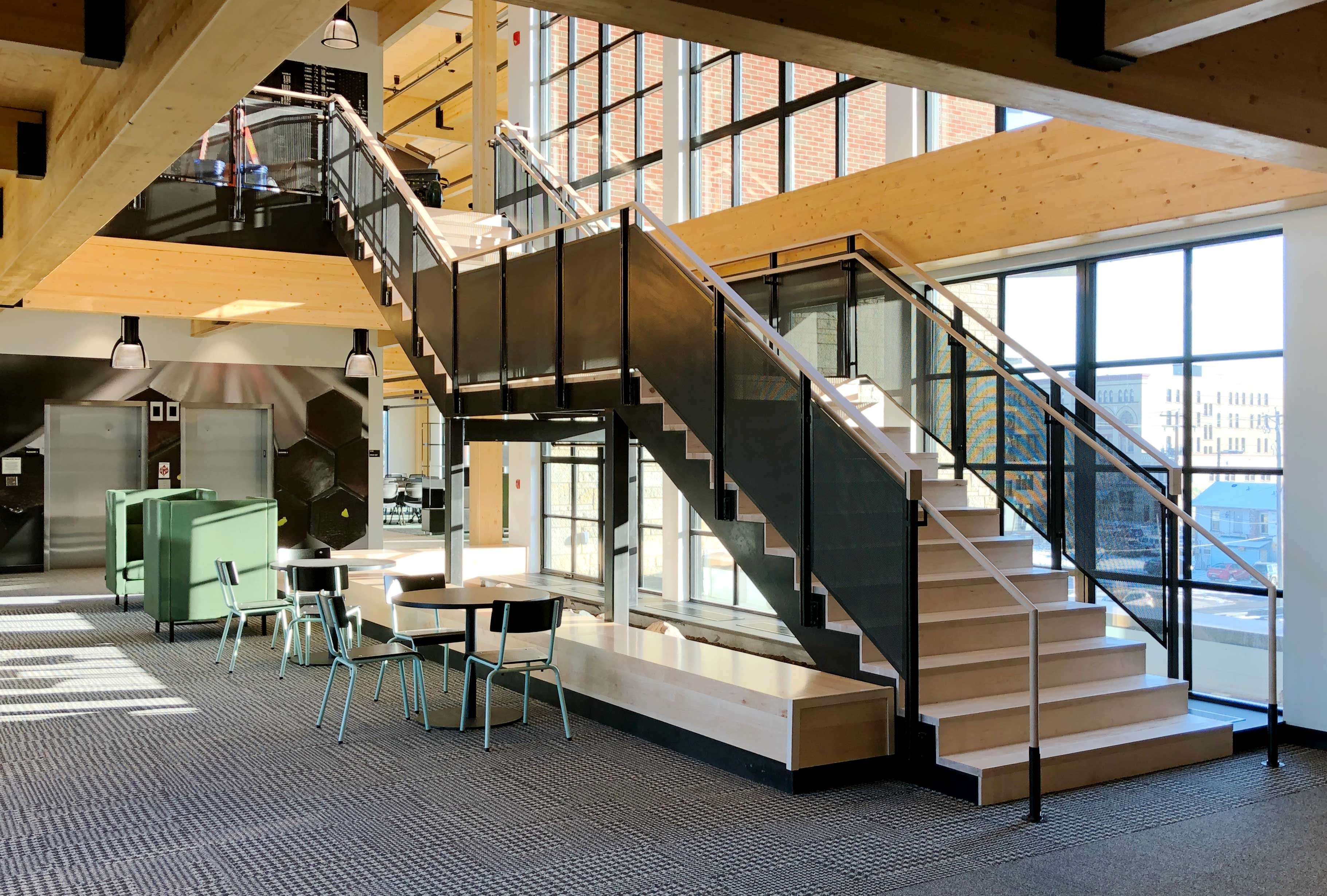 Features include:
Timber Frame
Cross-Laminated Timber (CLT) Flooring
Locally Sourced Stone Materials
Furniture Flexible Floor Plan
400+ Office Spaces
Locker Room
---
«•»
Follow C.D. Smith ON SOCIAL
#CDSmith #ThinkSafeWorkSafe

«•»
---
Fastenal Office Building | Media News
Downtown Winona office designed for growth and sustainability | The Construction Specifier 12.13.2021
Timber frame and CLT floor highlight Fastenal's new Minnesota HQ | Woodworking Network 12.07.2021
Fastenal opens new riverside office building in downtown Winona | The Business Journals 12.06.2021
Fastenal Opens New HQ Office in Downtown Winona | Industrial Distribution 12.06.2021
Fastenal Buys Former Y Property | Winona Radio 02.16.2021
Fastenal Groundbreaking | C.D. Smith Construction 07.24.2020
---
Fastenal breaks ground on office | Winona Post 07.29.2021
Groundbreaking held for new Fastenal office building in Winona | News8000.com 07.22.2020
Fastenal breaks ground on new downtown office building | News19 WXOW.com 07.22.2020
Fastenal breaks ground on new downtown office building | Winona Daily News 07.22.2020
Fastenal to build new offices in Winona, MN | Fastener Engineering 11.21.2019
Fastenal Gives Sneak Peek of New Large Winona Office | Industrial Distribution 11.01.2019
Fastenal shows off plan for downtown Winona | Minneapolis/St. Paul Business Journal 11.01.2019
Fastenal announces new downtown Winona development | Post Bulletin 11.1.2019
Fastenal announces Winona expansion | StarTribune 10.31.2019
Fastenal Office Building: Project Profile | C.D. Smith Construction
Fastenal Corporate Office | The Kubala Washatko Architects
«•»

---
WORLD'S TALLEST
HYBRID MASS TIMBER BUILDING CONSTRUCTION: ASCENT IN MILWAUKEE
Get a behind-the-scenes look with WoodWorks for a video tour and project team interviews with the mass timber experts working on the Ascent project.
Step behind the scenes with Jennifer Cover, President & CEO of WoodWorks, as she interviews the project team on the Ascent project, currently under construction in Milwaukee, Wisconsin. Get an in-depth look at Ascent straight from the experts - in a part video tour and part sit-down Q&A format - as they build their way to the top of the tallest mass timber structure in the world.
Video production courtesy of WoodWorks. Interview features include representation with insights and expertise from C.D. Smith Construction, Korb + Associates Architects, Thornton Tomasetti Engineering, and Ascent owners, New Land Enterprises.
---