RiverHeath Poplar Hall - Event Space
EVENT SPACE AT RIVERHEATH ON APPLETON'S RIVERFRONT
Appleton, WI
As the fifth building to be built on the RiverHeath Development, the RiverHeath Event space is by far the most unique building to date, both in architecture and construction materials, as well as the function of the space itself. The new, free-standing 8,400 square-foot structure consists of glulam and cross-laminated timber framing to create a new event space for live entertainment, corporate events and a wide array of social, celebratory functions. Although the building has a relatively small footprint, this space has a high density of amenities to cater to all its occupants. These amenities and features include 30' tall windows to the west for brilliant views of the Fox River, two indoor gas fireplaces, two full-service bars, one full-service kitchen and servery, a decorative timber tread monument stair between floors, a green room and a stage for events and presentations, as well as seating and standing space to accommodate 395 occupants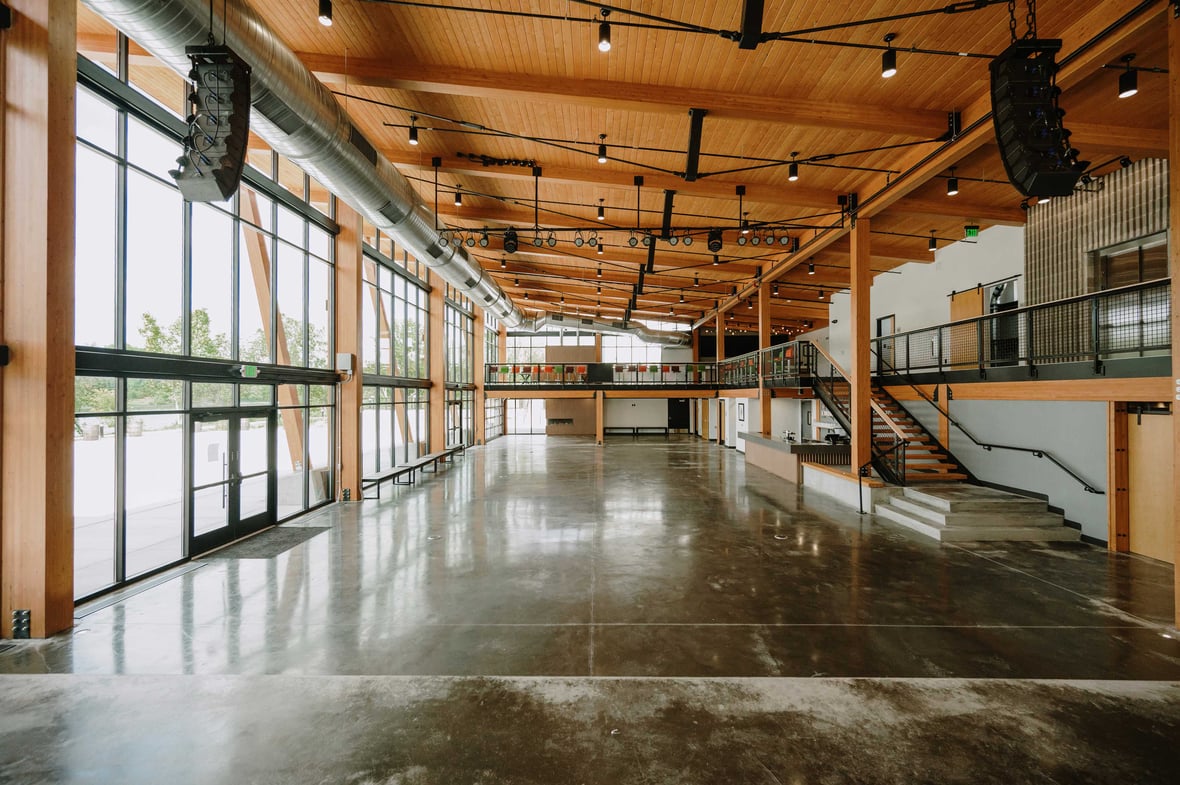 Lastly, the building has an attached storage and garage area to house a Zamboni that will maintain and groom the future ice skating rink, which is in the last phase of the outdoor Event Space amenities.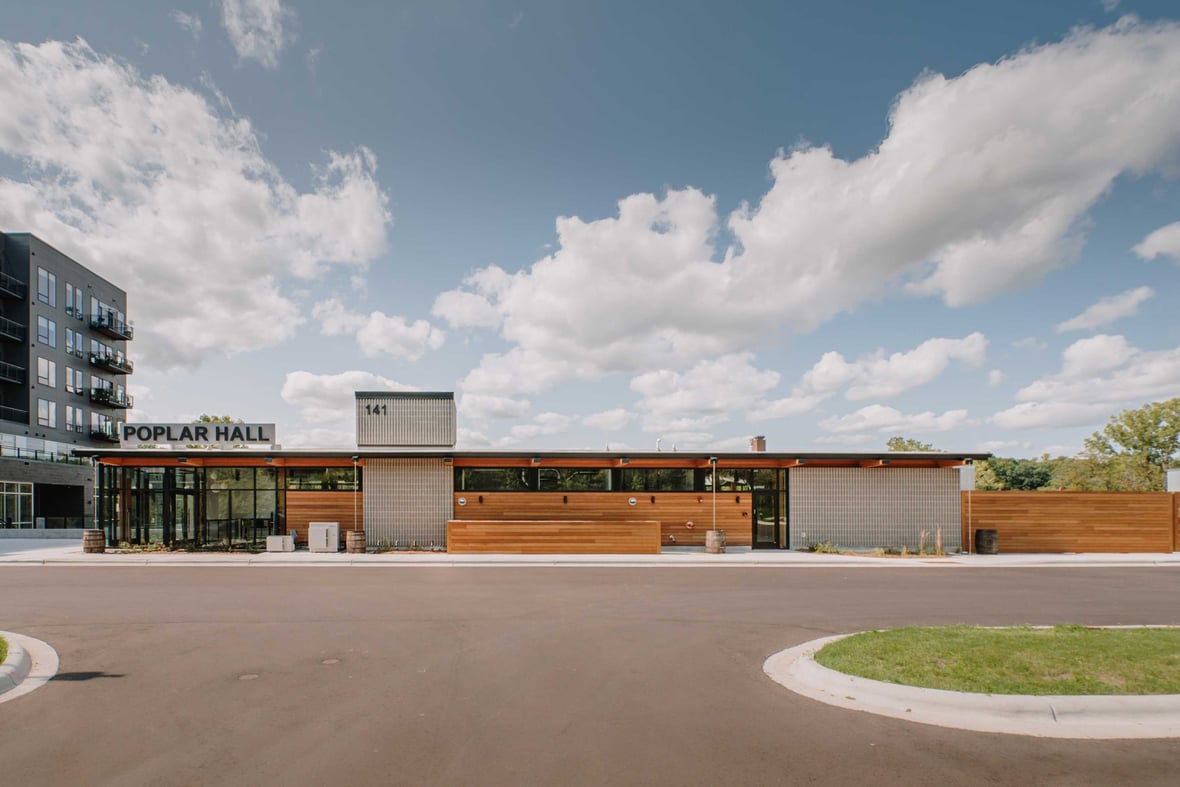 Features include:
Two Full-Service Bars
Full-Service Restaurants
Two Indoor Fireplaces
Green Room & Stage for
Presentations
Zamboni Garage + Ice Skating Rink
Floor to Ceiling Windows
Accommodates 395 Guests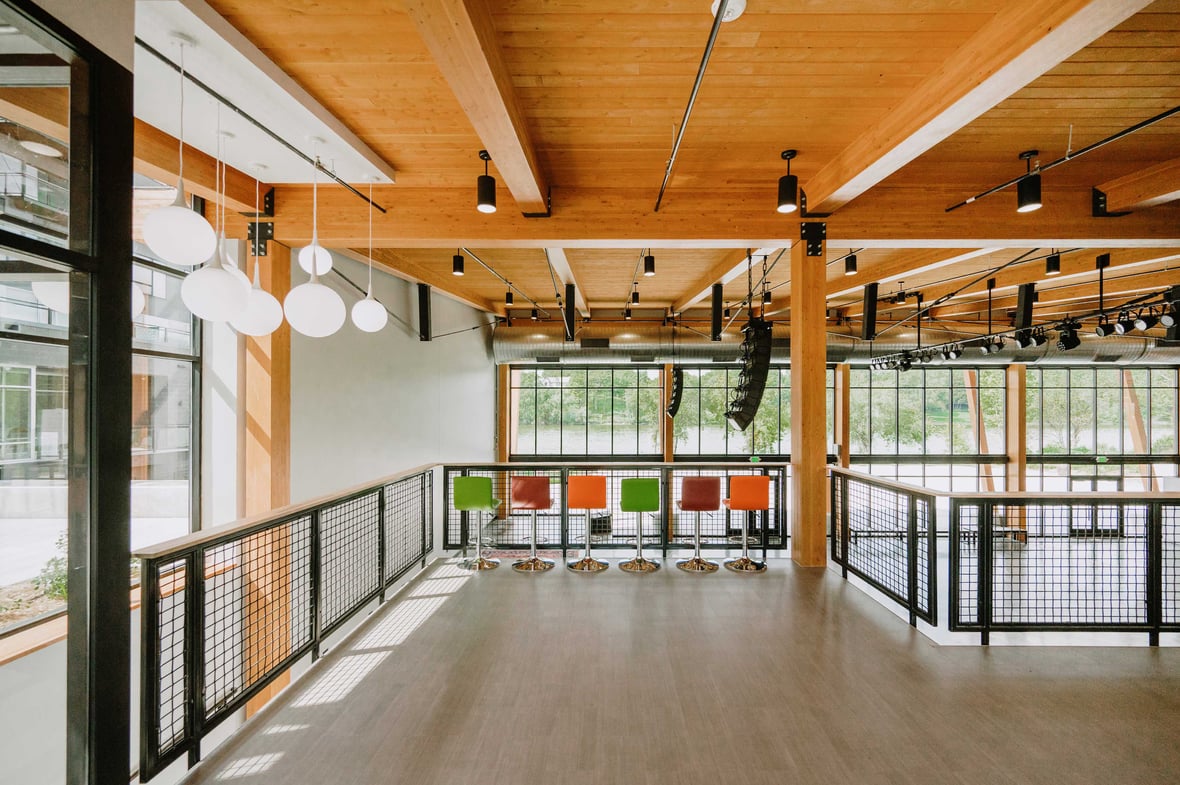 «•»
Follow C.D. Smith ON SOCIAL
#CDSmith #ThinkSafeWorkSafe


«•»
---
Poplar Hall at RiverHeath | AWARDS and MEDIA NEWS
Winners Announced for 2022 BUILD Wisconsin Awards | AGC Wisconsin 08.25.2022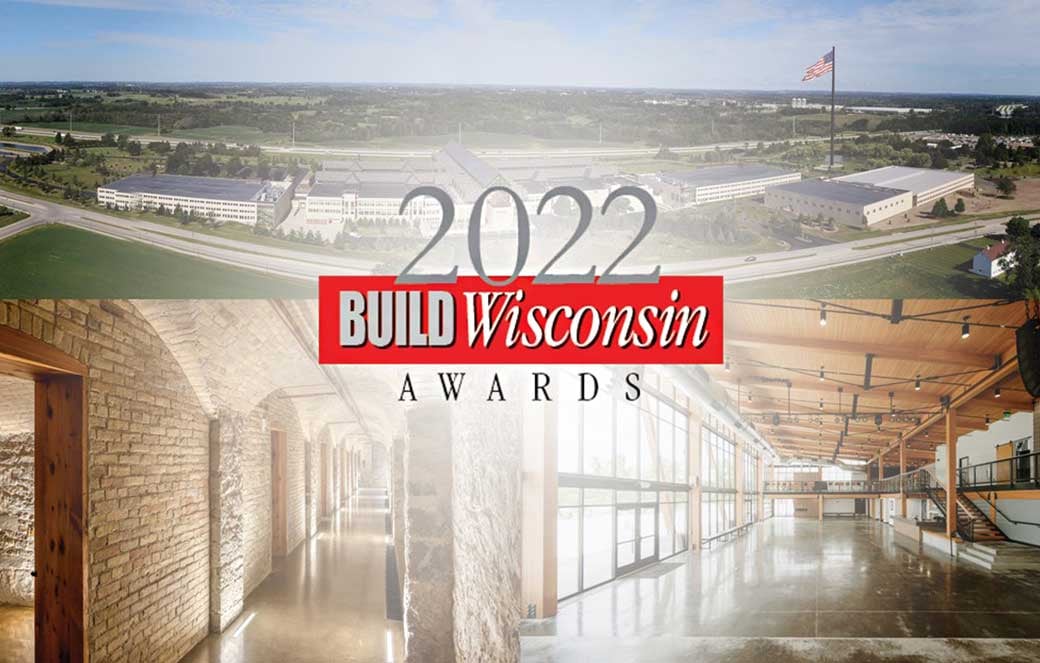 ---
State leaders visit Appleton venue hosting events fighting climate change | wbay.com 07.01.2022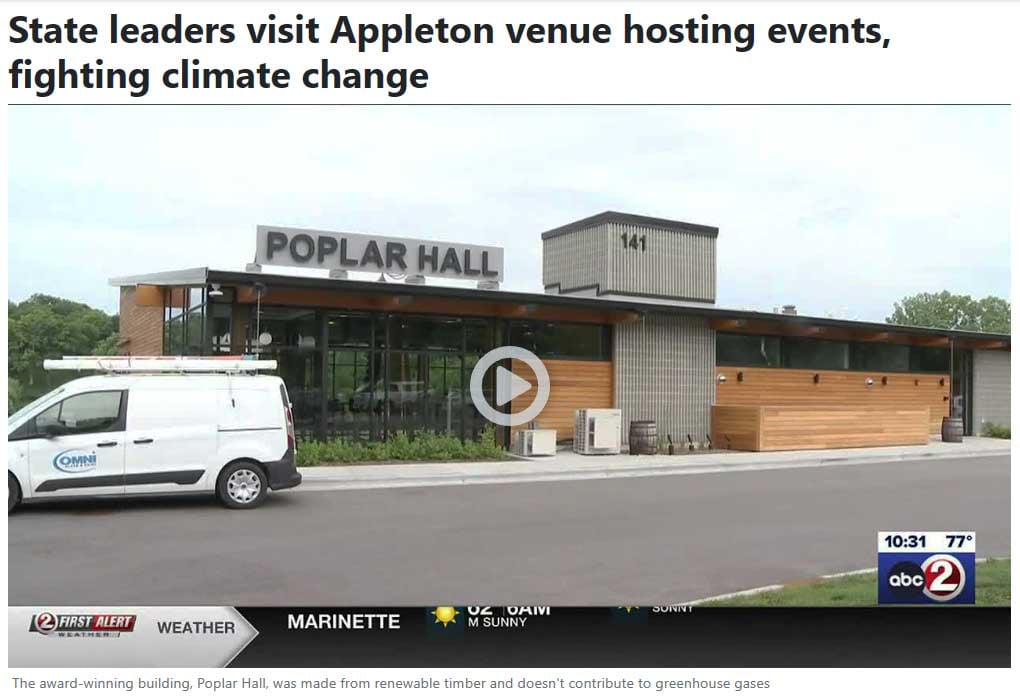 ---
Award Gallery: Poplar Hall | WoodWorks 04.2022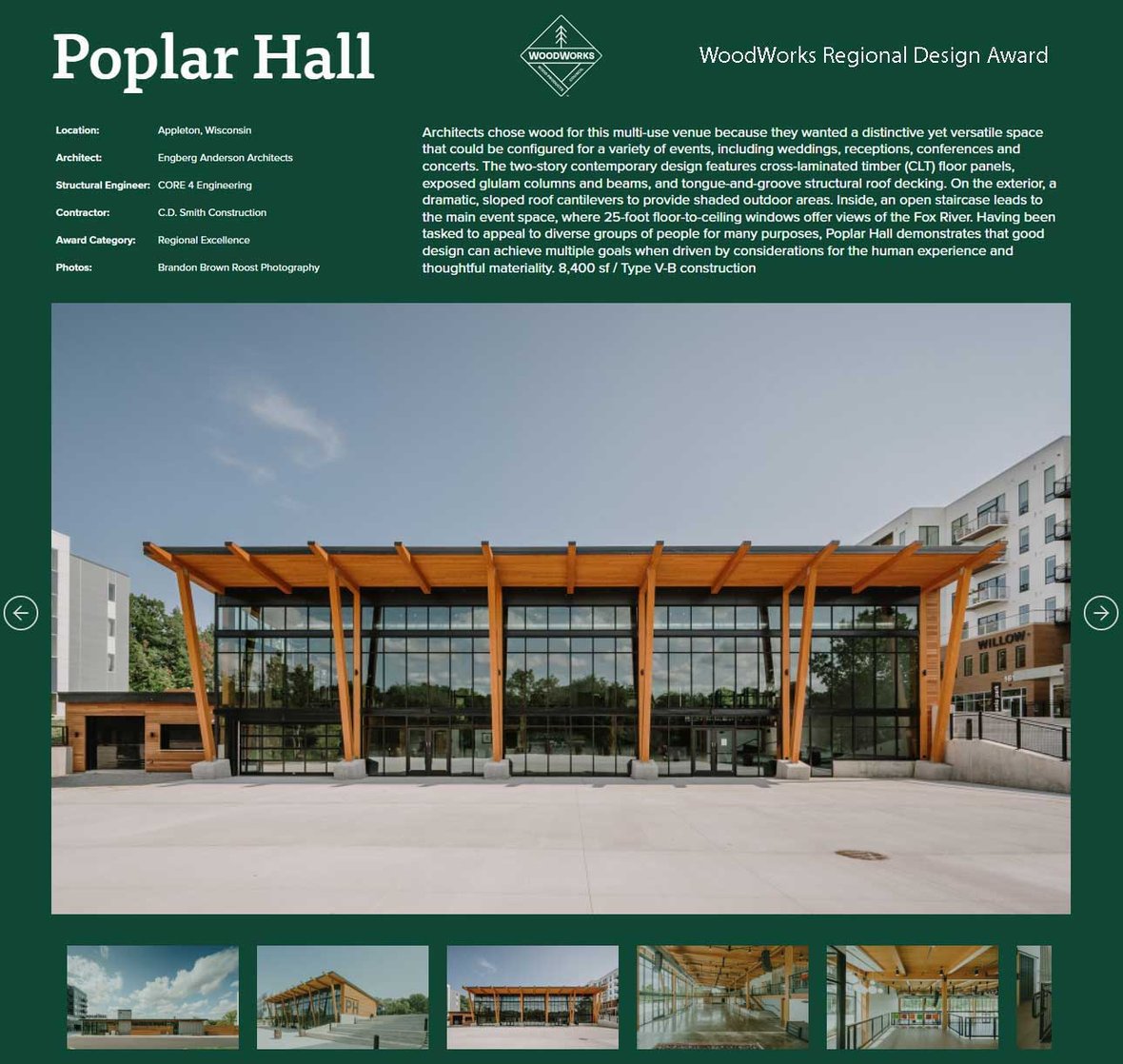 ---
About C.D. Smith
C.D. Smith Construction is an industry leader in safely providing the highest quality commercial construction services. Utilizing an integrated approach and self-performing trade services combined with technical expertise, our team serves as a solutions provider throughout all phases of a project, from planning through construction. With veteran leadership and a dedication to our employees and clients, we proudly place our name on projects of all sizes across the United States.
Visit www.cdsmith.com or follow us on Facebook, Twitter, LinkedIn, Instagram and YouTube.
---
Beneath the Hard Hat®, our company press and blog, offers an intimate look at the people and stories that make C.D. Smith Construction. With the latest industry news and project updates, we share insights on the superior spaces we are safely delivering year-round. Our team of technical experts provides useful tips and topics to help plan your next commercial project.

---
TRADE PARTNERS & BIDS |If you're interested in working with us or would like to request adding your company to our bidder's database, please complete our Trade Partners & Bids Form: Click Here.
---