Building Careers: 2023 Skilled Trades Construction Grant Winners
In partnership with Fond du Lac Area Foundation, C.D. Smith offered a Skilled Trades Construction Grant to high school seniors starting careers in the skilled trades fields and construction industry. We received numerous applications from talented and ambitious students who aspire to make their mark in the construction industry. After careful consideration, we selected three outstanding individuals who have demonstrated exceptional potential, dedication and a genuine passion for pursuing a career in the skilled trades.
Two of our grant recipients are 2023 graduates from Laconia High School. Both Jaeden Grade and Carter Farrell wasted no time getting started in construction. They'd already kicked off their skilled trades career paths prior to visiting our Corporate Office on June 1, 2023, to accept their recognition. Jaeden and Carter were each awarded a $500.00 C.D. Smith Skilled Trades Construction Grant to use for eligible expenses such as hand tools, work boots, high visibility clothing, safety gloves and toolbelts/tool storage.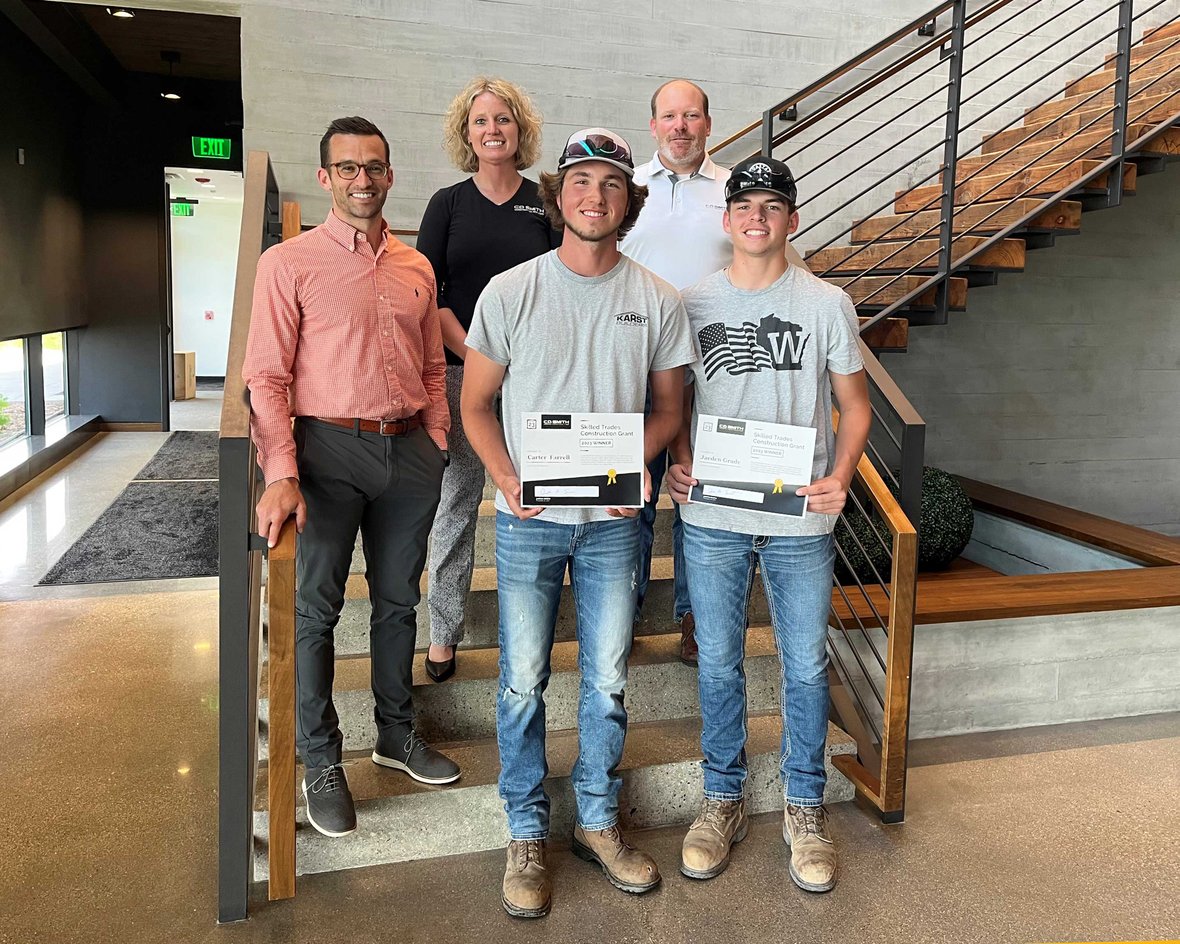 Last but certainly not least, we have Jacob Halper, a 2023 graduate of Fond du Lac High School and the Architecture, Construction & Engineering (ACE) Academy Program. He was presented with a $500.00 Skilled Trades Construction Grant by C.J. Smith, Legal Counsel at C.D. Smith, during ACE Academy's second annual trade signing day celebration on May 25, 2023.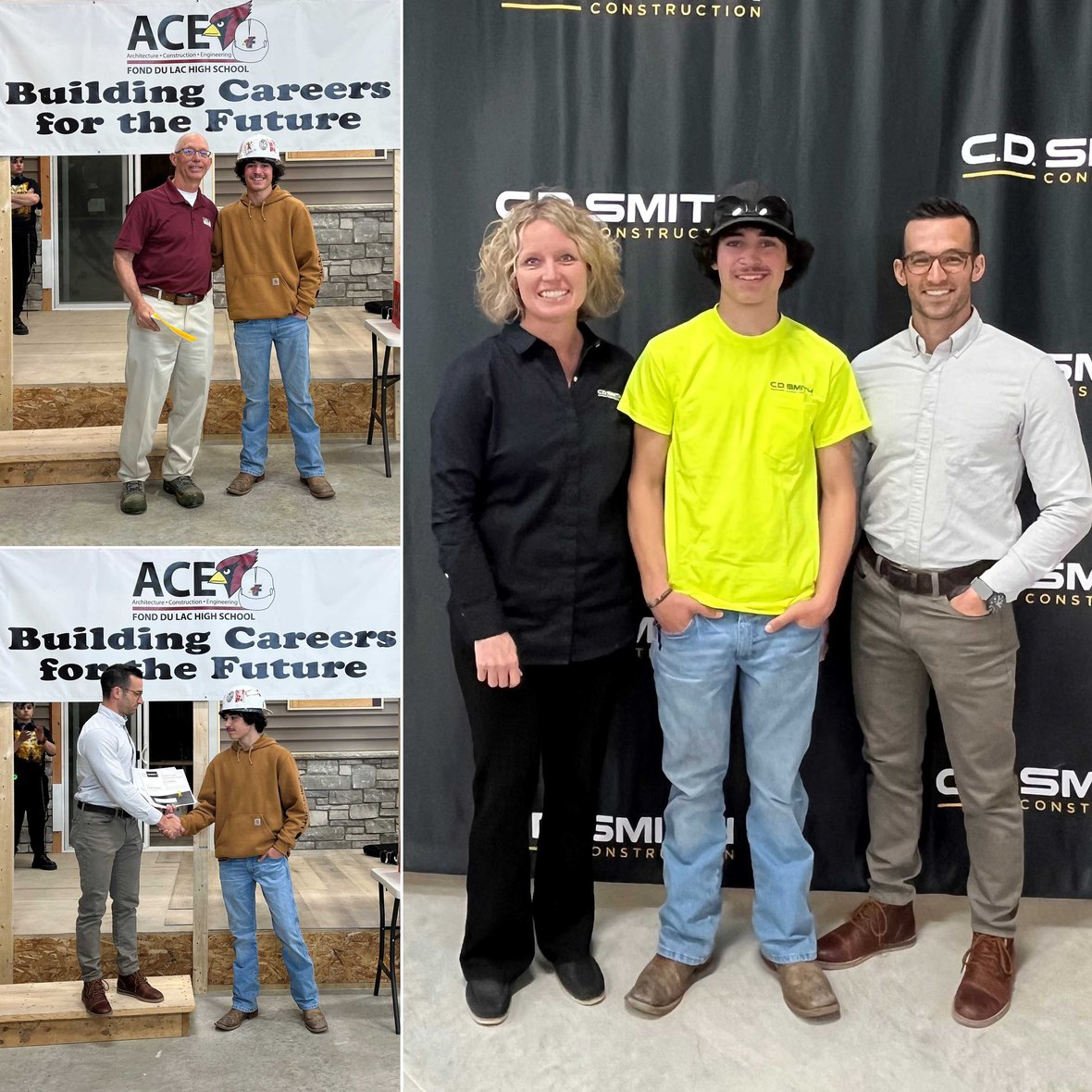 Congratulations to Jaeden, Carter, and Jacob for being selected as the recipients of the Skilled Trades Construction Grant. Your commitment and enthusiasm for the construction industry are inspiring, and we're looking forward to seeing great success in your careers.
To all the applicants who applied for the grant, we sincerely appreciate your passion and dedication. The competition was fierce, and the decision-making process was challenging due to the exceptional talent we encountered. We encourage each and every one of you to continue pursuing your dreams in the skilled trades, as your contributions will play a crucial role in shaping our communities.
Once again, we would like to express our gratitude to the Fond du Lac Area Foundation for their partnership. Together, we are investing in the future of the construction industry and empowering young individuals to build fulfilling careers.
If you're a high school student interested in pursuing a career in the skilled trades, keep an eye out for future opportunities. C.D. Smith is committed to supporting the next generation of skilled trades professionals, and we look forward to helping more aspiring individuals like Jaeden, Carter, and Jacob realize their dreams.
Congratulations to our grant winners, and may your journey in the construction industry be filled with growth, success, and endless possibilities!
Date: June 01, 2023 | Author: Connie Coon
«•»
Follow C.D. Smith ON SOCIAL
#CDSmith #ThinkSafeWorkSafe
«•»
IN THE NEWS & Beneath the Hard Hat®
BUILDING SCHOOLS WITH EXCELLENCE: HORIZON AWARD-WINNING ACE PROGRAM | Beneath the Hard Hat® Press & Blog 06.01.2023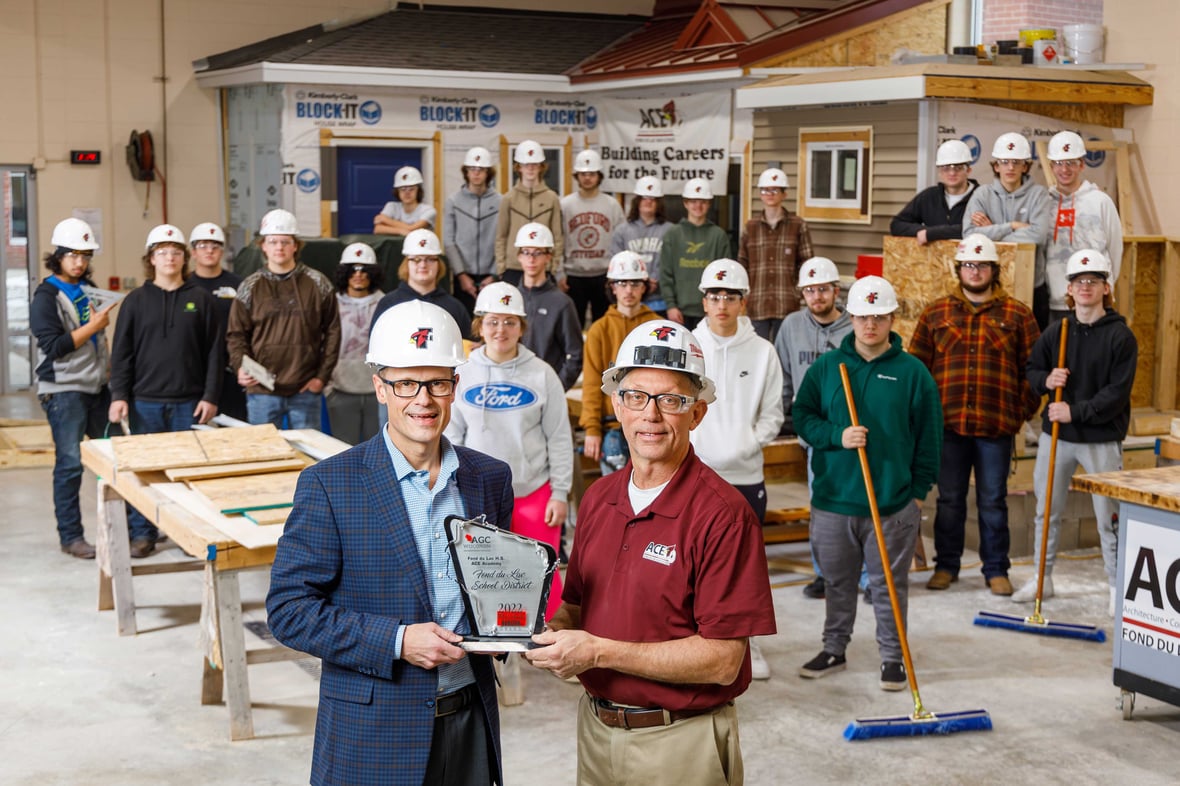 ---
BUILDING FUTURES: ACE ACADEMY APPRENTICE SIGNING + GRANT SUPPORT

| Beneath the Hard Hat® Press & Blog 05.25.2023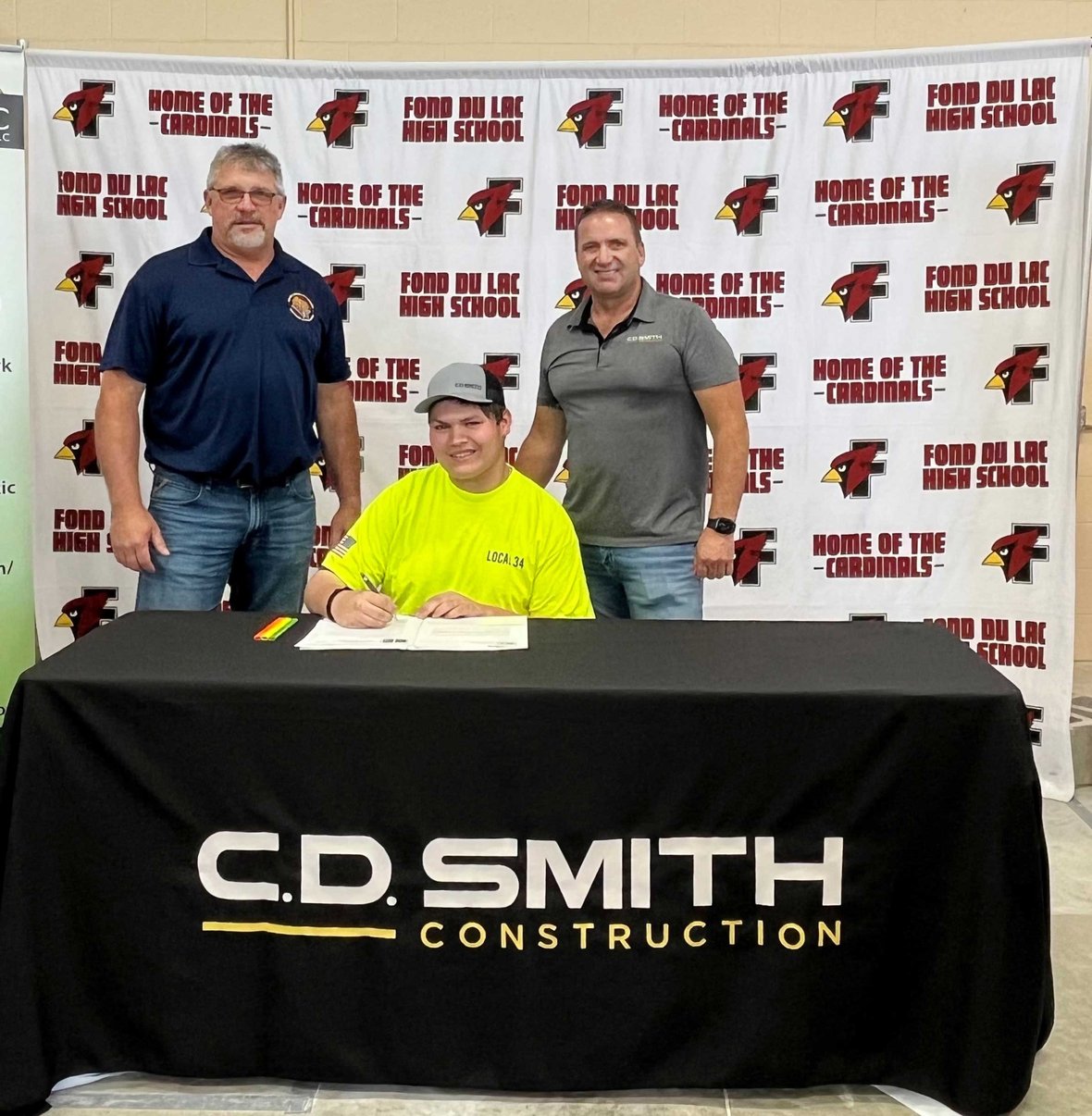 ---
ACE ACADEMY'S MASONRY WEEK PREPARES CONSTRUCTION STUDENTS FOR SKILLED TRADES | Beneath the Hard Hat® 05.10.2023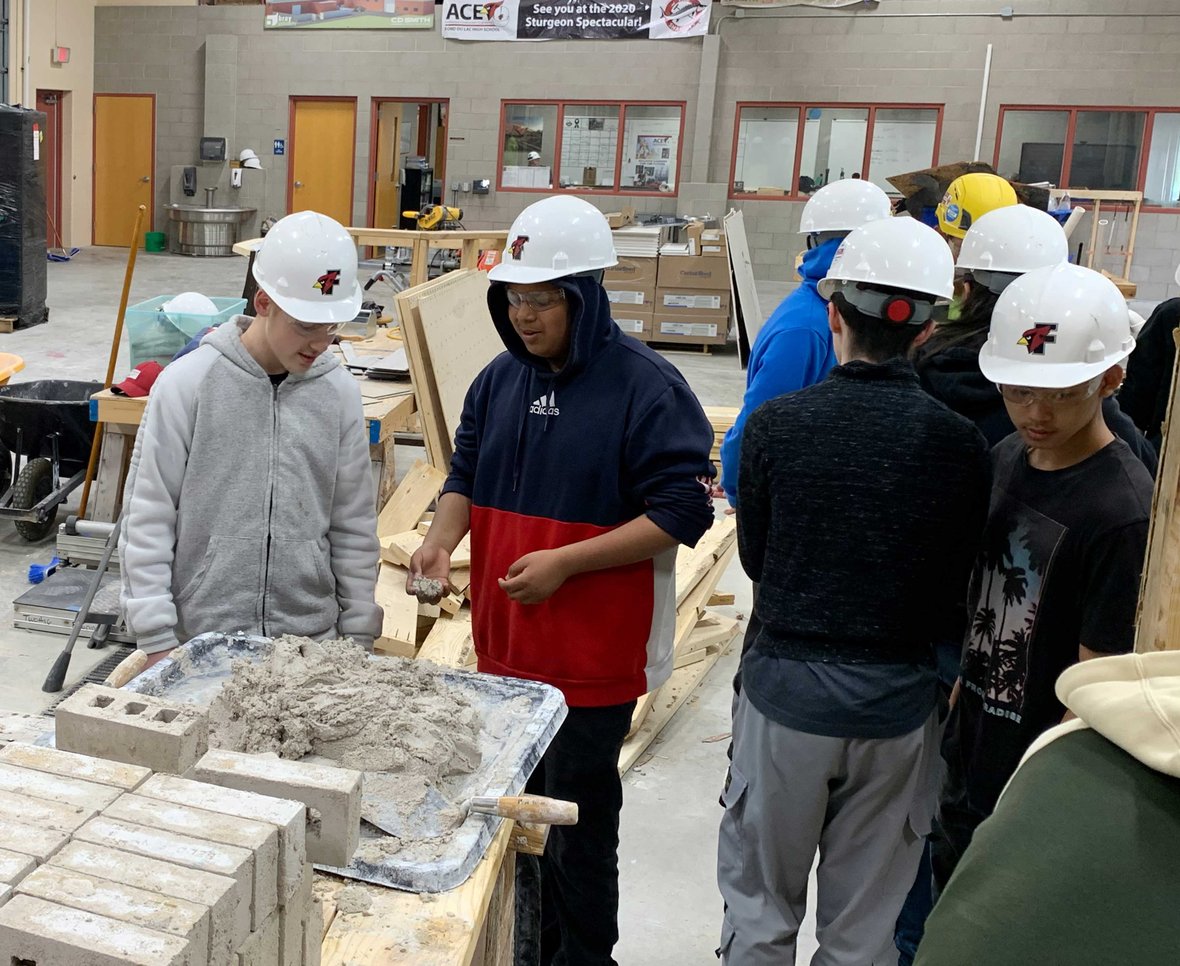 ---
FOND DU LAC SCHOOL DISTRICT RECEIVES 2022 BUILD WISCONSIN HORIZON AWARD
| Associated General Contractors of Wisconsin: BUILD Wisconsin Awards 10.18.2022
---
C.D. SMITH'S K-12 SCHOOL PARTNERSHIPS FOR CONSTRUCTION EDUCATION AND SKILLED TRADE CAREER PATHWAYS | Beneath the Hard Hat® 02.04.2021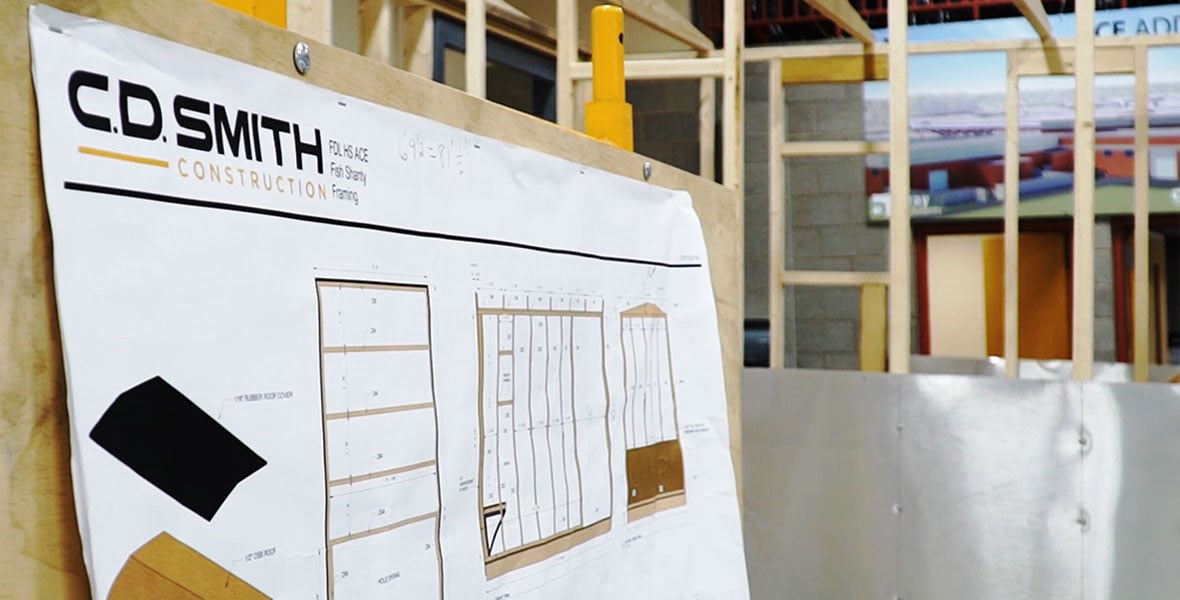 ---
FIELD CAREERS: Building Your Skilled Trade Career Path | cdsmith.com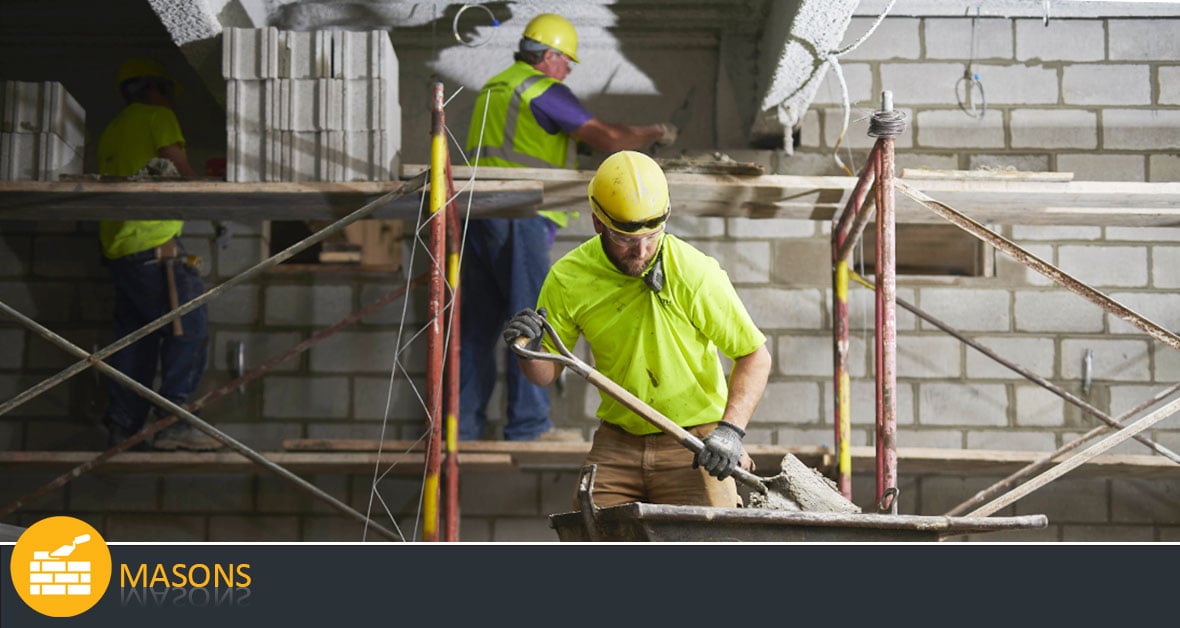 ---