Building Community by Donating Retired iPhones to Women at Risk
What do you do with retired iPhones? You donate them of course! C.D. Smith had the privilege of donating retired iPhones to the Fond du Lac Area Women's Fund. The phones will be used in accordance with the Fond du Lac Says No More initiative to end domestic violence and sexual assault in our community.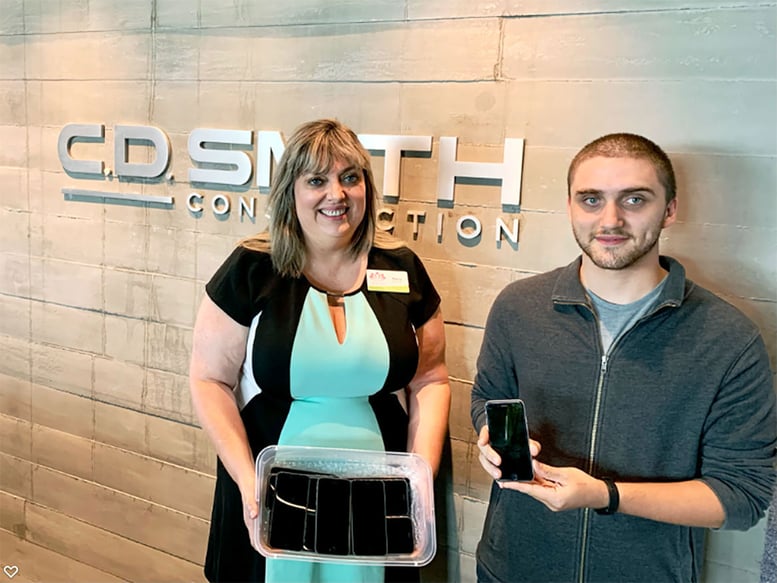 Women's Fund Executive Director Maria Turner (at left)) with donated iPhones & C.D. Smith's Jordan Mezera (at right)
"Many women at risk do not have the means to communicate their situation or call 9-1-1. Having a cell phone to make an emergency call can be a matter of life and death," comments Maria Turner, Women's Fund Executive Director. The Fond du Lac Area Women's fund will collaborate with its Fond du Lac Says No More partner agencies to distribute the phones to those most impacted by violence.
"Building community is the foundation of who C. D. Smith is, and supporting this vulnerable population just feels right," says Jordan Mezera, C.D. Smith IT Support Specialist.
About Fond du Lac Area Women's Fund + Fond du Lac Says No More
The Women's Fund promotes positive change in the lives of Fond du Lac area women and girls through education, stewardship, integrity, equity-fairness, and collaboration.
The Fond du Lac Says No More program partners with local organizations to initiate change and prevent violence against women and children in our community and surrounding areas. Change starts here! Change starts with awareness, education, guidance, support, and intervention.
---
Follow C.D. Smith ON SOCIAL
#CDSmith #ThinkSafeWorkSafe

---
About C.D. Smith
C.D. Smith Construction is an industry leader in safely providing the highest quality commercial construction services. Utilizing an integrated approach and self-performing trade services combined with technical expertise, our team serves as a solutions provider throughout all phases of a project, from planning through construction. With veteran leadership and a dedication to our employees and clients, we proudly place our name on projects of all sizes across the United States.
Visit www.cdsmith.com or follow us on Facebook, Twitter, LinkedIn, Instagram and YouTube.
---
Beneath the Hard Hat®, our company press and blog, offers an intimate look at the people and stories that make C.D. Smith Construction. With the latest industry news and project updates, we share insights on the superior spaces we are safely delivering year-round. Our team of technical experts provides useful tips and topics to help plan your next commercial project.

---
TRADE PARTNERS & BIDS |If you're interested in working with us or would like to request adding your company to our bidder's database, please complete our Trade Partners & Bids Form: Click Here.
---