Nakoosa Trail Fleet Fire Radio Shop Facility
MODERN UPDATED FACILITY WITH GREEN FEATURES
C. D. Smith Construction served as general contractor on the City of Madison Fleet/Fire/Radio Shop Facility. Four facilities were consolidated, representing the first facility update since 1954.
The new 110,000 SF facility provides light, medium and heavy vehicle service and repair in one location for the City of Madison's fleet. Police, ambulances, fire apparatus, service automobiles, plow trucks, vans, garbage trucks, construction equipment and much more will utilize this high-tech, state-of-the-art garage, streamlining services and consolidating efforts and resources.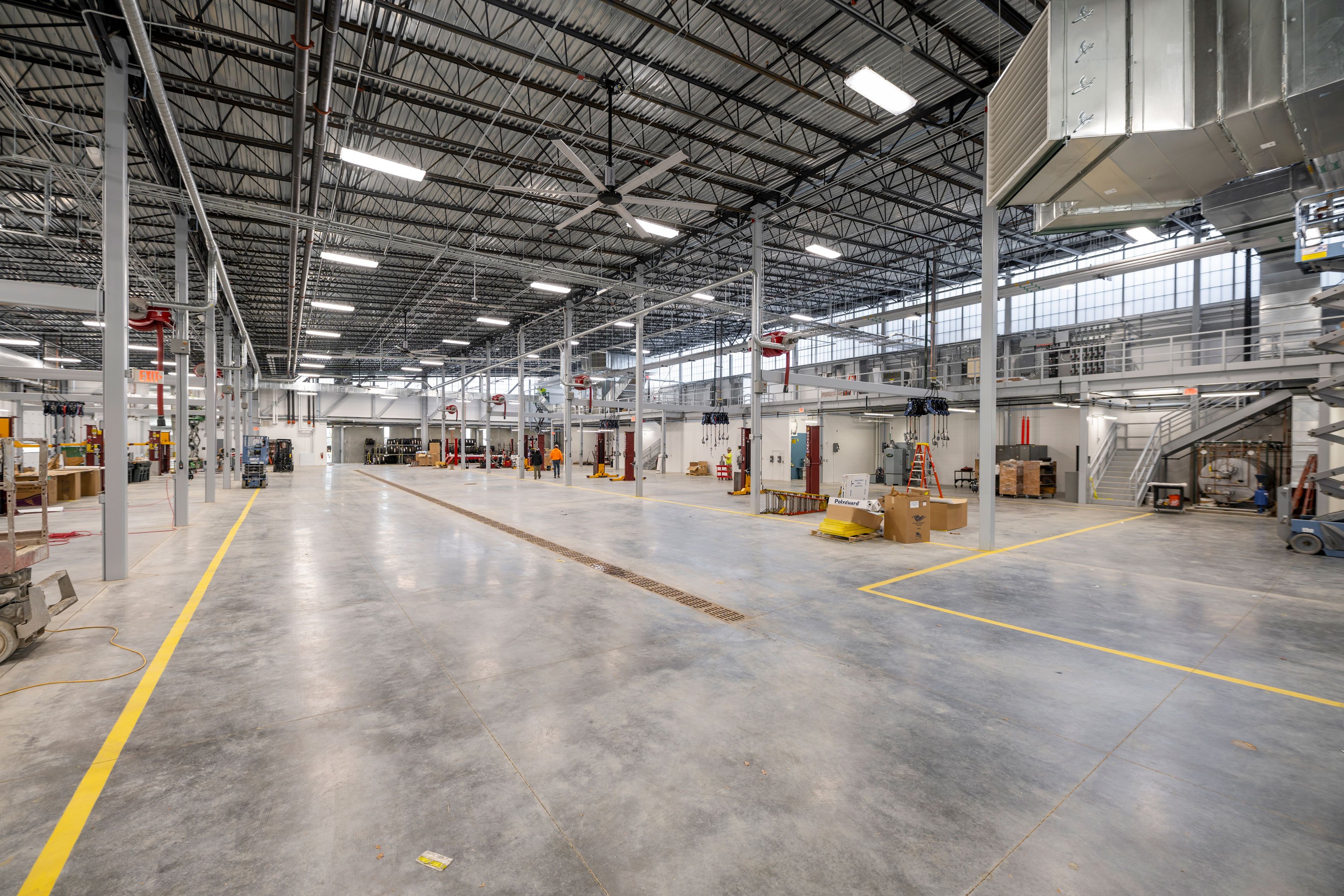 It was a goal to be future-forward on sustainable features as well as achieve LEED Gold certification from the U.S. Green Building Council. Thoughtfully placed skylights and office windows along with dimming daylighting controls optimize natural light throughout the building. Foam insulation in the outside walls reduces heating and air-conditioning costs. LED lighting systems with motion sensors provide modern building efficiencies. Hot water piping in the floors was placed for efficient radiant building heat. Rooftop solar units provide hot water and building power. A sun wall incoming air tempering system was installed to preheat incoming cold air using less energy. Kaleidoscopic sun catchers amplify natural sunlight and convert it to energy to power the two charging stations in the yard that service City, employee and public vehicles.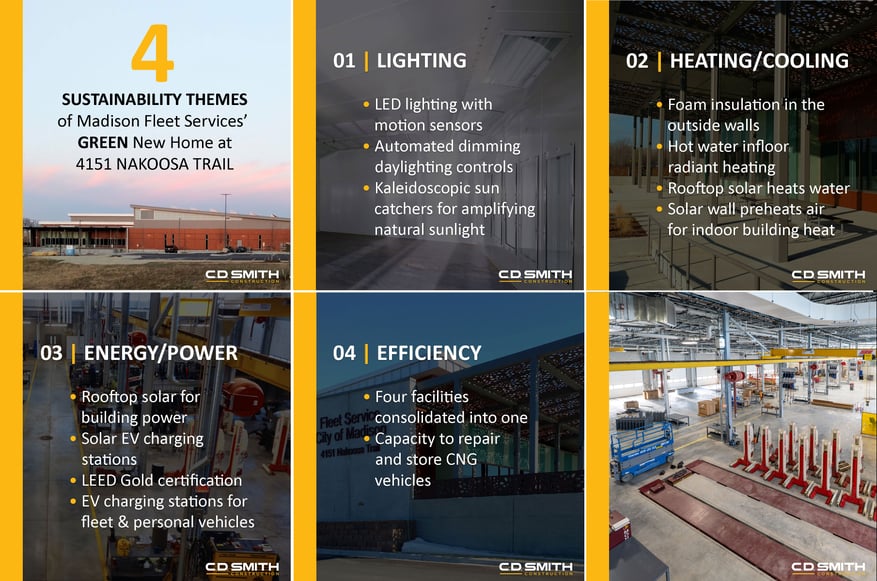 Features include:
2 Large Equipment Lifts
2 Overhead Cranes
7 Smaller Lifts
25 Service Bays
2 Pressure Wash Bays
Employee Offices
Kitchenette Space
Employee Locker Rooms
Employee Lounge Space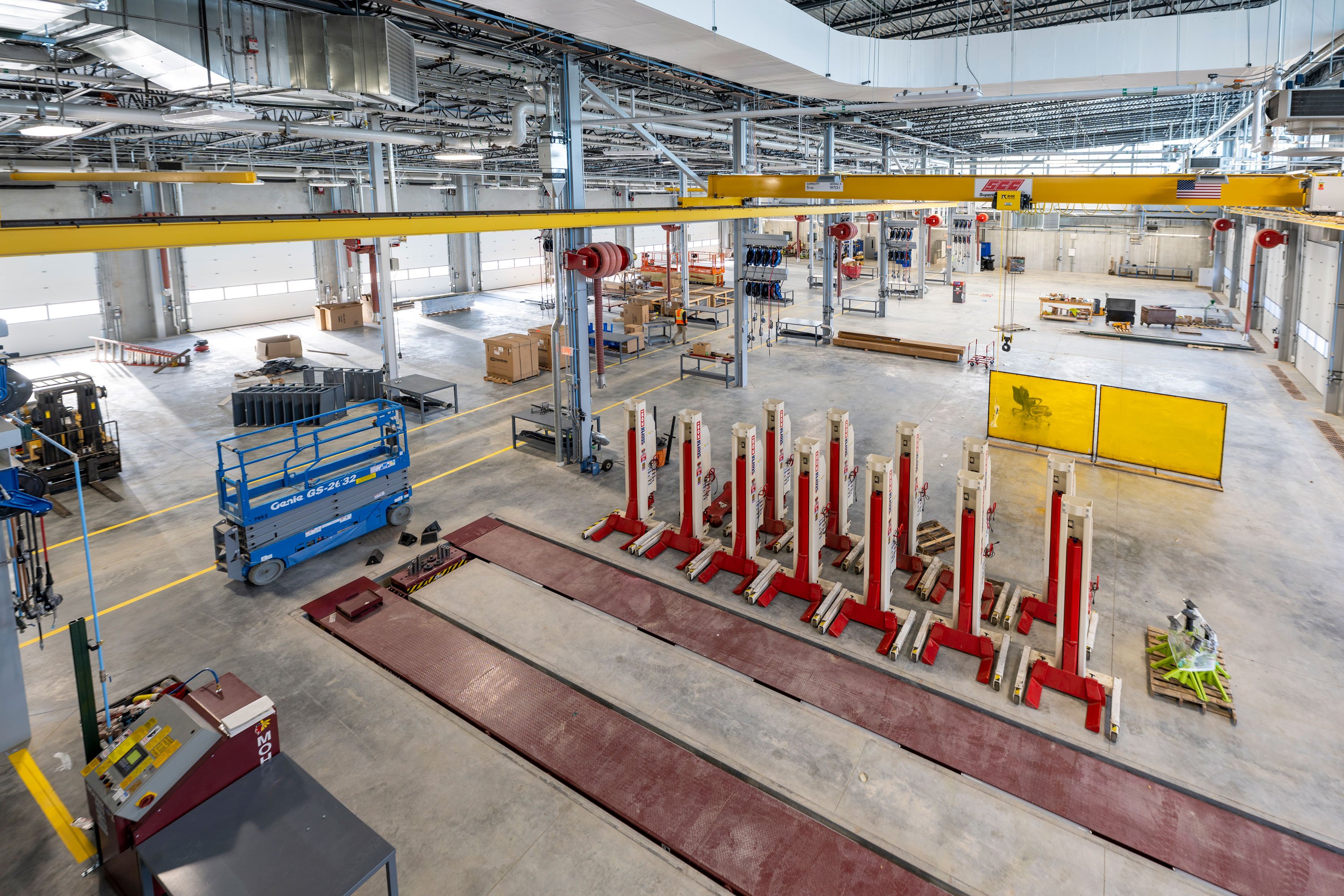 ---
Follow C.D. Smith ON SOCIAL
#CDSmith #ThinkSafeWorkSafe


---
Beneath the Hard Hat® Press & Blog
On Tuesday, June 22 the C.D. Smith team proudly joined the City of Madison for the ribbon-cutting and open house of the Nakoosa Trail City Fleet & Radio Shop Building. The event began at 3:30 PM and included a welcoming message...(Go to full Press & Blog Post.)
---
Nakoosa Trail Media NEWS
2022 Green Garage Contest Recipients | NAFA Fleet Management Association 12.2022
What Makes a Fleet Shop Sustainable? | Government Fleet 03.01.2022
2022 Engineering Excellence Best of State | The American Council of Engineer Companies of Wisconsin (ACEC WI) 02.20.2022
Madison Cuts Ribbon on Nakoosa Trail, Ushering in New Era at Fleet | City of Madison Fleet Service Blog 06.29.2021
City of Madison Opens its New Fleet Services Building | City of Madison Engineering Division YouTube Channel 06.23.2021
New Madison city fleet building opens | WMTV nbc15.com 06.22.2021
Opening celebration for City of Madison Fleet Services building | WKOW.COM 06.22.2021
Madison unveils state-of-the-art Fleet facility | The Cap Times 06.23.2021
Celebrating Madison Fleet Services New Home | City of Madison Mayor's Office Blog
Watch now: Madison to debut $33M state-of-the-art garage with focus on sustainability. | Wisconsin State Journal 06.21.2021
Watch the Construction Timelapse Video (embedded below) | July 3, 2019 to Sept. 16, 2020 - by EarthCam®
Nakoosa Trail City Fleet Building: Ribbon Cutting & Open House | City of Madison Fleet Service Blog 05.26.2021
A Virtual Tour of Madison's New $33M Facility | Government Fleet Staff 02.04.2021
C.D. Smith Project Spotlight: Nakoosa Trail | Beneath the Hard Hat® Press & Blog 03.17.2020
---
C.D. SMITH CONSTRUCTION. Transforming the Community Landscape, Meeting the Ever-Changing Infrastructure Needs and Collaborating On Initiatives to Create a Better PLace for All to Live, Work and Play.
Discover more Civic + Government Construction project solutions by going to our dedicated page.

---
About C.D. Smith
C.D. Smith Construction is an industry leader in safely providing the highest quality commercial construction services. Utilizing an integrated approach and self-performing trade services combined with technical expertise, our team serves as a solutions provider throughout all phases of a project, from planning through construction. With veteran leadership and a dedication to our employees and clients, we proudly place our name on projects of all sizes across the United States.
Visit www.cdsmith.com or follow us on Facebook, Twitter, LinkedIn, Instagram and YouTube.